Traditions, folklore, history and more. If it's Irish, it's here. Or will be!
"People will not look forward to posterity who never look backward to their ancestors."
-Edmund Burke
---
Quotes

Library: Books, Movies, Music

Prints & Photos

Poetry

Jokes

---
---
Shops Ireland
---
Bunús na Gaeilge
(Basic Irish)

---
---
Did You Know?
---
Himself/Herself
Write to Us
Readers Write..
Links/Link to Us
---
Advertise with us
---
Awards & Testimonials

Submissions Guide
---
The Book Library

Click here for: Music | Videos | Prints & Photos

Click here for Books about:
Fiction | Classics | Heritage | History | The Troubles | Sports | Scenic | Humour | Folklore/Superstitions | Blessings & Prayers | Quotes & Trivia | Animals | Literature | Kitchen & Food | Kids Stories | Travel | Poetry | Weddings | Genealogy | Biographical | Crafts | Christmas | Irish Dancing | Miscellaneous | Irish Language | Supernatural | Irish America | Music
Miscellaneous Page: 1

A compilation of some of the best of his weekly columns in the Irish Voice and other publications, Cormac offers an often wickedly accurate insight on life in the west of Ireland. Alternately witty, funny, and sometimes achingly sad, it's an absorbing collection that we promise will be hard to put down.
Click here for Cormac - UK and here for Cormac - USA.




Celebrating Irish Festivals
by Ruth Marshall & Judith Adams


Never miss an opportunity to celebrate your Irish heritage with this rich treasury of stories, illustrations, poems, traditions, food, activities, games dances and songs marking a wide variety of events in the Celtic calendar.
Click here for Celebrating Irish Festivals



Kindling the Celtic Spirit
by Mara Freeman

A beautifully crafted book with plenty of substance for those who wish to immerse themselves in the seasonal customs and culture of the ancient Celts.
See Review
Click here for Celtic Spirit


Irish Wild Plants: Myths, Legends & Folklore
by Niall Mac Coitir

There are many myths and legends and much folklore associated with the wild plants and flowers of Ireland. In ancient times, it was also believed there were 365 different parts to the body, and a different plant existed to cure the ailments of each part. Discover them all in this beautifully illustrated work which features specially commissioned watercolours by Grania Langrishe.
Click here for Irish Wild Plants.




Celtic Names for Children
by Loretto Todd
The meaning behind each name is explained, as are associated myths, stories, places or saints. Also included are pronunciation guides, interesting facts about some of the best-known Celtic names, and over 120,000 variations of the names listed.
Click here for Celtic names for Children.



The Search for God and Guinness
by Stephen Mansfield

Frothy, delicious, intoxicating and nutritious! No, not Guinness Stout - Stephen Mansfield's fabulous book. It's a rare brew that takes faith, philanthropy and the frothy head of freshly-poured Guinness and combines them into an inspiring narrative. Adapted from Amazon reviews.
Click here for God & Guinness



Updated for 2013 - An entertaining collection of facts, trivia and stories about Ireland and Celtic culture. With unusual Irish quotations, proverbs, a guide to Irish baby names and stories about Craic, Celtic Knots, Strawboys and other Celtic traditions.
Click here for Fun Things.

In 2013, Ms. Fadely, one-eighth Irish but one hundred percent American, moved from California to the country she fell in love with the first time she saw it. She didn't buy an old ruin to restore or go on a quest in search of her Irish roots, the things so many other Americans have done and written about, she didn't do anything noble or grand, she simply lived in a place she loved, basking in the culture and delighting in the beauty of the country, and the kindness and humor of the people she met. Along the way she kept a journal and from that journal Chickens in the Garden, Wellies by the Door was born.
Click here for Chickens in the Garden



Seasons of Ireland: Thoughts, Poems, Proverbs & Recipes


Come along on a journey through the four seasons of Ireland. Hear the cries of the rooks in winter and warm yourself by the fire...wish on a dandelion and watch for rainbows in spring...see the lush green and vibrant colors of summer and linger in the long, late twilight... walk through the leaves of autumn to meet friends for a cup of tea or a pint. Along the way, find beauty in Irish blessings, wisdom in Irish proverbs, and experience even more of the flavor of a very special place by trying some tasty Irish dishes. A great gift book for anyone who loves and misses Ireland, or those who simply wish to spend some time in a magical and peaceful place. Relax into Ireland, without need for wellies or an umbrella. And you needn't have any Irish ancestry at all to feel just a little Irish for a while. "May you always have a roof for the rain, walls for the wind, and tea beside the fire."
Click here for Seasons of Ireland


---
Click here for Books about:
Fiction | Classics | Heritage | History | The Troubles | Sports | Scenic | Humour | Folklore/Superstitions | Blessings & Prayers | Quotes & Trivia | Animals | Literature | Kitchen & Food | Kids Stories | Travel | Poetry | Weddings | Genealogy | Biographical | Crafts | Christmas | Irish Dancing | Miscellaneous | Irish Language | Supernatural | Irish America | Music

Miscellaneous Page: 1


Fri, Feb 2, 2018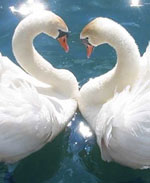 Irish God and Goddess of love
Oengus is the Irish God of love, beauty and youth. According to the old folklore, his kisses became birds. It is also said that he dreamed of a beautiful maiden, named Caer, for whom he searched all over Ireland. Eventually, he found her chained to 150 other maidens, destined to become swans at the time of Samhain. Legend has it that Oengus transformed himself into a swan and was united with his love.
Aine of Knockaine is the Irish Goddess of love. She is also known as the Fairy Queen of Munster and as a goddess of fertility beause she has control and command over crops and animals, especially cattle. Another name by which she is known is Aillen. To learn more about Irish mythology, please click Irish Myths & Legends.
Photo Credit: Wikipedia

Click for More Culture Corner.

Can't Find it?!

Our Library is compiled from what we know and like. If you can't find what you're looking for read on.
• First: go to Amazon -
There's no escaping the fact that they are the largest catalog.
Note: There are multiple Amazons and they do not carry exactly the same items. Any one of the U.S., U.K. and Canada sites may not have the item but another Amazon will. Each site will ship anywhere in the world. Try them all before you give up.
Click here for Amazon.US.
Click here for Amazon.UK.
Click here for Amazon.Canada.
• Second: Amazon doesn't have it? Try Powells. They are the largest book source in New York and they have a good selection of 'out of print' books. Click here for Powells.
This link brings you to a list of 600 Irish titles; if you're looking for something else, just Search.
• Third: Still can't find It? Alright, try ALibris they are the place for 'books you never thought you'd find'. We've found everything we were after. Click here for ALibris.

• Last: Nothing Worked?
E-Mail us, we'll give it a go. Click for Russ & Bridget.
---
Elegant bookmark is made of silver over pewter. It measures 3" x 1". When in use, the pretty Celtic design sticks out of your book. Or choose Trinity Knot or Celtic Heart.

Click for Celtic Book mark.

---
All contents copyright © 2001 through 2011 inclusive - all rights reserved.
March 4, 2011

Rollover button Images:
Wedding LaRose, Kids Reading & Kitchen Apples and Tea from All Posters prints.
The information provided on this site is offered as-is, without warranty. This site's owners, operators, authors and partners disclaim any and all liability from the information provided herein.
Any trademarks or registered trademarks on this site are the property of their respective owners.

This Web Site Bashed, Kicked & Glued together by Russ Haggerty.