Traditions, folklore, history and more. If it's Irish, it's here. Or will be!
"People will not look forward to posterity who never look backward to their ancestors."
-Edmund Burke
---
Quotes

Library: Books, Movies, Music

Prints & Photos

Poetry

Jokes

---
---
Shops Ireland
---
Bunús na Gaeilge
(Basic Irish)

---
---
Did You Know?
---
Himself/Herself
Write to Us
Readers Write..
Links/Link to Us
---
Advertise with us
---
Awards & Testimonials

Submissions Guide
---
Book Review: Kindling The Celtic Spirit
by Bridget Haggerty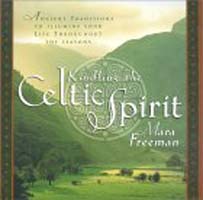 Did you ever wish you could be inside someone's head and instantly absorb all of their knowledge, skills and expertise?

This is precisely what happened when I began reading Mara Freeman's comprehensive work on "ancient traditions to illumine your life throughout the seasons."

As soon as Kindling the Celtic Spirit arrived, I was immediately drawn to the beauty and grace of its design, and then, in typical fashion, I casually leafed through, stopping here and there to read a paragraph or two.

To say I was entranced is an understatement. In great anticipation, I turned to the beginning and began to enjoy one of the most thoroughly satisfying reads I can ever recall.

Drawing from more than 30 years of experience, Mara takes the reader through the Celtic Year, month by month, season by season, sharing with us her vast knowledge of customs, traditions, myths, saints and scholars. An entire chapter - February - is devoted to St. Brighid, my patron saint, and I learned a great deal about her that I didn't know before. And that is the beauty of this wonderful book. Mara offers unique perspectives that I've yet to find in any other work.
I still have my nose in the book and I find myself carrying it with me, stealing precious minutes from my busy schedule to read just a little bit more. It's become a constant companion and for anyone as interested in the Celtic way of life as I am, I highly recommend that you purchase this book before buying any others. For while there are many works that are similar in scope, this is the first one that I've found which is interactive. Not only does Mara teach us what the ancient Celts did and why, she also describes in great detail how we can apply the old ways to modern life.
In summary, this book will teach you about the festivals, gods and goddesses, faeries, saints, animals, music, poetry and storytelling that anchor the magical tradition of the Celts. You'll learn about the myths, rituals, recipes and crafts for every month of the year. And you will discover traditional blessings, ancient lore, and guided meditations that will inspire you to reconnect with the rhythms of the natural world.
A supremely talented author, story-teller and teacher, I am grateful to Mara for the exposure to her practical wisdom. Truly, this book is definitive nourishment for the Celtic soul.
Author's Bio:



Mara Freeman is a keeper of the ancient Celtic spirit whose life is dedicated to reweaving the ancestral traditions of the British Isles and Ireland for today's world through teaching, writing and storytelling. The legacy of the Bards and Druids is embodied in her transformational workshops, pilgrimages and retreats. To learn more, Mara invites you to visit her web site: The Celtic Spirit
Thu, Apr 20, 2017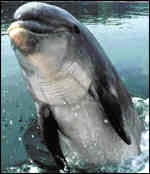 Fungie, the Dolphin of Dingle Bay
The dolphin is one of Ireland's most fascinating mammals and Fungie is the most famous. He is a fully- grown bottlenose who is 13 feet (4 meteres) long and weighs about 500 lbs or around one-quarter tonne.
Fungie was first noticed in 1984 when Paddy Ferriter, the Dingle Harbour lighthouse keeper, began watching a lone wild dolphin escort the town's fishing boats to and from port.
Later that year, it became officially recorded that Fungie was a permanent resident of the entrance channel to Dingle and the self-appointed "pilot" of the fleet.
Over the years Fungie has developed from a timid but inquisitive observer of the human visitors into a playful, though mischievous, companion. From observation of marks on his body, it seems that he does 'interact' with other whales, dolphins or porpoises, proving perhaps he is neither hermit nor outcast from his own kind, but rather that he is simply content to spend most of his time in and around Dingle Bay.


Click for More Culture Corner.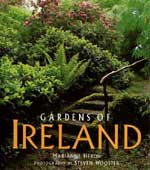 Gardens of Ireland
Visit 30 of Ireland's most beautiful gardens. Includes a stunning collection of 200 full-color photos.