Today
in
Irish
History

January 17

1649 - Marquis of Ormond James Butler and the confederates sign a peace treaty which grants toleration for Catholics in exchange for troops
1815 - Marie-Louise O'Morphi, famous courtesan, dies in Paris
1856 - Joseph Hayden, Irish journalist, dictionary compiler and author of Dictionary of Dates, dies
1860 - Birth in Castlerea, Co. Roscommon, of Douglas Hyde, playwright, folklorist, founder of The Gaelic League and the first president of Éire
1861 - Lola Montez (Marie Gilbert), dancer and courtesan dies in New York
1866 - Death of George Petrie, folk music collector who is credited with preserving many of Ireland's irreplaceable harp tunes
1873 - T.C. Murray, playwright, is born in Macroom, Co. Cork
1964 - The Campaign for Social Justice (CSJ) is formed. It is the forerunner of the civil rights movement and begins a programme of publicising what it sees as widespread discrimination, in a number of areas of life, against Catholics in Northern Ireland
1992 - Seven Protestant constructions workers at a security base in Co. Tyrone are killed by an IRA bomb. The driver of their bus also dies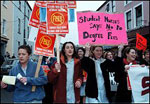 2000 - Galway city centre is brought to a standstill as hundreds of student nurses take to the streets to protest at plans to charge them to finish their nursing courses
Photo Credit: Andrew Downes/GreenGraph
2000 - A pair of King Billy's gloves, worn during the battle of the Boyne, and the dress worn by Sinéad de Valera at the second inauguration ceremony of her husband, President Éamon de Valera, are unlikely companions in The Way We Wore, a permanent exhibition of the clothing and jewellery worn by Irish people from the1760s to the 1960s which opens at the National Museum, Collins Barracks.
2012 - The editor of the Sunday Independent, Aengus Fanning, died this morning. He was 69 year old.The Tralee man began editing the Sunday Independent in 1984. He is survived by his wife Anne and three sons.
In a statement, the chief executive of Independent News and Media, Gavin O'Reilly, described him as "possibly the greatest and most instinctively brilliant editor that Irish journalism has ever produced".
He said that Mr Fanning will be a huge loss to Irish journalism, but an even bigger loss to his family.
Sources:
History of Ireland –
Stair na hÉireann
Irish History
Boat People Photo Credit:
RTÉ Archives
For more Irish History "On This Date" click the desired month below: