Green is significant to Ireland and the Irish. More so than any other country. But in today's world it has become significant to every country on the planet. Even my youngest son has started a small company called Green Streets. Its purpose is to provide ways to manage water. Governments and even large private Institutions are doing much but it still comes down to each and every one of us. What we do for ourselves improves all of us. We can help the environment and save money at the same time. So... I present here a page of resources to give us guidance and information to help us do just that. Please click Green Home Resources and I hope you will find what you need.

—Russ

---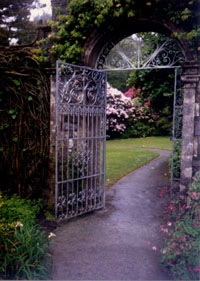 Fáilte
Welcome to Irish Culture and Customs, a labor of love we began several years ago. What started as a surprise milestone birthday trip to Ireland became the beginning of a journey through time. A 2,000-year voyage on a quest to learn as much as we can about everything Irish. So here's where we are so far - more than 700 pages that range from Irish poetry, superstitions , Kids Stories and recipes to specific Irish calendar celebrations such as St. Patrick's Day , Beltane, Samhain and the Feast of St. Brigid. Whether it's an Irish symbol such as the shillelagh, the Shamrock and the Book of Kells or an Irish craft like Aran Isle knitting, you'll discover a wide range of topics in our index. We hope you find the little bit of Ireland you may be looking for and we encourage you to share what you discover with your loved ones on your family website, blog, or social network.



---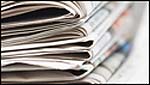 Today's Irish headlines
We comb the newspapers and web sites to find news to start your day with a positive spin. In this section you will also find links to stories from the past two weeks as well as links to the major Irish newspapers, the current time in Ireland and a link to the weather forecast.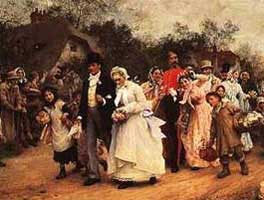 Shrovetide - The Marrying Season
by Bridget Haggerty
Well into the 20th century, the busiest time for match-making in Ireland began right after Epiphany - January 6th. This was because the Irish had misinterpreted a Church ruling set forth in November, 1563 which prohibited weddings during Lent. The popular reasoning that evolved from this decree was that if you could not marry during Lent, then you had to marry before. Thus, it was taken for granted that Shrovetide was the proper time to marry and Shrove Tuesday - the day before Ash Wednesday - became the most favored day of all.
With most weddings these days taking place on a Saturday, it may seem strange to us that just a few decades ago, marriages in Ireland would be performed on any day of the week except Saturday and Sunday. In fact, there's a little verse that illustrates the Irish luck associated with whichever day a couple chose to exchange their vows:
Monday for health
Tuesday for wealth,
Wednesday the best day of all,
Thursday for losses,
Friday for crosses,
And Saturday, no day at all!
[Continue]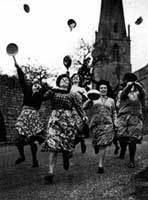 Shrove Tuesday Pancakes!
by Bridget Haggerty
Throughout the British Isles the day before Ash Wednesday - Shrove Tuesday - is commonly known as Pancake Day. In Ireland, It's called Pancake Tuesday. As the child of Irish parents living in London, I loved watching the Pancake Races. Usually, the contestants were housewives. Each of them carried a skillet which contained a large, very thin pancake. The idea was for the women to race to the finish line, tossing their pancakes as they ran. It was hilarious - especially when a stray pancake landed where it wasn't supposed to!
My other vivid memory of the day is my dad fixing our Shrove Tuesday supper - pancakes! As good as they were, we never had them at any other time of year. And, as good a cook as my mother was, she always let Dad take over the kitchen. Mum always claimed she was too heavy-handed to make good pancakes. I think it was a ploy on her part to let Dad have all the fun.
[Continue]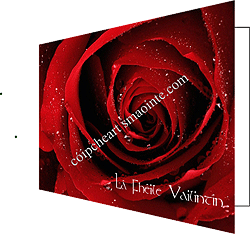 The Irish Link to St. Valentine
by Bridget Haggerty
As a young girl growing up in England in the 50s, I loved sending and receiving Valentine cards - messages that were always unsigned. As the sender, one would go to great lengths to disguise the source of the card. As the recipient, the fun was in trying to figure out the identity of your secret admirer.
When I came to the United States in the early 60s, imagine my surprise to learn that the custom here was to identify the sender. Not only that, cards were often sent to relatives, such as your mom and dad! It didn't seem very appropriate to me, then or now. In fact, I still think it's very odd and, while I have capitulated to custom and sign the card I give to my husband, there's a part of me that still wishes Valentine's Day could be like it once was - shrouded in romantic mystery.
Whether you sign your cards or choose to remain anonymous, have you ever wondered how this annual ritual began? Here's what the research into the history of St. Valentine revealed - and, much to my surprise - a link to Ireland that I was totally unaware of.
[Continue]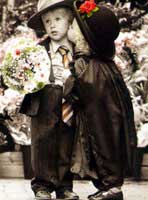 The Irish In Love
by Bridget Haggerty
'The Realm of Romance' is bigger than West Virginia and smaller than Ohio. But for such a tiny place, Ireland is a magnificent, multi-faceted gem, blessed with an abundance of details and differences. Majestic mountains sweep down to the sea. Miles of stone walls line fields filled with black-faced sheep. Tall, flowering hedges shade narrow, winding roads. Ancient castles and mystical abbeys dominate pastoral vistas. And, pastel-hued cottages dot river valleys strewn with wild flowers. What a magical place to begin a romance or married life together!
[Continue]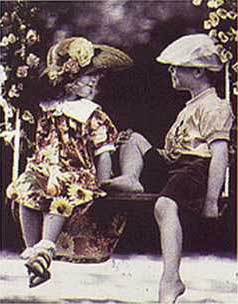 The Irish In Love - part two
by Bridget Haggerty
There's still time to put some Irish flair into your St. Valentine's Day celebrations!
What follows is a brief compilation of proverbs, sayings, a poem and then a few ideas for Irish books to buy or borrow, music to play, and then a romantic menu that's sure to quicken the pulse. An alternate menu with recipes is also featured in the Irish Kitchen.
While there are many gods who are said to preside over affairs of the heart, in Celtic folklore, there's only one that is equivalent to our modern day Cupid. Aengus Og was born of a secret union between Daghdagh, the mightiest of Irish gods and Boann, the river goddess. Depicted as an eternally youthful purveyor of romance, the Celts believed the magic kisses of Aengus Og became tiny birds and whoever heard their sweet singing would suddenly be overcome with passionate ideas. His kisses obviously were a lot more enchanting than the ones bestowed on the author of the following poem:
[Continue]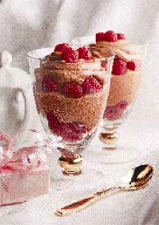 A Romantic Irish Menu for Valentine's Day
For starters, might we suggest Irish Oysters washed down with Black Velvets (half Guinness and half champagne). Next up is Lobster in Bunratty Potcheen, new potatoes & fresh asparagus. And, for the finale, Mocha Mist Mousse enhanced with raspberries. A decadent, delectable and delightful diet downfall. But when it comes to a romantic dinner, whose more deserving than an Irish couple in love!
[Continue]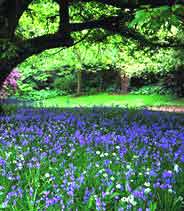 Basic Irish - Saint Brigid & Spring
In Ireland long ago,
the first day of Spring fell on February 1. Back then, it was called Imbolc - the feast of the Goddess Brigit (
see our Article St. Brigid - the giveaway
). When Christianity came to Ireland, the goddess was transformed into the saint. Today, Lá Fhéile Bríde - St. Brigit's Feast Day - is more commonly used than Imbolc. So, this lesson is in honor of the saint and the coming of spring.
Phrase: St. Bridget's Feast Day (1 February)
Irish: Lá Fhéile Bríde (Lá Feabhra)
Pronunciation: law ay-leh bree-djeh (law feow-rah)
[Continue]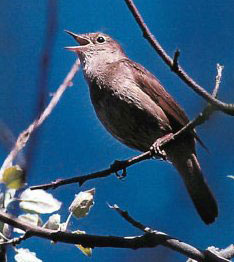 Kids Ireland: The Nightingale and the Rose
Edited and adapted by Bridget Haggerty from a story by Oscar Wilde.
Oscar Wilde was both unhappy and unlucky in love and this had a great influence on his work. This beautiful story is from his collection of fairy tales for children. But it has such a sad ending that we thought young readers might enjoy it more if it ended on a happier note.


It was winter. The student leaned on his elbows and stared out through the window on a garden that was bereft of flower, leaf or fern.
"She said she would dance with me if I brought her a red rose" cried the student; "but in all my garden there is no red rose."
From her nest in in the old oak tree the Nightingale heard him, and she looked out through the branches, and wondered.
"No red rose in all my garden!" he cried, and his beautiful eyes filled with tears. For want of a red rose is my life made sad."
[Continue]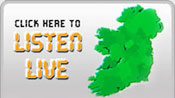 Live Music from Mayo
A link to the internet service from Midwest Radio out of Mayo. Broadcasting from their state of the art studios; Midwest Irish Radio plays nothing but the best Irish music. No matter where you are in the world, you are never too far from Ireland when you listen in.
Click here for:
Irish Midwest radio
.
Shop for the best of Irish products from the comfort of your home
We combed the internet to find reliable resources for the most popular Irish products: Aran Isle sweaters, Guinness glasses, Waterford Crystal, genuine blackthorn walking sticks, the flag of the Republic and more. Some of these shops have become friends; others we trust from their reputations and some offer products that are completely unique. We hope you enjoy browsing through what's on offer and we are confident you will find gifts for any occasion or person, all with an Irish flair.
---
Authentic Irish clothing from Aran Sweaters Direct

---