Traditions, folklore, history and more. If it's Irish, it's here. Or will be!
"People will not look forward to posterity who never look backward to their ancestors."
-Edmund Burke
---
Quotes

Library: Books, Movies, Music

Prints & Photos

Poetry

Jokes

---
---
Shops Ireland
---
Bunús na Gaeilge
(Basic Irish)

---
---
---
Himself/Herself
Write to Us
Readers Write..
Links/Link to Us
---
Advertise with us

---

Help keep us free
Throughout the site you will see many items available for purchase from well-known merchants such as Amazon. Not interested in what we're featuring? It doesn't matter. Click on any link and then shop for whatever you wish - we will still get credit, if you buy something.
Thanks for your help.

---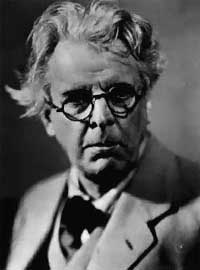 Irish Poetry: Poems and Songs
Here are our favorite poems and songs (thinly disguised poems, in this case).
We are always interested in your favorites. So send them in to us.
In addition to the poems, we try to include a short biography, a photograph (if we can find one) and some book sources - so you can add to your own collections.
Notes: The richest, most thorough site on Irish Writers and poets is The Princess Grace Irish Library. They are one of my frequent sources for biographical information. Be warned, however, the information is very dense. They eschew such frivolities as articles and conjunctions and the most common punctuation mark is the semi-colon. This gives the appearance of almost solid black on the page.
Click here for: The Poets Library
Indices: Irish Times Top 100 • Index of Poets • Index of Poems



Katharine Tynan (b. Jan. 21, 1861 - d. April 2, 1931)

Also Katharine Hinkson, or Hinkson-Tynan, was born at Whitehall dairy farm, Clondalkin, County Dublin. She was one of 12 children of Andrew Cullen Tynan and Elizabeth Reilly Tynan.
She attended the Dominican Convent of St Catherine of Siena, Drogheda for 6 years (to age 14) and considered a religious novitiate.
She suffered chronic eye ulcers in childhood and was myopic from then onwards.
Her first poem appeared in Graphic in 1878 and she subsequently contributed poems to Irish Monthly, Hibernia and Dublin University Review from 1880 to 1885.
She first met W. B. Yeats ('all dreams and gentleness') in June 1885, in connection with C. H. Oldham's Dublin University Review.
Thus began a life-long correspondence with Yeats, who described her as 'very plain' though always affectionate towards her. He advised her in early correspondence to make a speciality of her Irish Catholicism.

Her first book, Louise de la Valliere and Other Poems, was heavily influenced by Christina Rossetti and called by Yeats 'too full of English influence to be quite Irish'.
Her second volume, Shamrocks, contained exclusively Irish subject-matter.
Her suggestion to Yeats that he should try an Irish subject resulted in Wanderings of Oisin.
She lived in Ireland until her marriage to Henry Albert Hinkson in 1893. Hinkson was a barrister and novelist and contemporary of Yeats. The Hinksons moved to Ealing and NottingHill; later he became Mayo Magistrate from 1914 (he died five years later, in 1919).
In 1913, she wrote memoirs of the literary revival, Twenty-Five Years, which appeared with several dozen of Yeats's early letters printed without permission or any opportunity for corrections!
In 1920, she sold Yeats's letters to Quinn for £100.
She also wrote 100 novels, 12 collections of short stories, 3 plays, and anthologies, as well as innumerable articles on social questions such as poor children and women's working conditions.
An oil portrait of her, done by John Butler Yeats in 1887 is in the Municipal Gallery, Dublin (we're told and we believe that is the image we include above; too bad it's so small and rough).
Anyone unfamiliar with her might well recognize "The Wind that Shakes the Barley". A well known song encompassing her poem as lyrics.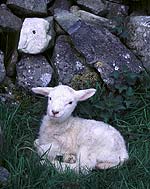 Sheep And Lambs
by Katharine Tynan

All in the April morning,
April airs were abroad;
The sheep with their little lambs
Pass'd me by on the road.

The sheep with their little lambs
Pass'd me by on the road;
All in an April evening
I thought on the Lamb of God.

The lambs were weary, and crying
With a weak human cry,
I thought on the Lamb of God
Going meekly to die.

Up in the blue, blue mountains
Dewy pastures are sweet:
Rest for the little bodies,
Rest for the little feet.

But for the Lamb of God
Up on the hill-top green,
Only a cross of shame
Two stark crosses between.

All in the April evening,
April airs were abroad;
I saw the sheep with their lambs,
And thought on the Lamb of God.

Reprinted from The Oxford Book of Verse. Ed. Arthur Quiller-Couch. Oxford: Clarendon Press, 1900.
Photo Credit: Moonjazz


---