Traditions, folklore, history and more. If it's Irish, it's here. Or will be!
"People will not look forward to posterity who never look backward to their ancestors."
-Edmund Burke
---
Quotes

Library: Books, Movies, Music

Prints & Photos

Poetry

---
---
Shops Ireland
---
Bunús na Gaeilge
(Basic Irish)

---
---
---
Himself/Herself
Write to Us
Readers Write..
Links/Link to Us
---
Advertise with us
---
Awards & Testimonials

Submissions Guide

---
Our favorite Irish shops
We combed the internet to find reliable resources for the most popular Irish products: Aran Isle sweaters, Guinness glasses, Waterford Crystal, genuine blackthorn walking sticks, the flag of the Republic and more. Some of these shops have become friends; others we trust from their reputations and some offer products that are completely unique.
There was one drawback that we discovered after we began featuring a specific product from a particular shop - sometimes, they would sell out of stock or the source would no longer be available. Our affiliates have the continuous task of keeping up. We have tried in the past, to track all of this and, well, it's no use. We can't possibly, so... We have decided to 'step out of the middle' and simply feature the affiliates themselves and links to their home pages.
To help you in your search for a certain type of product, crystal for example, we provide a brief description of each affiliate, a link to their feature page and a small sample of what they sell. Each item also has a link to the shop's home page where you will find a complete index of what's on offer.
We hope you enjoy browsing through the wonderful variety of quality items. We are confident you will find gifts for any occasion or person; all with an Irish flair.

Amazon
Amazon isn't just for books, CDs or movies. You can find literally hundreds of other items related to ireland and the irish. Click on the link to shop all departments and then do a search on key words like ireland or Irish.

So, while you can always buy the latest novel from Maeve Binchy, the most recent film directed by Jim Sheridan or the newest CD from legendary musicians like The Chieftains or U2, you can also shop for many other products - from a patriotic tricolour scarf to an Aran style sweater for your pooch! To see these examples and more, please click choices.

BiddyMurphy
BiddyMurphy.com was founded in 2004 by Tipperary man Ward Gahan with the aim of bringing the very best of Irish products to the United States. We travel back to Ireland multiple times a year to visit family and also to buy from our suppliers. We hand pick everything that comes back with us to insure they meet our incredibly high standards. Each item is made from the highest quality materials and is crafted to perfection. We stock everything from Caps to Scarves, Blankets to Jewelry, Homeware to Beauty products and much more! We are so proud to be Irish and to share our gifts with the globe - and world wide shipping is available! Here's just a small sample of what we have on offer:
please click choices

Celtic Attic
Decorate your home & life with a Celtic Twist! This is one of those delightful light-hearted places to drop in, browse about and just maybe find a unique gift you won't find any where else. They carry a wide variety of products from food to fashions, and, as the name implies, they aren't exclusively Irish. Enjoy browsing and discovering unusual items from all corners of the Celtic world such as Celtic sea salt and a genuine St. Brigid's Cross made in Ireland of river rushes. They even carry a Leather Sporran, crafted by a Scotsman! Och aye!!
For a few of our choices from this shop, please click choices


Irish Shop
Welcome to IRISHOP.com, the genuine Irish Shop on the web! IRISHOP.com was founded and began trading online in 1997 from our base in Dublin, Ireland. IRISHOP.com was the first Irish gifts and jewelry retailer to operate solely online and since our inception, we have had countless happy customers who have benifited from our great prices and top quality customer service.
Our policy is to make your Irish shopping experience as pleasurable as possible. This is reflected in our 'easy to navigate' site and the range of quality goods we offer. We source our products from all over the island of Ireland and the best U.S. distributors and stock only those items that represent the ultimate in Irish style, value and craftsmanship.
For a few of our choices from this shop, please click choices.

Tara Irish Clothing
The ancient site of the Hill of Tara located in the mystical and romantic Boyne Valley provides an almost infinite source of inspiration for the skilled artisans of Tara Irish Clothing. Drawing from a knitting history and heritage that spans generations, intricate stitches and patterns are used to create meticulously crafted garments and accessories for men, women and children.

We invite you to explore what's on offer, confident in the knowledge that all Tara Irish Clothing products are made in Ireland and are guaranteed to be of the highest quality. Your satisfaction is their promise - or your mony back, no questions asked.
For a few of our choices from this shop, please click choices



Celtic by Design
Celtic By Design is an Irish family-run business based in the USA. Although they no longer live in Ireland, they still go home several times a year to find the best of Ireland and bring it back to you.
Always keeping customer convenience top of mind, they have a Gift Finder on their front page which enables you to find that perfect gift for just about any person or occasion. From gifts for him, to baby gifts, they have everyone covered. They have even remembered gifts for pets! And, if you're shopping for a particular occasion or milestone event, you'll find appropriate gifts for Christmas, Mother's Day, Father's Day, St. Patrick's Day, Weddings, Baptisms and more.
For a few of our choices from this shop, please click choices
Celtic Expressions
Family owned and operated, Celtic Expressions has been offering authentic Irish gifts for more than a dozen years. We show just a few items from a wide range of quality Irish merchandise including products made by conic names like Belleek, Galway Crystal and Guinness. Whatever the occasion, you are sure to find what you are looking for at Celtic Expressions, and if you can't, owners Maggie & Dan Shea will do do everything they can to locate it for you. It's all part o the personal service you can expect from Celtic Expressions.
For a few of our choices from this shop, please click choices
For more details about the products shown, either click on the photo or the link below it.

Patriarts
Patriarts is the "virtual gallery" and "actual" Studio for Saints Preserved and FolkloricArts - an on-going series of works by artist and writer Patricia Banker.
Her collection includes many of the Celtic saints as well as those with connections to Ireland. The pieces require extensive research and each piece has its own set of links which are pertinent to the saint depicted.
Everything (with a few exceptions) is made in her studio. Recycled products are used wherever possible. For example, her greeting cards are printed on recycled paper. Dried herbs, flowers, cedar, etc. pruned from last year's garden might also be part of the packaging.
The company's policy is simple: Do unto our customers as we would have them do unto us. "Work can indeed be joyful." To see our selection of saints, please click Saints.
Uniquely Irish Specialities
These are the "one-offs" - the places that sell one particular product or service you won't find anywhere else.
Can't afford to buy that little cottage in the land of your ancestors? How about a piece of the ould sod itself? You'll find it here.
Yearning to smell the distinctive aroma of a turf fire? Our friend Lee Nolan offers original peat incense burners as well as a nice selection of hand-crafted pewter pins.
Our daughter Catherine gets into the act with her Irish Diva line and we do too, with the Irish Culture and Customs logo featured on a wide variety of items.
For details on these offers, please click specialities


---

• can't find what you are looking for?
E-Mail us, we'll give it a go. Click for Russ & Bridget.


---
Back in Print!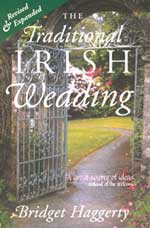 The Traditional Irish Wedding

In this expanded, revised, and updated version, the author has added sections on Getting Married in Ireland and ideas for a vow renewal "with the sound and feel of Ireland." This edition also includes the origins of Irish Coffee; the truth about Aran Isle Sweaters and information about kilts. Available from many Irish and Celtic gifts shops or Amazon.


---
The Book: Potion, Pope & Perfidy
Now available in both Kindle & print editions!
A depressed detective, still in mourning for his murdered wife, stumbles into a money-laundering scheme when a book is sold to him by mistake at a library book sale. Written in Latin and Greek the book is a 14th century codex. Obviously a priceless antiquity, as the story unfolds it becomes clear that the book's value is more in its contents than its age. For more details, or to buy the book, please click Amazon.

---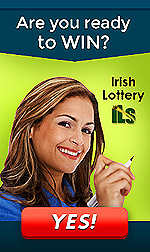 ---