Traditions, folklore, history and more. If it's Irish, it's here. Or will be!
"People will not look forward to posterity who never look backward to their ancestors."
-Edmund Burke
---
Quotes

Library: Books, Movies, Music

Prints & Photos

Poetry

Jokes

---
---
Shops Ireland
---
Bunús na Gaeilge
(Basic Irish)

---
---
Did You Know?
---
Himself/Herself
Write to Us
Readers Write..
Links/Link to Us
---
Advertise with us

---
Awards & Testimonials

Submissions Guide

Help keep us free
Throughout the site you will see many items available for purchase from well-known merchants such as Amazon. Not interested in what we're featuring? It doesn't matter. Click on any link and then shop for whatever you wish - we will still get credit, if you buy something.
Thanks for your help.

---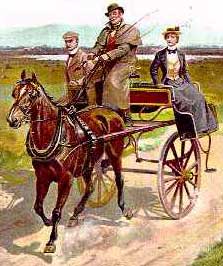 Travelling to - and in - Ireland

Welcome to our Travel department. Here are the articles we have and we hope to add many in the future.
We have also gathered whatever resources we feel you may need (or want for that matter).
We trust it is useful.
As always, if there are topics you would like us to address or just questions to ask, please contact us by clicking here E-mail Bridget.

Click here for:
The Travel Library | Travel-Related Links.

Most of the resources we have here are for anyone - from anywhere. Still, we Americans seem to need more help.

First off, getting to Ireland. As most will already know, the weather always plays a part. The tourist season runs (more or less) from the first of June to the first of September. Yes, that would be the time you will spend the most money. We hear the weather is slowly getting warmer so perhaps you can take the chance. We did - in May. We hear it usually works well. Do not write and tell us your weather was bad if you do the same (unless it makes for a good story).
Aer Lingus has many excellent offers for air travel to Ireland. These all tend to be very much off-season. Look into these first. Of course, with all the air travel fears and tribulations, all the airlines are doing better in their pricing.
When we went last, Expedia, sadly, didn't exist. I'm sure we would have saved quite a bit. But it does now so you can take advantage.


The internet's award winning as well as leading travel agency offers you the opportunity to find the right flight at the right price! Click for Top Travel Deals at Expedia.com

That said, if you go your own way you pay a premium for that. To avoid that higher price:
Look into a package; an Ireland vacation from any number of Irish (or not Irish) Travel Tour groups.
You should not expect they are as they used to be. (You know what I mean, "everyone back on the bus, we have to be in Adare in a quarter hour".) Most are simply collected to encourage full planes, Rental Car Agencies and B & B's. The important bit is the price. The cost includes the air fare and is often less than booking just a flight yourself. Hard to argue about.

Where to Stay

Such as?

Well, hotels of course so...
Visit Dublin on a Dime

If you want to visit Dublin and you don't have very much money, you can still have a good time. You just have to know some budget-friendly travel tips to get you through. For example, Dublin is flat enough that you can rent a bike instead of a car and see the city by bicycle. It's good for your health and your wallet. Also, there are many free things to do in Dublin, such as: exploring the national museums or taking part in a free Dublin walking tour. And, if you're planning to stay in Dublin, here are three affordable lodging options for you.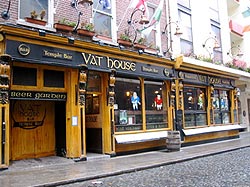 The Blooms Hotel
Centrally located in Dublin, The Blooms Hotel is in the cultural quarter of Temple Bar and conveniently within walking distance to lots of Irish bars, restaurants and nightclubs along Grafton and Henry Streets. The Blooms Hotel is also home to the VAT House bar, which features a traditional Irish bar with live music daily. With simple décor and an Irish upbeat attitude, this hotel is a steal at only $67 per night.


The North Star Hotel
Just a five minute walk from the International Financial Services Centre, the North Star Hotel is also near Custom House and O'Connell Street. You'll also enjoy being close to Trinity College and the popular shopping area of Grafton Street. For only $78 a night, you'll love the well-appointed rooms with all the conveniences of home.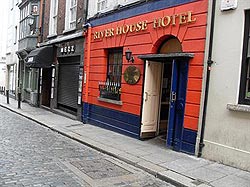 The River House Hotel
Located right in the heart of the city in the Temple Bar area, The River House Hotel is within minutes of Dublin Castle, Christchurch Cathedral, the Guinness Brewery and Trinity College. Connolly Train Station is also nearby. Guests enjoy the contemporary feel of the hotel, and each room features a TV, radio, hair dryer and more. For only $81 per night, this family-run River House Hotel puts you right in the middle of the action.



Getting Around
Travel in Ireland by train is a breeze. Trains can take you to many of the country's top towns and cities as well as some of the lesser-known gems. Plus, for such a small country, the scenery is amazigly diverse. Within a few miles, you can travel from rugged coastline to smooth pastureland to towering mountains to brooding peat bogs. Rail Europe is the best way to see it all.


For fares and schedules, click Eurail Pass
.



---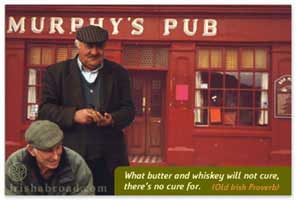 An essential guide for the first-time traveler to Ireland
by Frank McNally

Frank McNally is a reporter/columnist for the Irish Times, where this article first appeared in 1999. It is reprinted here with his kind permission.



Driving in Ireland Part One
by Russ Haggerty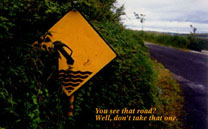 This is the story of our first trip to Ireland. The story is more than a read; it has a purpose. This is a, not very well, camouflaged guide to driving a rental car in Ireland. I say rental car because otherwise you already know all about it or you brought your own over on the ferry and you may have problems I can't help you with. The story helps explain why I was driving in the first place and sometimes explains how. Besides, it's not as boring this way. So...

If you visit Ireland and intend to drive, first read Russ' Articles - Driving in Ireland part one (above) and part two (below).
Then you will have an appreciation of why you should reserve your car in advance.
Of course, you will need Maps. Ireland may appear small but you can still become thoroughly lost. Admittedly, it may be much more enjoyable to stop and ask. You may or may not be helped with directions but you'll hear some wit and gain a new perspective.


Driving In Ireland Part Two
by Russ Haggerty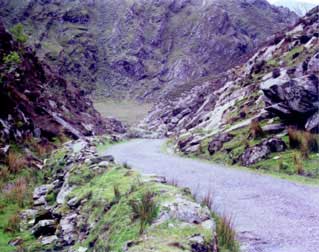 The day of the surprise birthday party for Bridget had arrived. What to do? If I let her force me to drive the 'Ring of Kerry', we wouldn't get back until too late to spring the surprise. Astonishingly, the weather was foggy and drizzly; we couldn't see anything. One of the locals had said, "if you can't see the top of the mountains, there's no reason to go". We couldn't see the tops of the trees.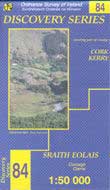 If you decide to do any hiking, again, you will need maps. In this case though, you should have a large scale ordnance map. The OSI (Ordnance Survey Ireland) - Discovery series covers every inch. They are available for portions of every county and scaled 1:50,000 (inches). As an example, Discovery Map number 51 - West Clare and a bit of Galway - includes the following towns and features: Aran Island, Lisdoonvarna, Burren, Ballyvaghan, Kilfenora, Carran, Black Head, Doolin and Inishmore (with all the paths and points of interest of course). The OSI also has a single touring map.
If you would like to get these in advance and use them to plan your visit, we finally found where to get them! - just click here OSI Discovery Maps.



Here are some travel-related terms you will hear or read and the possible(likely?) translations.

Term/Phrase
Old world charm
Majestic setting
Options galore
Secluded hideaway
Pre-registered rooms
Explore on your own
Knowledgeable trip hosts
No extra fees
Nominal fee
Standard
Deluxe
Superior
All the amenities
Plush
Gentle breezes
Light and airy
Picturesque
Open bar

Translation
No bath
A long way from the village
Nothing is included
Impossible to find or get to
Already occupied
Pay for it yourself
They've flown in an airplane before
No extras
Outrageous charge
Sub-standard
Standard
One free shower cap
Two free shower caps
Top and bottom sheets
Occasional Gale-force winds
No curtains/windows don't close
Theme park nearby
Free ice cubes


So all right, it's a joke

Click here for:
The Travel Library | Travel-Related Links.



Fri, Jul 10, 2015
The Galway Hooker
This unique vessel, with its distinctive curved lines and bright red sails, originated in the village of Claddagh. During the 19th century, hookers supported a significant fishing industry and also carried goods, livestock and fuel. Seán Rainey is remembered for building the last of the original boats, the Truelight, for Martin Oliver who was to become the last king of the Claddagh; as king, he was entitled to white sails on his boat. Since the mid seventies, many of the old sailing craft which were on the verge of extinction have been lovingly restored and new ones have been built. During the summer months they can be seen at festivals such a Cruinniú na mBád - the Gathering of the Boats - in Kinvara.

More Culture Corner