Traditions, folklore, history and more. If it's Irish, it's here. Or will be!
"People will not look forward to posterity who never look backward to their ancestors."
-Edmund Burke
---
Quotes

Library: Books, Movies, Music

Prints & Photos

Poetry

Jokes

---
---
Shops Ireland
---
Bunús na Gaeilge
(Basic Irish)

---
---
Did You Know?
---
Himself/Herself
Write to Us
Readers Write..
Links/Link to Us
---
Advertise with us
---
Awards & Testimonials

Submissions Guide
---

Today
in
Irish
History - July
1st to 7th | 8th to 14th | 15th to 21st | 22nd to 31st

---
July 1
1681 - Despite witnesses against him being discredited, Oliver Plunkett is hanged, drawn and quartered in London
1690 - Battle of the Boyne; the Jacobite forces (Irish, French, Germans and Walloons) are defeated by the Williamites (Irish, English, Dutch, Germans and Danes). The Williamite victory, being seen as a defeat for Louis XIV, is welcomed by Pope Alexander VIII
1701 - A public holiday is proclaimed for the inauguration of a statue of William III at College Green, Dublin
1798 - Rebels remain in camp at Kilcavan
1867 - Thomas Francis Meagher, Young Ireland leader, dies
1899 - Birth of singer Cavan O'Connor
1916 - The Somme offensive begins. The 36th (Ulster) Division suffers heavy casualties
1924 - The Irish Free State Aer Corps is established
1979 - The Boomtown Rats featuring Bob Geldof enter the British charts at no. 13 with I Don't Like Mondays, and eventually reach #1
1990 - The Republic of Ireland plays in the World Cup Finals for the first time. They are defeated 0-1 by Italy in the quarter-finals; an estimated half a million people take to the streets of Dublin to welcome the team home
1998 - Northern Ireland's new Assembly meets for the first time amid the growing crisis over the Drumcree Orange Order parade in Portadown. A new era in power-sharing between unionists and nationalists in Northern Ireland begins with David Trimble and Seamus Mallon elected First Minister and Deputy First Minister respectively to the new Assembly. Sinn Féin delegates abstain from the first-ever vote in the Assembly, while anti-Agreement unionists vote solidly against the two appointments
2000 - More than 1,000 Westlife fans besiege Sligo City Hall when their heroes are awarded the freedom of the city
2001 - Ireland's national minimum wage increases from £4.40 an hour to £4.70 an hour.
July 2
1790 - In an election for Speaker of the Irish parliament, John Foster defeats William Brabazon Ponsonby by 145 votes to 105
1798 - Rebels defeat small force of Yeomanry at Ballraheen Hill; they move to camp at Croghan
1800 - The British Act of Union is passed
1819 - Edward Vaughan Kenealy, barrister and writer, is born in Cork
1869 - Birth of one of Ireland's greatest ever tennis players, Joshua Prine, who won the Wimbledon singles in 1893 and 1894
1874 - Isaac Butt's Home Rule motion defeated in House of Commons 458-6
1903 - One of the greatest motoring events is held in Ireland - the Gordon Bennett Race, sponsored by James Gordon Bennett, owner of the New York Herald
1957 - Bridie Gallagher reaches no. 1 in the Irish charts with "The Boys From The County Armagh"
1958 - The Industrial Development Act is passed to encourage an influx of foreign capital
1970 - Irish Catholic bishops announce that it is no longer obligatory to abstain from eating meat on Friday
1970 - Following his arrest on May 28 for allegedly importing arms for the IRA, Neil Blaney is discharged
2000 - Joey Dunlop, motorcycle racer and humanitarian worker, dies in an accident during a race in Estonia
2000 - The 25th anniversary of St. Oliver Plunkett's canonization is celebrated in Drogheda, Co. Armagh
2000 - Navan-born jockey, Johnny Murtagh, rides Sinndar to an easy victory at the Budweiser Irish Derby
2001 - Ireland bids bon voyage to the relics of St Therese of Lisieux at the end of an 11-week tour which organisers claim drew three million onlookers.
July 3
1746 - Henry Grattan, Irish statesman, is born in Dublin
1798 - Remnants of Southern column reach Croghan. Fr. John Murphy dies at the hands of his captors
1952 - Bord Fáilte - The Irish Tourist Board, is founded
1976 - Former Boyzone band-member, Shane Lynch, is born in Dublin
1998 - Boyzone heart-throbs, Ronan Keating and Keith Duffy, throw a belated wedding bash for dozens of showbiz friends in Co. Wicklow; Hello! magazine picks up the expenses in exchange for exclusive photo coverage rights
2000 - The Taoiseach's brother, Maurice Ahern, is elected Lord Mayor of Dublin; Fine Gael's P. J. Hourican, a native of Co. Longford, is elected Lord Mayor of Cork; Sinn Féin's Sean McManus is elected Mayor of Sligo
2001 - The National Museum of Ireland launches a new range of craft and souvenir items which range in price from just £1 for a biro (pen) with the museum logo to £10,000 for a unique, hand crafted piece of jewellery.
July 4
1653 - Ireland and Scotland are represented by six and five members respectively in the 'Barebones' parliament
1690 - James II flees to France for assistance after his defeat by William of Orange
1921 - Awaiting truce with the English, Eamon De Valera orders the American flag flown in Dublin to "emphasize the principle for which we are fighting"
1798 - Rebels remain in camp at Croghan; General Needham prepares attack on Croghan camp
1878 - Birth of George M. Cohan in Providence, Rhode Island
1998 - It is announced that outgoing US Ambassador Jean Kennedy-Smith is to be made an honorary Irish citizen in recognition of her contribution to the peace process
1999 - Posh Spice Victoria Adams and England and Manchester United soccer star David Beckham are married at Dublin castle
2000 - Major international survey reveals that Irish workers pay the lowest tax rates in the European Union - even though pay rates are just barely below the EU average
2001 - The Orange order puts new proposals to the Parades Commission in an attempt to reverse the decision to divert next Sunday's Orange Order march from the Garvaghy Road.
July 5
1790 - The Irish mail coach makes its first run from Dublin to Waterford
1798 - Rebels break camp and march north. They collide with a government force led by General Duff. They retreat south and turn to fight Duff at Ballygullen, near Craanford. The battle is indecisive but with three other Government columns converging on them, the rebels divide into two columns and retreat south. The smaller column moves west and into the hills near Carnew. It eventually makes its way to Glenmalure where it joins up with a group of Wicklow rebels. The main column retreats south to Carrigrew; that evening it marches north and camps in the Wicklow Mountains
1812 - Frederick Maning, judge and writer among the Maori, is born in Johnville, Co. Dublin
1828 - Daniel O'Connell wins the Clare election
1838 - The Board of Trinity College decrees the establishment of a Chair of Irish
1936 - Brendan Halligan, economist, Labour politician and Europhile, is born in Dublin
1950 - Veronica Guerin, crime journalist, is born in Dublin
1993 - U2 releases "Zooropa" worldwide, except in North America which will get the album a day later
1998 - All bus services in Belfast are suspended as riots spread across the city
2000 - Storms cause tens of thousands of pounds worth of damage and leave thousands of homes without power
2001 - A two-year project to transcribe the official records of Dáil debates since 1919 is completed; the entire archive is available at Ireland Gov.
2002 - A new EU survey shows that electricity costs for the Irish consumer are among the cheapest in Europe, but gas users are paying some of the highest rates
2002 - Over €2 billion is wiped off the value of companies on the Irish stock exchange as markets around the world continue to see sharp falls amid concerns about improper accounting standards.
July 6
1815 - Charles Bianconi, opens his first horse-drawn coach service, between Clonmel and Cahir, Co. Tipperary, a distance of 10 miles
1868 - Death of songwriter and novelist Samuel Lover. His compositions included Widow Machree, The Low Backed Car and Molly Bawn
1907 - The Irish Crown Jewels vanish from Dublin Castle, never to be found
1937 - Birth of Dave Allen, comedian
1940 - Birth of Mary Peters, Olympic gold medalist
1946 - Clann na Poblachta, a radical new republican party is founded by Sean MacBride
1960 - The first Late Late Show - TV chat show hosted by Gay Byrne- is broadcast
1998 - Cranberries' bass player, Mike Hogan, marries Siobhain O'Carroll
2000 - In an effort to curb inflation, the government orders a freeze on the price of drinks; publicans consider a Hight Court challenge to overturn the order
2000 - Tensions intensify in the North as a second major parades ban is placed on the Orange order
2001 - Official figures show that the average price of a new house is £144,116 - more than double what it was in 1996
2001 - U2 opens the European leg of the Elevation Tour at the 10,000 Forum in Copenhagen.
July 7
1691 - Ginkel offers pardon and security of property to opponents
1700 - MP for Co. Sligo, Captain Hugh Morgan of Lord Dungannon's Regiment, is summoned to appear before a board of general officers at the Curragh of Kildare to answer accusations of being 'a rogue and rascal' and several other complaints. (On 17 July, he is pardoned for failure to turn up - ????!)
1817 - Death of Dublin-born Richard Brinsley Sheridan; playwright, impresario, and politician
1823 - Francis Fowke, engineer and architect, designer of the Royal Albert Hall, London and the National Gallery in Dublin, is born near Belfast
1823 - John Kells Ingram, professor, librarian and writer, is born in Temple Carne, Co. Donegal
1913 - Home Rule bill passes in Commons for the second time
1922 - Death of Cathal Brugha from injuries received when shot by Free State forces in O'Connell Street
1930 - Death of Sir Arthur Conan Doyle, born in Scotland of Irish parents
1970 Birth of Wayne McCullough, bantamweight boxer; Olympic silver medalist 1992; world champion (WBC)1995, in Belfast
1986 - Death in Belfast of Francie McPeake II, uilleann piper and singer. Francie, whose father wrote Will Ye Go Lassie Go, was a crucial figure in preserving the great Ulster piping tradition.

Sources:
The Celtic League
This organization publishes the annual Celtic Calendar. To order your own copy, visit: The Celtic League.
Irish Abroad
Somewhat sporadic, but they often highlight an important date in Irish history. To visit, please click: Irish Abroad.
The Wild geese
They update Irish history weekly. To visit their keydates page, please click: The Wild Geese.


We also refer to an assortment of references. Among them are the Books of Days - see right margin on this page.


Fri, Feb 2, 2018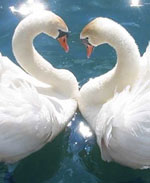 Irish God and Goddess of love
Oengus is the Irish God of love, beauty and youth. According to the old folklore, his kisses became birds. It is also said that he dreamed of a beautiful maiden, named Caer, for whom he searched all over Ireland. Eventually, he found her chained to 150 other maidens, destined to become swans at the time of Samhain. Legend has it that Oengus transformed himself into a swan and was united with his love.
Aine of Knockaine is the Irish Goddess of love. She is also known as the Fairy Queen of Munster and as a goddess of fertility beause she has control and command over crops and animals, especially cattle. Another name by which she is known is Aillen. To learn more about Irish mythology, please click Irish Myths & Legends.
Photo Credit: Wikipedia

Click for More Culture Corner.
"Cahill's lovely prose breathes life into a 1,600-year old history." The L.A. Times
This is our most popular book. We understand why; the truth is fascinating.
Click here for Saved Civilization.
---