Traditions, folklore, history and more. If it's Irish, it's here. Or will be!
"People will not look forward to posterity who never look backward to their ancestors."
-Edmund Burke
---
Quotes

Library: Books, Movies, Music

Prints & Photos

Poetry

Jokes

---
---
Shops Ireland
---
Bunús na Gaeilge
(Basic Irish)

---
---
Did You Know?
---
Himself/Herself
Write to Us
Readers Write..
Links/Link to Us
---
Advertise with us
---
Awards & Testimonials

Submissions Guide
---

Today
in
Irish
History - February
1st to 7th | 8th to 14th | 15th to 21st | 22nd to 28/29

---
February 1
1177 - John de Courcy invades Ulster and seizes Down; he defeats its king, Rory MacDonlevy, twice, even though the northern clergy use sacred relics as talismans on MacDonlevy's behalf
1315 - Edward the Bruce of Scotland and his Irish allies win the battle of Skerries in Kildare
1754 - Denis O'Neal, having been convicted of a footpad robbery and sentenced to death, is executed on this date despite an appeal to the Chief Secretary by Charles O'Neill, MP for Randalstown, to have him spared
1796 - Theobald Wolf Tone, United Irish leader, arrives in France seeking assistance
1814 - The Belfast Academical Institution - later the Royal Belfast Academical Institution, a Presbyterian college - is opened
1815 - Daniel O'Connell, having killed Norcot d'Esterre in a duel fought on this date, repudiates violence
1878 - Thomas MacDonagh, patriot, poet, critic and scholar, is born in Cloughjordan, Co. Tipperary
1895 - Birth of Sean Aloysius O'Fearna, better known as film director, John Ford
1925 - The Derry to Burtonport train crashes in Co. Donegal, killing 14 people
1967 - The Northern Ireland Civil Rights Movement is founded
1994 - The US Government breaks its policy of "censorship by visa denial" and allows Sinn Féin president Gerry Adams to make a speech in New York City
1998 - Up to 40,000 people march through Derry to commemorate the 26th anniversary of Bloody Sunday
1998 - It is announced that the partial filming of the Steven Spielberg film 'Saving Private Ryan' at Curracloe beach in Co. Wexford last summer brought over £4 million to the local economy. The Normandy D-Day landings of 1944 were re-created at the beach during four weeks of filming last July and August
2002 - Thousands of commuters and motorists are stranded by freak tides, heavy wind and rain. Rush hour traffic grounds to a halt thanks to fallen trees, downed power-lines and heavy flooding
2003 - Roy Keane's controversial autobiography is nominated at British Book Awards


2008 - Taoiseach Bertie Ahern visits Ballymena to meet Northern Ireland First Minister Ian Paisley in his Co Antrim constituency. Dr. Paisley says the Taoiseach's visit to north Antrim is a historic day, and Mr Ahern says his visit is another tangible benefit of the ongoing peace process.
In the liturgical calendar, today is the feast day of St. Brigid. It is also celebrated in the Celtic nations as Imbolc - the first day of spring.


2011 - Following the dissolution of the 30th Dáil by President McAleese on the advice of Taoiseach Brian Cowen, it is announced that a general election will take place on February 25th.
Photo Caption: Taoiseach Brian Cowen with wife Mary and daughters Maedhbh and Sinead leaving Áras an Uachtaráin. Photo Credit: Maxwells
February 2
1172 - Last day King Henry II holds his court in Dublin
1172 - The Synod of Cashel: the Bishops of Ireland, under duress, pledge allegiance to Henry II of England
1806 - Birth of painter, Daniel Maclise, in Co. Cork
1880 - Charles S. Parnell addresses the U.S. Congress
1882 - Birth in Dublin of James Joyce
1882 - James Stephens, poet and novelist, is born in Dublin
1903 - Birth of Hilton Edwards, actor and producer
1918 - Former Heavyweight champion John L. Sullivan dies
1922 - James Joyce's "Ulysses" published in Paris - on his birthday
1936 - Birth of Tony Ryan, aviation entrepreneur, in Co. Tipperary
1939 - Desmond O'Malley, Fianna Fáil politician and leader of the Progressive Democrats, is born in Co. Limerick
1972 - The British embassy in Dublin is destroyed by a furious crowd of demonstrators protesting over the shooting deaths of 13 people in Londonderry on Sunday, January 30
1998 - Terror gangs on both sides of the religious divide in the North issue threat and counter-threat as fears grow of another bloody month of sectarian slaughter
2000 - It is announced that cars in the pot holed county of Cavan are failing the National Car Test in bigger numbers than any other part of the country
2000 - The founding President of the University of Limerick, Dr Edward Walsh, is praised for his role in the development of the college at the launch of a book "University of Limerick — a Celebration" which charts the history of UL
2001 - Edna O'Brien receives a lifetime achievement award from the society for Irish writers, Irish PEN, in recognition of her work which spans 25 years
2002 - Spring tides after a full moon, driving rain, gale force southerly winds and low pressure all contribute to the highest water levels on the River Liffey in Dublin since 1924
In the liturgical calendar, today is the feast of Candlemas.
February 3
1537 -Thomas FitzGerald, Lord of Offaly and five of his uncles are executed in London. This is the end of the FitzGeralds as a major power
1744 - Lord Netterville, indicted in August 1743 for the murder of Michael Walsh, is tried by his peers in the parliament house and honourably acquitted
1801 - Prime Minister William Pitt resigns over royal veto on Catholic emancipation
1881 - Irish Land League organizer Michael Davitt is arrested again in Dublin
1896 - Lady Jane Wilde (Speranza), poet, nationalist and the mother of Oscar, dies in London
1911 - Death of Dublin-born Robert Noonan, better known as Robert Tressell, author of The Ragged Trousered Philanthropists
1919 - Harry Boland and Michael Collins engineer Eamon de Valera's escape from Lincoln Jail in England. He is dressed as a woman
1929 - Val Doonican, entertainer, is born in Waterford
1939 - Amanda M'Kittrick Ros, novelist and poet, dies
1998 - Taoiseach, Bertie Ahern, warns that substantive progress in the Northern peace talks would not be made by Easter unless the parties start discussing a single document containing the outline proposals for an agreement
1998 - Northern Ireland politician, Billy Hutchinson, facing a death threat from the Loyalist Volunteer Force brands the outlawed terror group as "a bunch of thugs, drug dealers and police informers"
2001 - It is announced that Irish celebrities in showbusiness, sport and the world of writing are among the top earners in England and Ireland. The Irish stars on the rich list include U2, The Corrs, Enya, Ronan Keating, Pierce Brosnan, Eddie Irvine, Roy Keane, Marian Keyes and Maeve Binchy
2001 - The Department of the Marine appeals for help in identifying a long legged deep sea creature, which was netted off the Kerry coast. A seasoned specialist on rare fish says he is baffled by the strange grasshopper like specimen found in nets 220 miles from the shore
2002 - British abortion providers are taking legal advice after Golden Pages inform them they are pulling ads for their services from its 2003 directory
2002 - Gales of up to 65 miles per hour ground flights at Dublin Airport and cause a Delta flight carrying 167 passengers and 14 crew to overshoot the main runway. No passengers are injured.
February 4
1775 - Birth of Robert Emmett, Irish patriot
1816 - Robert Hobart, 4th Earl of Buckinghamshire and former MP for Portarlington and Armagh Borough, dies from a fall from his horse in St James's Park, London
1830 - O'Connell enters parliament, having taken the new oath of allegiance
1868 - Birth of Irish patriot and revolutionary, Countess Constance Markievicz, née Gore-Booth
1921 - Sir James Craig succeeds Lord Edward Carson as Ulster Unionist leader
1962 - The first colour supplement is published by The Sunday Times
1992 - An off-duty RUC officer in Belfast kills three people in a Sinn Féin office before commiting suicide


1992 - Mary Robinson becomes the first Irish President to visit Belfast
2000 - Iseult Law, great-granddaughter of poet Francis Stuart, and hundreds of mourners pay a final tribute to the legendary writer at his funeral in Fanore, Co. Clare
Photo Credit: Kieran Clancy
2000 - Actors from every genre of stage and screen show come together in the chapel at Terenure College in Dublin for the funeral service of Ballykissangel star Tony Doyle.


2011 - The Prince of Wales Prince Charles and the Duchess of Cornwall visit St. Malachy's Church in Belfast to view a 3.5m restoration project. First Minister Peter Robisnon is quoted as saying "Northern Ireland has entered a new era - It is the first time in recent history that we have had a royal in a Roman Catholic Church here."


February 5
1811 - Maurice Lenihan, journalist and historian, is born in Waterford
1820 - Death of William Drennan; physician, poet, educator and political radical, he was one of the chief architects of the Society of United Irishmen. He is also known as the first to refer in print to Ireland as "the Emerald Isle". Burial takes place in Clifton Street burial-ground in Belfast and, according to his will and with deliberate symbolism, his coffin is borne to the grave by three Catholics and three Protestants
1880 -The Irish Rugby Football Union is founded in Dublin
1960 - The Gael-Linn film Mise Éire - I am Ireland - with music by Seán Ó Reada, has its first public showing
1961 - The Sunday Telegraph begins publication
1967 - The Musicians' Union bans the Rolling Stones's Let's Spend The Night Together from Eamonn Andrews' television show
1998 - It is announced that the Ulster Democratic Party, which was suspended from the Northern talks in the wake of Ulster Freedom Fighters-orchestrated sectarian killings, will not be granted a reprieve in time for the upcoming Dublin Castle negotiations
1999 - The French arrive in force in Dublin for tomorrow's Five Nations clash at Lansdowne Road
2001 - Extra British troops are deployed in an attempt to prevent further loyalist pipe bomb attacks on Catholic homes in north Belfast
2003 - A 120-strong 12th Infantry Battalion from Sarsfield Barracks is sent to Shannon to beef up security at the airport. The troops will remain until the threat of further attacks on military planes abates
2003 - The trial of three Irishmen charged with training members of the FARC guerilla movement resumes in Bogota, Columbia.
2006 - Former Bishop of Galway Eamonn Casey returns to Ireland after 14 years in exile. The cleric fled the country after he admitted to fathering his son, Peter.
February 6
1685 - Coronation of King James II
1877 - John O'Mahoney, Irish patriot, dies in New York City
1900 - John Redmond is elected leader of the Irish Party
1918 - The silent film version of Charles Kickham's popular novel Knocknagow, about life in a Tipperary village, is shown for the first time
1933 - 2RN is superseded by Radio Athlone
1971 - In Belfast, Robert Curtis becomes the first British soldier to be killed by the Provisional IRA
1998 - The European Commission launches an investigation into the FAI's refusal to allow Wimbledon football club to move to Dublin which could trigger a revolution in Irish and European soccer
1998 - Dr Kieran McCarthy, a marine specialist in the Zoology Department at UCG expresses fears that a uniquely Irish species of fish - pollan - which is found in only four fresh water lakes is being threatened by the vigorous spread of zebra mussels
2000 - A continuity IRA bomb explodes at a County Fermanagh hotel less than 24 hours before the Ulster Unionist Party's Ken McGuinness is due to visit
2001 - Over 8,000 homes in the south of the country are left without power after a severe electrical storm and high winds wreak havoc
2001 - For the first time in three decades, Ireland's first Eurovision winner Dana is back in the famous contest's spotlight as she takes to the stage to introduce the entertainers at the Dublin launch of Eurosong 2001
2002 - The jinx on famine replica ship, the Jeanie Johnston, continues as the High Court grants an order against the owners and all persons claiming an interest in the ship
2002 - Pharmacists vow to fight Health Minister Micheál Martin through the courts to stop plans for industry deregulation
2003 - The Northern Secretary, Paul Murphy, returns Johnny Adair to prison alleging he had been involved in directing terrorism, drug dealing, extortion, money laundering and procuring and distributing guns.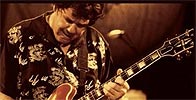 2011 - Renowned rock guitarist Gary Moore dies in a hotel room while on holiday in Spain. Originally from Belfast, he was a former member of the legendary Irish group Thin Lizzy. Sir Bob Geldof pays tribute saying "Moore was "without question, one of the great Irish bluesmen. His playing was exceptional and beautiful. We won't see his like again."
February 7


1873 - Death in Dublin of Joseph Sheridan LeFanu. Journalist, novelist, and short story writer, he is often called the father of the modern ghost story. Although Le Fanu was one of the most popular writers of the Victorian era, he is not so widely read anymore. His best-known works include Uncle Silas (1864), a suspense story, and The House by the Churchyard (1863), a murder mystery. His vampire story 'Carmilla,' which influenced Bram Stoker's Dracula, has been filmed several times
1875 - Sir Alfred Chester Beatty, mining engineer, philanthropist, art collector and the first honorary citizen of Ireland, is born in New York
1877 - John O'Mahony, founder of the Fenian Brotherhood in US, dies in New York
1940 - Birth of Harold McCusker, unionist politician, in Lurgan, Co. Armagh
1959 - Birth of Mick McCarthy, Barnsley, Manchester City, Celtic, Olympic Lyonnais, Millwall and Republic of Ireland footballer; Millwall and Republic of Ireland manager
1991 - The IRA fires at least three mortar bombs at 10 Downing Street; they fail to detonate
1998 - A burst of Dear Old Skibbereen shatters the stillness as GAA star Michael McCarthy is laid to rest in his West Cork hometown
1999 - The British Government urges David Trimble and Gerry Adams to agree to some sort of compromise in a bid to end the paramilitary disarmament deadlock
1999 - Two Irish soldiers are hospitalized after being hit by shrapnel from a heavy 120 mm mortar explosion in crossfire between the Southern Lebanese Army and Hizbollah guerrillas
2001 - More than 3,500 passengers are affected by the cabin crew pay strike at Shannon Airport
2002 - The Cranberries announce that proceeds from their new single, Time is Ticking Out, will be donated to the Chernobyl Children's Project
2002 - One elderly woman, in line at St Patrick's Church in Ringsend, Dublin for a €1,000 cheque for flood damage, had all her possessions with her - in just one bag. She is just one of hundreds of homeowners who benefit after the Archdiocese of Dublin donates hundreds of €1,000 cheques to victims of the recent flooding in the city
2003 - Northern Secretary Paul Murphy says he is hopeful the Executive in the North will be up and running again by March 17 once a series of intense roundtable talks are completed.

Sources:
The Celtic League
This organization publishes the annual Celtic Calendar. To order your own copy, visit: The Celtic League.
Irish Abroad
Somewhat sporadic, but they often highlight an important date in Irish history. To visit, please click: Irish Abroad.
The Wild geese
They update Irish history weekly. To visit their keydates page, please click: The Wild Geese.


We also refer to an assortment of references. Among them are the Books of Days - see right margin on this page.



Fri, Feb 2, 2018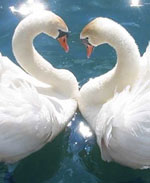 Irish God and Goddess of love
Oengus is the Irish God of love, beauty and youth. According to the old folklore, his kisses became birds. It is also said that he dreamed of a beautiful maiden, named Caer, for whom he searched all over Ireland. Eventually, he found her chained to 150 other maidens, destined to become swans at the time of Samhain. Legend has it that Oengus transformed himself into a swan and was united with his love.
Aine of Knockaine is the Irish Goddess of love. She is also known as the Fairy Queen of Munster and as a goddess of fertility beause she has control and command over crops and animals, especially cattle. Another name by which she is known is Aillen. To learn more about Irish mythology, please click Irish Myths & Legends.
Photo Credit: Wikipedia

Click for More Culture Corner.
"Cahill's lovely prose breathes life into a 1,600-year old history." The L.A. Times
This is our most popular book. We understand why; the truth is fascinating.
Click here for Saved Civilization.
---