Traditions, folklore, history and more. If it's Irish, it's here. Or will be!
"People will not look forward to posterity who never look backward to their ancestors."
-Edmund Burke
---
Quotes

Library: Books, Movies, Music

Prints & Photos

Poetry

Jokes

---
---
Shops Ireland
---
Bunús na Gaeilge
(Basic Irish)

---
---
Did You Know?
---
Himself/Herself
Write to Us
Readers Write..
Links/Link to Us
---
Advertise with us
---
Awards & Testimonials

Submissions Guide
---

Today
in
Irish
History - October
1st to 7th | 8th to 14th | 15th to 21st | 22nd to 31st

---
October 1
1600 - Robert Grave, Church of Ireland Bishop of Ferns and Leighlin, and his family drown in Dublin Bay on their way home to Wexford by sea
1796 - The Royal College of St. Patrick. a Catholic seminary, is opened in Maynooth, Co. Kildare
1751 - Cornelius Bolton, politician, Volunteer and improving landlord is born
1761 - In the climate of sectarian tension created partly by the Mathew-Maude controversy, the Whiteboys, a violent agrarian protest movement, begins in Tipperary and spreads through Munster and West Leinster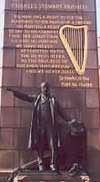 1911 - Statue of Charles Stewart Parnell is unveiled in Dublin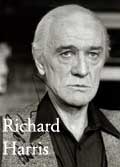 1930 - Actor Richard Harris is born in Limerick
1979 - RTÉ broadcasts Pope John Paul II's visit to Ireland
2000 - Eight men, including one Irishman, are feared dead after their fishing vessel sinks off the Clare coast in gale force winds and treacherous seas
2000 - President Mary McAleese leads the tributes to the Apostolic Nuncio, Archbishop Luciano Storero, who died at 8am this morning in the Mater Hospital in Dublin at the age of 74
2001 - Journalists from all over Ireland gather to pay tribute to colleague Martin O'Hagan who was gunned down last week. More than 1,500 people attend his funeral in his hometown of Lurgan, County Armagh
2001 - The Black & White Pub of The Year Award 2001 goes to Fitzpatrick's Bar of Jenkinstown, Co Louth.
October 2
1600 - O'Neill engages Mountjoy's forces in the Battle of Moyry Pass
1833 - Birth of Father William Corby who became Chaplain of the Irish Brigade in Detroit, Michigan
1852 - William O'Brien, writer and nationalist, is born in Mallow, Co. Cork
1875 - Arthur Conway, mathematician and president of University College Dublin, is born in Wexford
1879 - Kate Coll arrives in New York from Ireland on board the SS Nevada. She later marries Juan Vivion de Valera, and gives birth to Éamon on October 14, 1882 in New York
1900 - Hubert Butler, writer and local historian, is born near Bennettsbridge, Co. Kilkenny
1942 - The British cruiser Curaçao sinks off Donegal after colliding with the Queen Mary; 338 lives are lost
1975 - Death of sculptor, Seamus Murphy
2001 - Máire Ní Chathasaigh, harpist and composer wins the TG4 Traditional Music Award 2001
2002 - In Málaga, Spain, a street is to be named after deceased Irish painter, George Campbell. Mr Campbell, from Arklow, Co Wicklow, died in 1979. He spent five months of every year of his last 27 years in Málaga
2002 - A 1.3 acre site at Railway Square in Waterford city is sold at auction for €4.9 million – over twice its guide price and a record for the region.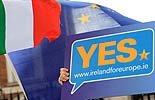 2009 - Irish voters strongly endorse the European Union's Lisbon Treaty - 16 months after their first vote rejecting it plunged EU reforms into deadlock. According to final results, 67.1% of Irish voters approved it, while 32.9% voted "No". Turnout in the three-million electorate was 58%.
Photo Credit: Reuters
October 3
1691- Treaty of Limerick is signed, ending the Williamite War in Ireland; the treaty allows evacuation of the Irish army to France and promises tolerance of Irish Catholics
1750 - James McLaine, gentleman highwayman born in Monaghan, is hanged at Tyburn
1871 - Gen. John O'Neill and a small force of Fenians invade Canada at Pembina, Manitoba
1943 - Richard Caborn, Sports Minister, is born
1961 - Ireland applies for membership of the European Economic Community on 1 August and joins UNESCO on this date
1966 - Birth of Niall Quinn, footballer


1971 - Death of Seán Ó Riada, founder, composer, and arranger for the Chieftains. He composed Mná na hÉireann (Women of Ireland). Guided by his vision, traditional music changed radically, and became accessible to a modern Irish audience, and through this traditional music, the cultural life of Ireland was invigorated. (taken from the book "Bringing It All Back Home" by Nuala O Connor)
1975 - Dr Tiede Herrema, chief executive of the Dutch-owned Ferenka factory in Ballyvarra, County Limerick, is kidnapped by the IRA
1981 - In the Maze Prison, Northern Ireland, ten IRA and INLA hunger-strikers die between 5 May and 12 August; the hunger strike is called off on this date
2000 - The death toll in storms that have raged for two days off the coast of Galway reaches 20
2002 - Sinn Féin's Martin McGuinness condemns a weekend gun attack on a bus driver in his home city of Derry which police believe was the work of the IRA.
October 4
1582 - Pope Gregory reforms the calendar introduced by Julius Caesar in 45BCE: 4 October is followed by 15 October. However, the reform will not be implemented in Ireland till 1752
1693 - Irish Brigade of France fights in the battle of Marsaglia
1733 - Henry Boyle, the future Earl of Shannon, is unanimously elected Speaker of the Irish parliament. He will serve till 1756 - the longest-serving Speaker of the 1692-1800 parliaments
1741 - Edmund Malone, editor and Shakespearian scholar, is born in Dublin
1842 - Birth of heavyweight bare-knuckle boxer Jim Dunne in Co. Kildare.
Dunne won the American heavyweight title from fellow Irishman Jim Elliot - the pair were jailed after the illegal event
1886 - Lennox Robinson, playwright and one-time Abbey Theatre manager, is born in Douglas, Co. Cork
1959 - Direct dialing is launched in Ireland
1961 - General election is held in the Republic. Fianna Fáil gains 70 of the 144 seats
1999 - Aer Lingus announces it will drop its Knock Birmingham route. The decision by the national airline to cease operations on this route also means the severing of its only regular link with Knock Airport. A spokesperson for Aer Lingus confirms that the last flight on the Knock Birmingham route will be on October 29
2001 - Cork will be Europe's Culture Capital in 2005 after landing the prestigious title ahead of Galway
2002 - Thousands of people from all over the country march in protest over redundancy payments
2002 - The North's police service launch dawn raids on Sinn Féin's offices at the Northern Ireland parliament at Stormont
In the liturgical calendar, today is the feast day of St. Francis. Traditionally, many people have their pets blessed in honor of the patron saint of all animals.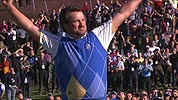 2010 - Graeme McDowell after delivering the match-winning point for Europe in his final singles match against the USA's Hunter Mahan at the Ryder Cup at Celtic Manor in Wales. For the first time in its history, the Ryder Cup stretched into a fourth day due to inclement weather
Photo Credit: Irish Times.
October 5
1731 - Parliament meets at the new parliament house in College Green for the first time
1873 - Leslie Montgomery, comic writer under the pseudonym Lynn C. Doyle, is born in in Downpatrick, Co. Down
1878 - New York Gaelic Society is formed
1911 - Birth of Brian O'Nolan, aka Flann O'Brien and Myles na gCopaleen in Strabane, Co. Tyrone
1923 - Birth of Philip Berrigan - militant priest, Virginia, Minn
1924 - John Joe Barry, athlete who is known as 'the Ballincurry Hare', is born


1938 - Frank Patterson, tenor, is born in Clonmel, Co. Tipperary


1954 - Bob Geldof, rock musician and charity organizer, is born in Dún Laoghaire, Co. Dublin
1968 - Police clash with Derry civil rights marchers, giving birth to the civil rights organization People's Democracy
2000 - With pressure growing on Trimble to withdraw from the Northern Ireland power sharing executive, parliamentary colleague William Thompson, the West Tyrone MP is quoted as saying ''He is on the skids and he cannot survive'
2000 - In one of the largest operations in the history of the State, over 150 gardaí and officers from the FBI search a warehouse and distribution center. At the centre of the investigation is a Shannon based company that is alleged to have sold counterfeit aircraft parts to aircraft maintenance and repair facilities
2000 - Ireland's ban on tobacco advertising stands despite the decision by the European Court of Justice to knock down an EU wide ban
2000 - Michael Collins who wrote The Keepers of Truth and Brian O'Doherty who wrote The Deposition Of Father McGreevy are among the six authors shortlisted for Britain's Booker Prize
2000 - The World Windsurfing Grand Prix is held in Ireland for the first time
2000 - Midleton Distillery in Co. Cork wins the Distillery of the Year award
2001 - Former NI First Minister David Trimble announces plans to go to the House of Lords after failing to overturn a ruling that his ban on Sinn Fein ministers attending cross-Border meetings is illegal
2001 - Ten thousand rail travellers are delayed when Dublin's Heuston railway station closed because of a bomb alert
2003 - First Sunday edition of the Star newspaper is published.


2010 - At age 62, Maurice Ignatius "Moss" Keane loses his heroic battle against cancer. Tributes from the worlds of sport and politics pour in for the much-loved Ireland, Munster and Lions star who was capped 51 times for his country and was part of the famous Munster side that beat New Zealand in Thomond Park, Limerick, in 1978.
October 6
1175 - Under the Treaty of Windsor, concluded on this date, Rory O'Connor recognizes Henry as his overlord and agrees to collect tribute for him from all parts of Ireland. Henry agrees that O'Connor can be king of the areas not conquered by the Normans. But O'Connor cannot control the territories of which he is nominally king, and Henry and his barons annex further land without consulting him
1216 - The union of the diocese of Glendalough with that of Dublin, having been promulgated by Pope Innocent III last year, is confirmed by Pope Honorius III
1649 - Owen Roe O'Neill dies
1798 - Grattan removed from Irish Privy Council, falsely charged with being a sworn member of United Irishmen
1891 - Death of Charles Stewart Parnell, champion of tenants rights and co-founder of the Land League; often called the "Uncrowned King of Ireland"
1901 - Birth of C. S. 'Todd' Andrews, revolutionary and public servant, in Dublin


1903 - Ernest Thomas Sinton Walton is born at Dungarvan, Co. Waterford. He and Sir John Douglas Cockcroft were awarded the 1951 Nobel Prize in Physics for their pioneer work on the transmutation of atomic nuclei by artificially accelerated atomic particles
Photo Credit: Nobel.se
1928 - Death of Galway man Pádraic Ó Conaire, who was among the first writers to develop a new modern literature in the Irish language
1928 - Maeve Kyle, athlete and hockey player, is born in Kilkenny
1948 - Birth of Gerry Adams
1970 - Opening of the arms trial involving Charles Haughey
1980 - Mella Carroll, first female judge in the Republic, is appointed
2000 - It is announced that John Monks, a pig farmer from Cloughran, north Dublin who died last year, left almost £8 million in his will; he accumulated the vast sum from selling land to developers
2000 - The High Court grant gardaí the right to detain Slobodan Milosevic if he sets foot in Ireland
2002 - Some of the highest tides in a century are set to swamp the Irish coastline this week, prompting flood contingency plans in a number of high-risk areas.
October 7
1731 - A complaint is made to the House of Commons 'that Mr Anthony Tenison did, in a violent and notorious manner, assault John Bourke, Esq., a Member of this House, by presenting a pistol to his breast, and threatening to shoot him, on the thirtieth of December last'
1878 - Birth of Margaret (Gretta) Cousins, Irish women's rights activist.
1910.- Premiere of Percy French's play The Immigrant's Letter
1919 - A cabinet committee is appointed to consider Irish self government
1935 - Birth of Thomas Kineally, Irish-Australian author of Schindler's List which was originally called Schindler's Ark
1968 - Death of Margaret Mary Pearse, Irish language educator
1998 - The Bank of Ireland announces an unprecedented 20-year fixed rate of 6·99% within the first of a wave of interest cuts that will bring Irish rates into line with Europe for the introduction of the euro on January 1
1999 - The Corrs and The Divine Comedy emerge as Ireland's favourite music stars winning three awards each at the Hot Press Rock Awards in Dublin. U2's "Sweetest Thing" wins for "Best Single"; Westlife picks up the prize for best Irish pop act; and Robbie Williams's sell out concert at The Point Theatre, Dublin, wins him best live performance by an international act
1999 - Ireland moves a step closer to raising the recruitment age of the armed forces from 16 to 18
1999 - Aiming to raise awareness of world poverty, The Corrs and chartered accountants KPMG jointly launch the NetAid web site
2000 - The tenants of a Dublin inner city community refuse to leave their houses after been evicted. The tenants of 28 cottages - - almost all single mothers - block access to their homes when they go up for viewing to prospective buyers
2001 - The 46th Murphy's Cork Film Festival opens with a showing of Disco Pigs which was partly filmed in the city
2002 - Police in Northern Ireland are attacked with bottles and other missiles after a crowd of youths go on the rampage through Kilkeel, Co. Down
2002 - The peace process faces its gravest crisis with the announcement that Ian Paisley's DUP two ministers will withdraw from the government
2002 - A man is shot and critically wounded in east Belfast in what is believed to be an escalation of a bitter feud between the Loyalist paramilitary groups, the UDA and UVF.

Sources:
The Celtic League
This organization publishes the annual Celtic Calendar. To order your own copy, visit: The Celtic League.
Irish Abroad
Somewhat sporadic, but they often highlight an important date in Irish history. To visit, please click: Irish Abroad.
The Wild geese
They update Irish history weekly. To visit their keydates page, please click: The Wild Geese.


We also refer to an assortment of references. Among them are the Books of Days - see right margin on this page.


Fri, Feb 2, 2018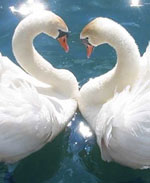 Irish God and Goddess of love
Oengus is the Irish God of love, beauty and youth. According to the old folklore, his kisses became birds. It is also said that he dreamed of a beautiful maiden, named Caer, for whom he searched all over Ireland. Eventually, he found her chained to 150 other maidens, destined to become swans at the time of Samhain. Legend has it that Oengus transformed himself into a swan and was united with his love.
Aine of Knockaine is the Irish Goddess of love. She is also known as the Fairy Queen of Munster and as a goddess of fertility beause she has control and command over crops and animals, especially cattle. Another name by which she is known is Aillen. To learn more about Irish mythology, please click Irish Myths & Legends.
Photo Credit: Wikipedia

Click for More Culture Corner.
"Cahill's lovely prose breathes life into a 1,600-year old history." The L.A. Times
This is our most popular book. We understand why; the truth is fascinating.
Click here for Saved Civilization.
---