Traditions, folklore, history and more. If it's Irish, it's here. Or will be!
"People will not look forward to posterity who never look backward to their ancestors."
-Edmund Burke
---
Quotes

Library: Books, Movies, Music

Prints & Photos

Poetry

Jokes

---
---
Shops Ireland
---
Bunús na Gaeilge
(Basic Irish)

---
---
Did You Know?
---
Himself/Herself
Write to Us
Readers Write..
Links/Link to Us
---
Advertise with us
---
Awards & Testimonials

Submissions Guide
---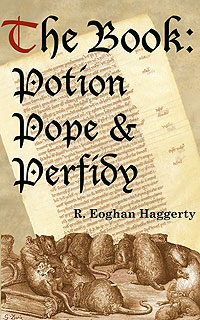 The Book: Potion, Pope & Perfidy
by R. Eoghan Haggerty
All right, why is this on Irish Culure and Customs? It's not about Ireland and it's not about the Irish. Well, it is Irish-ish; there's an Irish detective visiting his Irish sister in Cincinnati, Ohio and there's an Irish monk and his Irish cat but in the monk's day he lived in Hibernia.
Then, it is a good story and anyone with even a little Irish blood loves a good story.

The Book is about, well, a book; a 14th Century codex created by an Irish monk under a commission from Pope Clement VI. The book turns up at the Cincinnati Public Library annual book sale. It's part of a money-laundering scheme between three young drug dealers and a very old, very wealthy, collector of antiquities. It all goes bad and the book is given to the wrong man.

The story follows the man with the book as he tries to find out what it actually is and how it came to be at a library sale. The drug dealers try to find the man and get their property back.
The story then turns to the 14th century and the life of the book from its inception.
As we follow the book, it becomes obvious that its value as a priceless medieval artefact is less than the value of what it contains.

This is not a conventional mystery. We do not gather in the drawing room when all is revealed. You follow the detective as he uncovers information and you read his thoughts as he discovers the truth about...the book.

Here's the 'blurb':
A depressed detective, still in mourning for his murdered wife, stumbles into a money-laundering scheme when a book is sold to him by mistake at a library book sale. The intended recipients, a trio of drug dealers, try to find him and the book. He tries to unearth the mystery of how the book came to be at the sale. It isn't easy - the book is written in Latin and Greek.
The book itself, a 14th century codex, is obviously a priceless antiquity. However, as the story of the book unfolds, it slowly becomes clear that the book's value is more in its contents than its age.
The story behind the book's origins begins in 1347. Commissioned by Pope Clement VI at the request of his physician, Guy de Chauliac, it travels to Hibernia to be copied by a young Irish monk. Can the monk finish in time to apply its secrets? Is Guy de Chauliac correct about the book's usefulness? Is the detective's belief in the book's contents justified?
In an intricate tale that weaves back and forth between the middle ages and modern day America, a Greek physician's ancient formula provides the common thread that brings an unlikely cast of characters together.

To read the beginning (quite a bit, actually, into chapter three) and buy the book, please click Amazon.


---
Fri, Feb 2, 2018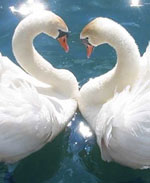 Irish God and Goddess of love
Oengus is the Irish God of love, beauty and youth. According to the old folklore, his kisses became birds. It is also said that he dreamed of a beautiful maiden, named Caer, for whom he searched all over Ireland. Eventually, he found her chained to 150 other maidens, destined to become swans at the time of Samhain. Legend has it that Oengus transformed himself into a swan and was united with his love.
Aine of Knockaine is the Irish Goddess of love. She is also known as the Fairy Queen of Munster and as a goddess of fertility beause she has control and command over crops and animals, especially cattle. Another name by which she is known is Aillen. To learn more about Irish mythology, please click Irish Myths & Legends.
Photo Credit: Wikipedia

Click for More Culture Corner.