Traditions, folklore, history and more. If it's Irish, it's here. Or will be!
"People will not look forward to posterity who never look backward to their ancestors."
-Edmund Burke
---
Quotes

Library: Books, Movies, Music

Prints & Photos

Poetry

Jokes

---
---
Shops Ireland
---
Bunús na Gaeilge
(Basic Irish)

---
---
Did You Know?
---
Himself/Herself
Write to Us
Readers Write..
Links/Link to Us
---
Advertise with us

---
Awards & Testimonials

Submissions Guide

Help keep us free
Throughout the site you will see many items available for purchase from well-known merchants such as Amazon. Not interested in what we're featuring? It doesn't matter. Click on any link and then shop for whatever you wish - we will still get credit, if you buy something.
Thanks for your help.

---
A Little Bit O' Heaven - Part II
by Jane Irwin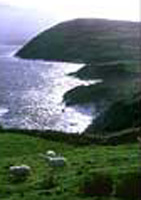 The second week Bob and I were on our own. We had lunch in Corofin then headed toward Doolin. Thanks to the roundabouts, the signs, and our inexperience, we ended up back in Corofin. Happy are the flexible. We had a good laugh then started back to Doolin. It's a pretty town with houses on a hill. We could see Inisheer from the dock. We didn't make it out to Inisheer or any of the other Aran Islands although I did get a beautiful sweater. We'll save that experience for next time.

The next day we took the car ferry across the River Shannon and headed for Tralee where we stopped for pie and coffee. Then it was on to the Dingle Peninsula where there is some of the most beautiful scenery I have ever come across. The green hills dotted with sheep are postcard material. By the time we got to the town of Dingle it was late in the afternoon, so we stayed at a beautiful Bed and Breakfast called Tower View run by Mary Griffin.
Mary's home is immaculate and beautifully decorated. She lived in Boston for 15 years and returned to Dingle two years ago. After a delicious dinner of salmon at a nearby restaurant, we walked along the dock to look at the fishing boats then up the street to a beautiful old church, St. Mary's, where Mass was being celebrated in Gaelic. There was just a little sprinkling of rain as we were walking around town, but we were very fortunate to have beautiful, sunny days most of the time. In the three weeks we were in Ireland, we had only four days that I would call rainy. Unfortunately, one of them was the day we chose to drive around the Ring of Kerry.
The Ring of Kerry was absolutely beautiful. Low clouds obscured our view of the mountains at times, but the hills and valleys were covered with yellow wildflowers. I was glad we listened when people warned us to drive counterclockwise so we would not be on the outside edge on the mountain roads. One highlight of the day was our lunch at a beautiful restaurant in the hills between Kells and Cahersiveen on the north side of the Ring. Although I kept a journal, I forgot to write down the name of the restaurant. The food was good and we were served by a very friendly, helpful Italian lady who kept asking us if we were happy. We were very happy.
The next day our destination was Killarney. We went through the shops on the main street where we bought a few gifts. I thought it was charming and I enjoyed the shops. I found a small tablecloth made of circles of cloth held together with wide sections of lace. It is beautiful, and looks typical of Irish handiwork. Killarney is already on my list of towns if I ever get back to Ireland. By evening we were in Kinsale where we had dinner at The White House. The restaurant had several recommendations, but we were disappointed. Neither the food nor the service was as good as we had expected.
We stayed in Cobh (Cove) that night and toured the Cobh Heritage Center the next day. Although I knew the history of the famine and the coffin ships, I had a tear in my eye as I saw the scenes depicted in life size figures and thought of the atrocities committed against the Irish. I wondered if my ancestors were among the victims of the Great Famine. I guess they must have been. My mother used to tell a story that had been passed down about how food was so scarce that there would be one potato in the center of the table and the family members would each put their forks into it to get what they could. Luckily, they were able to emigrate to America.

Our next stop was Waterford, another town I would like to visit again. I could have gone wild at the crystal factory, but I restrained myself and bought only a salad bowl for our daughter who was not able to come to Ireland with us as she is married with children. I thought a beautiful crystal bowl would help ease her longing to see the Emerald Isle. While we were in Waterford, we attended Sunday Mass at St. Paul's Church where there was a nice young priest and a good choir which included guitars and tambourine. It is comforting to be in a far away country and experience exactly the same Mass as we have in the United States and everywhere else in the world.
Actually, even though Ireland is far away, it didn't seem like a strange or foreign country. I'm sure the use of the English language helps, but also the people looked like members of my family, people I went to school with, and people I know now. In fact, a lady named Anne at whose B & B we stayed one night, looks just like my cousin, Sylvia. I felt very much at home.
Our next stop was Dublin. We had been warned about trying to drive in the city, so we stayed in the village of Maynooth and took a bus into town. We went to Trinity College to see the very impressive Book of Kells and the library. The book of Kells was written by the monks on calfskin from which they scraped the hair. They poked holes in the skin with a stylus to form beautiful intricate designs, pictures of the saints, and the words of the four gospels. We saw the post office where the 1916 rising took place and walked on Grafton Street. The bus we wanted to take back to Maynooth didn't seem to stop where we had gotten off, so we asked a driver where to catch it. He started to explain then said, "Oh, just hop on...I'll take you there." Those nice Irish people again.
I have to stop here and say something about the food in Ireland. As most people know by now, this is not a corned beef and cabbage country. Not that corned beef and cabbage isn't a wonderful dish, but Ireland's food is so much more. The salads and sauces, sandwiches and desserts are very good, and the seafood is plentiful and delicious. In one restaurant in Dingle, I had a piece of salmon that must have weighed a pound and it was a very reasonable price. Another dinner that comes to mind is one of noodles and chicken in a cream sauce at Oscar's in the town center of Mullingar. The dishes are beautifully presented even in many of the pubs and the portions are usually quite large. In fact, after a few days of such big meals, we began ordering only starters or appetizers with which a basket of bread was served. Another thing we noticed is that we were never given our check for a meal until we asked for it. A few times we simply walked up to the cash register and told the clerk what we had been served. I suppose the idea is to make the customers feel they are not being rushed. I have to admit that the good food was an enjoyable part of our trip...not to mention the brown bread to which I became addicted. It is a whole grain soda bread which I am definitely going to try to duplicate.

Oh, and the pancakes with lemon curd were wonderful. Angela who runs the Carrabaun House in Westport on Clew Bay introduced them to us. She didn't give me any definite measurements for the lemon curd but told me she uses the juice of six lemons, adds some caster sugar and a little corn starch and simmers it a bit until it thickens. The pancakes were quite thin, folded over, topped with powdered sugar, lemon curd, and a dollop of whipped cream. Heavenly!

Please click here for Part 3.

Travelling to Ireland? Please click to return to our Travel Home Page.



Fri, Jul 10, 2015
The Galway Hooker
This unique vessel, with its distinctive curved lines and bright red sails, originated in the village of Claddagh. During the 19th century, hookers supported a significant fishing industry and also carried goods, livestock and fuel. Seán Rainey is remembered for building the last of the original boats, the Truelight, for Martin Oliver who was to become the last king of the Claddagh; as king, he was entitled to white sails on his boat. Since the mid seventies, many of the old sailing craft which were on the verge of extinction have been lovingly restored and new ones have been built. During the summer months they can be seen at festivals such a Cruinniú na mBád - the Gathering of the Boats - in Kinvara.

More Culture Corner