Traditions, folklore, history and more. If it's Irish, it's here. Or will be!
"People will not look forward to posterity who never look backward to their ancestors."
-Edmund Burke
---
Quotes

Library: Books, Movies, Music

Prints & Photos

Poetry

Jokes

---
---
Shops Ireland
---
Bunús na Gaeilge
(Basic Irish)

---
---
Did You Know?
---
Himself/Herself
Write to Us
Readers Write..
Links/Link to Us
---
Advertise with us

---
Awards & Testimonials

Submissions Guide

Help keep us free
Throughout the site you will see many items available for purchase from well-known merchants such as Amazon. Not interested in what we're featuring? It doesn't matter. Click on any link and then shop for whatever you wish - we will still get credit, if you buy something.
Thanks for your help.

---
A Little Bit O' Heaven - Part III
by Jane Irwin



After we left Dublin, we drove along the N4 which is a major road, up through Mullingar and Longford to Sligo...

By this time, we were trying to stay on the main roads as the boreens were narrow and winding. Yellow daffodils and red and yellow tulips were plentiful along the highways and in the towns and they made a lovely picture against the green grass.

We stayed at a B & B in Drumcliff near Sligo where the poet W. B. Yeats is buried. The house was on a hill and we could see the entire valley including the church from which he was buried. The view was breathtaking and the sunset that evening was glorious. I took a picture of that glorious sunset and had an 8 x 10 made for framing.
There were striae of puffy clouds tinged with amber, melon, and rose-gray against the pale blue sky. It was easy to understand why this place meant so much to him and Drumcliff is also very proud of its connection to the poet. There are two separate Yeats Taverns, and a Yeats art gallery and several other businesses which I can't remember right now that pay tribute to him. That evening we had dinner at (of course) Yeats Tavern and Restaurant. The atmosphere and the food were both very nice there.
Our next stop was Donegal, a pretty town, I thought, but it was a soft rainy day, so we just did the usual tourist things like looking in the shops and taking a few pictures.
We stayed that night just down the coast a little way at Carrabaun House on a hill in Westport on Clew Bay. We could see Croagh Patrick from the dining room window as we ate our breakfast the next morning. It was a beautiful sunny day and we could even see a tiny white dot on the mountain top.

Our hostess told us that was the church. Croagh Patrick is the mountain where St. Patrick spent 40 days and nights in prayer, penance, and keeping a very strict fast. Pilgrims walk to the top of Croagh Patrick toward the end of July every year to spend a few days or more doing penance. Bob and I decided to drive over there. By this time, it was chilly and windy and the road up the mountain looked pretty steep. When I asked Bob if he would like to walk to the top, we just looked at each other and decided we needed to save some activities for the next trip. Whew! I was afraid he'd say, "Yes."
It is hard to express the beauty of the Connemara National Park. We took the winding narrow roads through the mountains where there were so many sheep grazing. Many of them were along the roads or crossing them...ewes with their lambs. There was nothing in sight but the hills, sheep, some wildflowers, and at one point as we came over a hill, a good-sized lake. There was hardly ever another car in sight. I wanted to stay there indefinitely and take it all in. I took some beautiful pictures, but they don't do the landscape justice.
As we traveled, we stopped at several places including Cong Abbey and the replica of the cottage used in The Quiet Man movie in Cong. We toured Galway on a sight-seeing bus and visited the Galway crystal factory. We explored the huge Cahir Castle which we came upon quite by accident as we drove through town.
Next we stopped at Clonmacnoise Abbey established by St. Ciaran in the 7th century. The original Celtic high cross has been brought inside to preserve it from the weather. It is beautiful and in surprisingly good condition.
One thing we didn't want to miss was St. Patrick's Rock in Cashel, commonly known as the Rock of Cashel. It is a large abbey built on a high hill of rock where St. Patrick baptized the high king of Ireland. The story goes that St. Patrick accidentally drove the end of his staff into the king's foot and the king, thinking it was part of the Christian initiation, remained silent.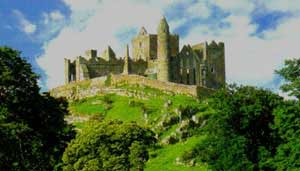 We spent our last night in Ireland at a lovely Bed and Breakfast near the airport appropriately called "Airport Manor." I had mixed feelings about leaving Ireland. It was nice to be going home after three weeks sort of living out of a suitcase, but I knew I would miss Ireland, the people, and that wonderful brown bread! We had accomplished what we had set out to do; that is, get a feel for the country and meet the people at a time that there weren't many tourists. The drawback to going in April was that some of the tourist attractions weren't open and it wasn't a good time for the festivals and pub music. That seems like a pretty good excuse to start planning another trip!
Brief Bio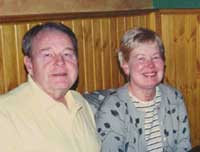 We both grew up in Columbus, Ohio. Bob went to North High School and I went to Holy Family. We met at Ohio State University in a lettering class and graduated in 1963...Bob in Fine Arts/Product Design, and I in Education. We've lived in Bucyrus, Ohio, Fort Worth and Arlington, Texas, and Upland, California, near Los Angeles. We are happy to be back in Ohio and will never leave again as Bob retired a few years ago.
Bob likes to play golf and watch the matches on television. He likes working on antique cars, building things, working in the yard, traveling, and getting together with friends.
I like to dance, draw and paint, sew little dresses for our 16 month old grandbaby, travel, and try out new recipes and restaurants. My favorite reads are the Irish stories of Maeve Binchy, Nora Roberts, and Andrew Greeley as well as spiritual reading. Oh, yes, I'm also addicted to the computer.
Our trip to Ireland was the first one out of the United States. I feel very blessed to be an Irish-American.
Note:We would like to thank Jane for sharing her memories of what was indeed, "a little bit o' heaven!"

Images: Provided by the author

Travelling to Ireland? Please click to return to our Travel Home Page.



Fri, Jul 10, 2015
The Galway Hooker
This unique vessel, with its distinctive curved lines and bright red sails, originated in the village of Claddagh. During the 19th century, hookers supported a significant fishing industry and also carried goods, livestock and fuel. Seán Rainey is remembered for building the last of the original boats, the Truelight, for Martin Oliver who was to become the last king of the Claddagh; as king, he was entitled to white sails on his boat. Since the mid seventies, many of the old sailing craft which were on the verge of extinction have been lovingly restored and new ones have been built. During the summer months they can be seen at festivals such a Cruinniú na mBád - the Gathering of the Boats - in Kinvara.

More Culture Corner