Traditions, folklore, history and more. If it's Irish, it's here. Or will be!
"People will not look forward to posterity who never look backward to their ancestors."
-Edmund Burke
---
Quotes

Library: Books, Movies, Music

Prints & Photos

Poetry

Jokes

---
---
Shops Ireland
---
Bunús na Gaeilge
(Basic Irish)

---
---
Did You Know?
---
Himself/Herself
Write to Us
Readers Write..
Links/Link to Us
---
Advertise with us
---
Awards & Testimonials

Submissions Guide
---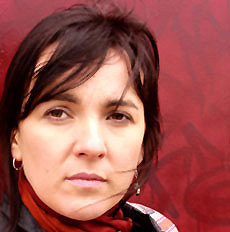 Karan Casey and Ships in the Forest
by William Ramoutar

Well, sadly Frank Harte is gone, but he will never be forgotten if Karan Casey and her like have anything to do with it. Frank passed many songs on to Karan and she sure made some of them her very own. There is no one who will ever outdo her version of "She is Like the Swallow." But on this brand new cd of hers, it is unlikely anyone will ever surpass her ladyship's rendering of Martin Furey's superb song, "The Town of Athlone."

She has the most stunning voice anyway. Yet some songs fit her like the proverbial glove but, with oh, so much more, sparkle and downright presence, it is hard to think of anyone else having the boldness to attempt a go at it when how could you..

That song, by the way, sounds like it has been around for hundreds of years and more power to Martin Furey, for writing such a moving song of love and travelers. The opening track is, "Love is Pleasing" and sung by this diminutive lass from Waterford, you get the feeling right away, she could sing the label off the jam jar and you'd be happy.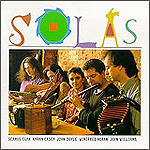 She started singing with American Irish band, Solas, fourteen years ago and when she left after about five years to pursue a solo career, I was devastated. In fact, Solas, or the members of the band, taught me that there is life after the moving on, or breakups! Karan Casey has done very well, thank you very much, and it is in her superb choices of songs that she puts together these marvelously crafted works of hers.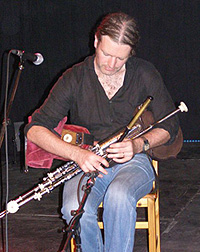 Of course it probably helps that on this one, she has the backing of three of the Vallely boys. Piper, Cillian, pianist, Caoimhín and button accordionist, Niall. Without doubt, some of the tastiest players on the scene and a little bit of input from some other outstanding musicians, namely ex-Scullion guitarist, Robbie Overson and the producer is none other than Capercaillie's keyboardist, Donald Shaw. It was recorded in Karan's house in Cork and there is a homey feel to it, but more importantly, it is a work of standing. You get the meaning behind the songs because she sings with such expression and yes, probably tradition is the word to use here. Because I cannot think of anyone, more deserving of being admired by her peers. She is an icon in the purest sense of the tradition, but with the ability to sing contemporary tunes and have them sound like the traditionalists would. Then give them a second listen...and maybe a third.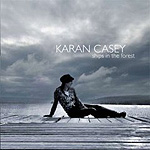 Don't forget, in what was known as real Irish music, we still have the purists who don't like the "new" singers playing around with the tunes. Instrumentally, if there is added ornamentation (or in layman's terms added notes), the tunes are not regarded, as being in the true tradition. My argument is and has always been, that to pass many of these tunes on, they sometimes have to appeal to younger generations, or to people who might never have heard Irish music. Some over the years have turned what we thought were standards, into rock songs or indeed pop tunes. The old statesmen are turning in their graves no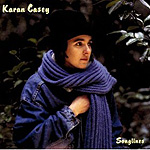 doubt. But do listen to Karan's "She is Like the Swallow" on her "Songlines" release. Frank Harte gave it to her, as I said and John Doyle, her partner from Solas days, added volume pedal acoustic guitar, Winnie Horan, also from Solas, fiddle, and cello from Michael Aharon. At once, beautiful, majestic and heartbreaking Irish music. Also on "Songlines" is the most wickedly worded "Roger the Miller," in which a young man comes courting his only love but presses the father of his soon-to-be bride for a grey mare as well, and loses the lot! John Doyle's fantastic accompaniment gives the song its jaunty edge and Seamus Egan, a founding member of Solas, drives the melody with his haunting flute.

Oh yes, we are right at the top of the tree with Karan Casey. This is her first cd without the gentle guiding hand of Frank Harte, but his spirit is no doubt with her. She has yet again picked songs that he must have told her, as Mary Rafferty's (that marvelous accordion and whistle player, ex- of Cherish the Ladies) father, Mike, used to tell her, "learn this one". "Dunlavin Green" was one of Frank's. It is a song about unbelievable treachery and slaughter and yet in her hands becomes a gorgeous witness to history.

She has no rivals; only smart people who admire what she can do with a song.

William Ramoutar

Photo Credits: Karan from Faeirie Worlds
Cillian Vallely from Wikipedia

Here are Karan's CDs on amazon:
Ships in the Forest CD from Amazon
Solas CD from amazon
Songlines CD from amazon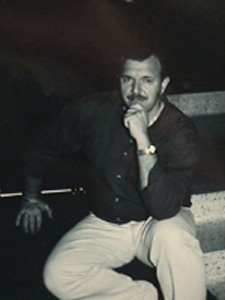 BIO William Ramoutar
IRISH WAYS RADIO PROGRAMME
WFCF Radio 88.5 FM
Every Sunday 11:00 am to Noon eastern standard time on the radio WFCF 88.5fm
We are now an iheart Station on your smartphone or computer
streaming live on iheart.

Review written by William Ramoutar Presenter of Irish Ways Radio Programme, St Augustine Florida


Wed, Jan 3, 2018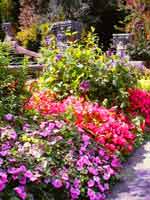 Ilnacullen, Co. Cork - an Island Garden
Located in the sheltered harbour of Glengarriff in Bantry Bay. Ilnacullin, which means island of holly, is a small island known to horticulturists and lovers of trees and shrubs all around the world as an island garden of rare beauty.
The vivid colours of Rhododendrons and Azaleas reach their peak during May and June, whilst the hundreds of cultivars of climbing plants, herbaceous perennials and choice shrubs dominate the midsummer period from June to August.
Because of its sheltered situation and the warming oceanic influence of the Gulf Stream, the climate is favourable to the growth of ornamental plants from many parts of the world.
Even for those who aren't particularly interested in gardens, there are many other scenic views, especially in the surrounding waters where seals frequent the rocks on the southern shore.
The cover photo on Bridget's book The Traditional Irish Wedding shows a wrought iron garden gate on Ilnaculen. I took that photo. To see it, go to the home page. It's part of the opening paragraph Failte.
—Russ
Resource: Copy and Image - Cork Guide

Click for More Culture Corner.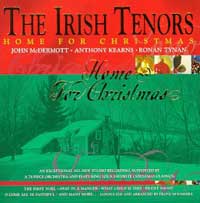 According to the 30 or more reviews we've read, if you own just one Irish Christmas recording, this should be it. Featuring Anthony Kearns, Ronan Tynan and John McDermott, we are treated to both solo and trio performances of a dozen or more best loved holiday airs, sung in their trade-mark Irish tenor style. As one reviewer cleverly observed, if these three sang the phone book, she'd buy it!
See Review
Click here for Home for Xmas
---