Traditions, folklore, history and more. If it's Irish, it's here. Or will be!
"People will not look forward to posterity who never look backward to their ancestors."
-Edmund Burke
---
Quotes

Library: Books, Movies, Music

Prints & Photos

Poetry

Jokes

---
---
Shops Ireland
---
Bunús na Gaeilge
(Basic Irish)

---
---
Did You Know?
---
Himself/Herself
Write to Us
Readers Write..
Links/Link to Us
---
Advertise with us
---
Awards & Testimonials

Submissions Guide
---
Music Review - Home for Christmas, The Irish Tenors
by Bridget Haggerty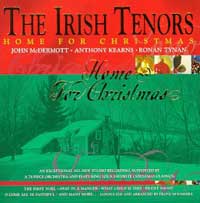 According to the 30 or more reviews we've read, if you own just one Irish Christmas recording, this should be it. Featuring Anthony Kearns, Ronan Tynan and John McDermott, we are treated to both solo and trio performances of a dozen or more best loved holiday airs, sung in their trade-mark Irish tenor style. As one reviewer cleverly observed, if these three sang the phone book, she'd buy it!

Although the liner notes say the group is backed by a 78-piece orchestra, don't expect flamboyant concert-hall arrangements. These are intimate, gentle performances with each tenor getting the opportunity to deliver magical solos; but there are also many ensemble offerings, including "Joy to the World," "It Came Upon a Midnight Clear," "O Holy Night," The Holy City," and "Silent Night. On this last one, Tynan sings his part in Irish and it's a major highlight.
But don't take our word for it - here are some excerpts from the reviews we've read:
From Joan in Toronto: "Breath-Taking!"
From Wanda, USA:
It is the BEST Christmas album I have ever heard. Their voices are magnificent. I have listened to the Christmas CD about 75 times now and still get goose bumps listening to the songs. Anthony Kearns Ave Maria is my favorite.
From a reviewer in Arkansas: A Masterpiece.
Like millions of others I discovered the Irish Tenors through PBS. I promptly began looking for anything else by these wonderful performers and found this CD. The music is soul-satisfying as most of it is sacred (the closest to secular is "Good King Wenceslas"). Of the ensemble pieces, "Silent Night" and "Joy to the World" stand out. But the crowning selection is "The Holy City." We are wearing the album out and it's only May. We'll have to have another copy for Christmas!
From a reviewer in Colorado: Christmas music has never been so beautifully sung!
I received my copy of "Home for Christmas" and am totally overwhelmed by the beauty and clarity of the voices. Words cannot effectively capture the emotions I am feeling as I listen to this beautiful CD. I couldn't imagine that the Irish Tenors were doing a Christmas album--I was thinking it would be another album of ballads and such. I couldn't imagine that it would be as good as their original album. They have topped their original recording!. Anthony's rendition of "Sweet Little Jesus Boy" brings tears to my eyes. "Suo Gan" by John and the two versions of "Ave Maria" by Ronan and Anthony are indescribable. I recommend this CD to anyone who loves Christmas music and to anyone who loves the Irish Tenors.
From another reviewer in Colorado: This is a powerful album, the best new Christmas CD I've heard in a long while. The songs are traditional, But performed and recorded with a sensitivity and emotion I have not heard in years. I played it three times the first night I brought it home!
From a reviewer in NY: A Christmas Treasure.
I am now ordering additional copies as gifts. This is a treasure to be enjoyed year upon year. Each rendition brings new depth and makes old familiar Christmas songs fresh and pure again. It is a gift of "Joy to the World".
If you'd like to hear snippets and make up your own mind about this beautiful recording, please click here: Home for Christmas
Still haven't had your fill of holiday music? Check out McDermott's solo Christmas album from 1998, on which the vocalist performs an eclectic mix of standards and lesser-known holiday gems. Click here if you'd like to listen to samples: Christmas Memories
Wed, Jan 3, 2018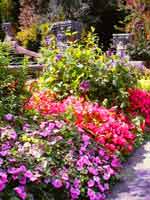 Ilnacullen, Co. Cork - an Island Garden
Located in the sheltered harbour of Glengarriff in Bantry Bay. Ilnacullin, which means island of holly, is a small island known to horticulturists and lovers of trees and shrubs all around the world as an island garden of rare beauty.
The vivid colours of Rhododendrons and Azaleas reach their peak during May and June, whilst the hundreds of cultivars of climbing plants, herbaceous perennials and choice shrubs dominate the midsummer period from June to August.
Because of its sheltered situation and the warming oceanic influence of the Gulf Stream, the climate is favourable to the growth of ornamental plants from many parts of the world.
Even for those who aren't particularly interested in gardens, there are many other scenic views, especially in the surrounding waters where seals frequent the rocks on the southern shore.
The cover photo on Bridget's book The Traditional Irish Wedding shows a wrought iron garden gate on Ilnaculen. I took that photo. To see it, go to the home page. It's part of the opening paragraph Failte.
—Russ
Resource: Copy and Image - Cork Guide

Click for More Culture Corner.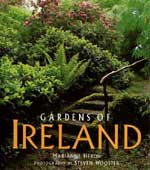 Gardens of Ireland
Visit 30 of Ireland's most beautiful gardens. Includes a stunning collection of 200 full-color photos.