Traditions, folklore, history and more. If it's Irish, it's here. Or will be!
"People will not look forward to posterity who never look backward to their ancestors."
-Edmund Burke
---
Quotes

Library: Books, Movies, Music

Prints & Photos

Poetry

Jokes

---
---
Shops Ireland
---
Bunús na Gaeilge
(Basic Irish)

---
---
Did You Know?
---
Himself/Herself
Write to Us
Readers Write..
Links/Link to Us
---
Advertise with us
---
Awards & Testimonials

Submissions Guide
---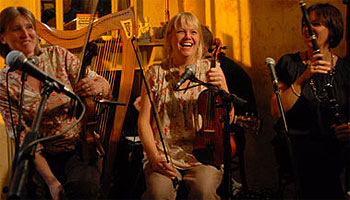 The Purest, Clear and Beautiful
by William Ramoutar

Mary Dillon's voice is all the above. She started out with the Irish band Déanta, which means complete, made, or done. I hope none of those words signify the state of her career, because there are far too few tunes recorded by this lady. Her singing can tear lumps from your heart. She, to me, is one of the most expressive I have ever heard, or will hear again.

I have said it is not so much the song but what she does with it that makes all the difference. With Déanta she recorded three albums and has since dabbled a wee bit by placing her little toe back in the musical scene very rarely. She has recorded a single tune to relate the story of John Condon. The Irish boy soldier who lost his life in the First World War for a pair of army boots. To listen to her tell his tale is every bit the memory of compassion that Finbar Furey brought to Eric Bogle's "Green Fields of France." We should all remember how famous that tune made The Fureys, yet fame has eluded Mrs. Dillon (as her students call her).

She is at the moment an English Teacher in Northern Ireland and in fact, was before her days with Déanta. They parted company in 1997. There was talk of regrouping in 2007, which brought about a few tunes on the BBC's Blas program, which included her magnificent version of English tragic songwriter Nick Drake's "Clothes of Sand." Rarely has anything reduced this writer to such emotion as that moment. Find the video of it. I will include the link to it in this review.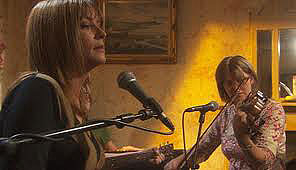 She sits sideways to the band, Déanta, crammed into a room in some public house and with scarcely a look up from the microphone, wrenches the heart from your chest as she almost whispers the longing for a lost love. Who knows if Nick Drake meant that when he wrote it, but Mary Dillon has taken the song to immeasurable new heights. My wish is for that version to be captured on cd, so many others can hear this amazing artist weave her magic. And it is her magic, as there are not many who can do what she does to a song. I know many wonderful artists succeed with their work, but even Mary's enunciation and accent could be the deciding factor for me. Maybe it's the water in Dungiven, County Londonderry, where she was born.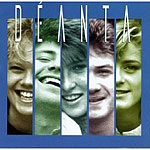 Whatever it is, it's beyond comparison. Sets her apart even from her famous sister Cara, who has made a great career for herself. Cara's voice is indeed gorgeous, but Mary's is sublime. In her days with Déanta as the band had excellent musicians, they all got to show their skill. Mary in fact plays harp and keyboards, so there were as many instrumentals as you could get on three cd's. Not to detract from the fullness of their sound, but her voice really did make them complete. I would hate to get on the wrong side of any of the other six members, one since a past member, but their claim to fame is in being the superb accompaniment to a great singer.

The arrangements could not sound better played by others as they were never a flash, hell for leather, jigs and reels band. Their playing is of the highest order - when traditional, right on the money, and when contemporary, always precise and tasteful. It is hard to believe, however, that Déanta only came to the fore in 1993 with their first release. On that cd, the standout tracks are "The Green Fields of Canada," which is stunning, "Dark Iniseoghain," which transports you to the island, and "Thousands are Sailing," which is a great song done by many, but here, her voice puts you in the shoes of the person who stays at homes and watches their loved one sail away.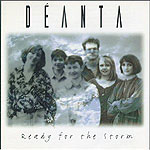 On the second offering, Ready for the Storm, her take on the masterful writing of Dougie Maclean's title song, her Northern accent is so unmistakable that he might have written for her. It is simply gorgeous also. "Culloden's Harvest," the telling of one of Scotland's most terrible massacres at the hand of the perpetual foe, is given such a gentle treatment, you forget that "the Harvest" is scores of Scottish Men.


The Déanta, Whisper of a Secret cd has the breathtaking "Where are you tonight I wonder." Blissful melancholia!!! There are three other songs on that cd, but you will spend weeks listening to "Where are you"!

It has been such a short time, just a dozen and a half tunes recorded for posterity of her singing, but she has helped out on the work of many others, and only added quality to their music. She also released a four track mini cd of tunes her nephew, Odhran Mullan, liked. He is a talented arranger/musician, was doing a project, asked Mary - and there it is! A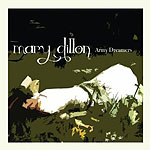 tune of the great, Kate Bush, "Army Dreamers," given, the Dillon treatment and quite worthwhile. One tune, written by Bruce Springsteen, another by Ola Belle Campbell Reed, a North Carolina singer and banjo player; and a wonderful Irish language traditional song.

So there you have it. Her work, please God, not finished, but waiting for the right opportunity or song. Your job is to find it and top marks if you do, but the reward is her voice. Her students, where she teaches today are the winners, because they hear her everyday. I hope she sings to them, because her voice is never to be forgotten. Certainly, never by me.
he cd's available by Déanta are:

Ready for the Storm

Link to Clothes of Sand on youtube

Photo Credit: Mary/BBC Northern Ireland

Photo Credit: Deanta/Last FM


All of Mr. Ramoutar's reviews are listed on the index page. Please click Ramoutar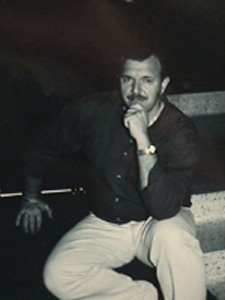 BIO William Ramoutar
IRISH WAYS RADIO PROGRAMME
WFCF Radio 88.5 FM
Every Sunday 11:00 am to Noon eastern standard time on the radio WFCF 88.5fm
We are now an iheart Station on your smartphone or computer
streaming live on iheart.

Review written by William Ramoutar Presenter of Irish Ways Radio Programme, St Augustine Florida


Fri, Feb 2, 2018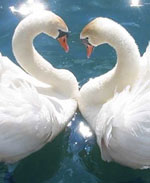 Irish God and Goddess of love
Oengus is the Irish God of love, beauty and youth. According to the old folklore, his kisses became birds. It is also said that he dreamed of a beautiful maiden, named Caer, for whom he searched all over Ireland. Eventually, he found her chained to 150 other maidens, destined to become swans at the time of Samhain. Legend has it that Oengus transformed himself into a swan and was united with his love.
Aine of Knockaine is the Irish Goddess of love. She is also known as the Fairy Queen of Munster and as a goddess of fertility beause she has control and command over crops and animals, especially cattle. Another name by which she is known is Aillen. To learn more about Irish mythology, please click Irish Myths & Legends.
Photo Credit: Wikipedia

Click for More Culture Corner.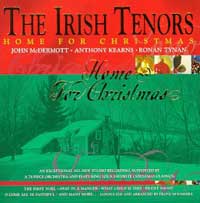 According to the 30 or more reviews we've read, if you own just one Irish Christmas recording, this should be it. Featuring Anthony Kearns, Ronan Tynan and John McDermott, we are treated to both solo and trio performances of a dozen or more best loved holiday airs, sung in their trade-mark Irish tenor style. As one reviewer cleverly observed, if these three sang the phone book, she'd buy it!
See Review
Click here for Home for Xmas
---