Traditions, folklore, history and more. If it's Irish, it's here. Or will be!
"People will not look forward to posterity who never look backward to their ancestors."
-Edmund Burke
---
Quotes

Library: Books, Movies, Music

Prints & Photos

Poetry

Jokes

---
---
Shops Ireland
---
Bunús na Gaeilge
(Basic Irish)

---
---
Did You Know?
---
Himself/Herself
Write to Us
Readers Write..
Links/Link to Us
---
Advertise with us
---
Awards & Testimonials

Submissions Guide
---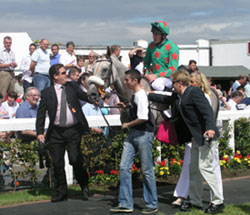 The Galway Races - Enough Raw Material for A Trilogy of Novels
by Gerard McLoughlin

It's the last week in July and throughout the Irish countryside familiar horseboxes and anonymous green trailers emerge from hawthorn lanes and leafy side roads to become immersed in the currents of traffic racing inexorably towards The Galway Festival.

It seems such a short time since last year when the stage was occupied by thoroughbreds owned by Michael J Smurfit, John Magnier, J P McManus, Sheikh Mohammed, Hamdan Al Maktoum, and His Highness the Aga Khan; trained by John Oxx, Dermot Weld, Noel Meade, and Aidan O'Brien; and ridden by jockeys such as Mick Kinane, Johnny Murtagh, Paul Carberry, Barry Geraghty, and Ruby Walsh.

And what of the ordinary horse-owners or members of syndicates? As the man who was happily buying celebration drinks in the Great Southern Hotel said: "They were there in their droves!" Syndicates with names that encapsulate the fun-loving spirit of characters that are the life-blood of Irish Racing: 'Brandy and Baileys', 'Guys & Dolls'', 'Murphy's Law ', 'Pinheads Pizza', 'Home And Dry', 'Say Nothing ' and 'Up At Six'.

RTE's Hector O hEochagáin depicted the daily dramas of life as a horse-owner in his wonderfully entertaining horse racing series 'Only Fools Buy Horses'. As with all worthwhile enterprises, there are frustrations and disappointments along the way; but there is nothing to beat the fun, the enjoyment, and the heart-pounding thrill of cheering home your very own living, breathing thoroughbred and of leading your horse triumphantly into the winners' enclosure at Galway.

Just ask the jubilant Kay Devlin whose Ansar was the winner of the 2004 Hewlett-Packard Galway Plate or the ecstatic Kathleen Gillane for whom Cloone River galloped to victory on the following afternoon in the Guinness Galway Hurdle.


The Galway Summer Festival comprises seven days of betting-frenzied Flat and National Hunt racing; and a dramatis personae of thousands. In addition to the usual horse-lovers, punters, business leaders, clerics and cabinet ministers, Galway attracts a diverse collection of poets and ploughmen, singers and swingers, doers and dreamers, lovers and leavers, movers and shakers, hucksters and three-card-tricksters.

You only have to join the lines of excited racegoers hurrying through the turnstiles to realize that the Galway Summer Festival is not merely about racing. It is a convivial social and cultural occasion; a chance to meet and make friends; an opportunity to create the memories that in years to come you will recall with nostalgia and the proud declaration: "I was there."


For people watchers, Galway is hard to beat. Sophistication and glamour exist side by side with natural grace and unselfconscious charm. Calvin Klein and Dolce & Gabbana sunglasses; Givenchy Amarige and Lancome Attraction perfumes; Paco Rabanne and Ralph Lauren aftershaves. Armani, Prada, Versace ... The exotic names trip off the tongues of modern Irish males and females as readily as the names of the now familiar stars of Milan, Juventus, Barcelona and Real Madrid.

The tips and gossip; the banter and repartee; the quick-witted quips and humorous asides; the well-rehearsed anecdotes and pithy observations. The posing and the posturing; the flirting and the pouting; the tossing of hair and the fluttering of lashes; the coy introductions and the promises to meet.
Yes, you'll get enough raw material at Galway for a trilogy of novels!

In the Panoramic Restaurant on the top floor of The Millennium Stand and in Blazers Pavilion Marquee and Private Suites in the Hospitality Village, patrons enjoy champagne, Bucks Fizz, and four and five course gourmet meals with complimentary wines.

Restaurants and fast food facilities cater for gourmets and gourmands alike, for hungry children and nibblers of every taste and predilection. A chalk-stripe suit is enjoying succulent Pacific oysters while a cowboy hat is tucking into a sausage dipped in a punnet of ketchup-soaked chips.

One of the joys of the Galway ritual is flicking through the colourful pages of the image-packed racecard with its free draws and exciting prize-winning opportunities; its beguiling betting hints; and its pulse-quickening promise of record-breaking Trios and Jackpots.

And then there's the punter's perennial dilemma: "Which horse should I back?" Agonising over selections. Balancing logic and intuition. Deciding whether to put your money on the newspaper nap, the leading trainer, the jockey in form, the stable whisper, the tip from a friend, or the horse that won the equivalent race last year - while all the time knowing that wherever you watch the race, be it in the grandstand or in a corporate hospitality suite, the person directly behind you will be cheering on the eventual winner as it thunders past the winning-post. If only you could find out before the race who will be standing behind you during the race!

Leading rails bookmaker Pat O'Hare has been laying the odds at Galway since the 1960's In the rumour-filled betting jungle, some horses are 'well supported'; others are 'on the drift'. The favourite is 'shortening'. There's a 'springer in the market'.

Punters are betting in tenners, scores, ponies, tons, monkeys and grands. Bookies with ostentatious computerised display boards are vying for custom with the traditional chalk and blackboard brigade. 'Let them in and let them out!'

Betting 'with the favourite'. Betting 'without the favourite'. Betting to win. Betting each way. "Win or come second! Two chances!" - One is even offering "Four chances"! Is there no end to the cajolery?

As the minute hand approaches starting time, the stands fill; the Tote queues dwindle; and the scribbling punters in the SP shop submit their final hectic selections.

Commentator Des Scahill's inimitable voice echoes across the racecourse evoking memories of names destined to resound forever among the stone walls, hedgerows and whispering grasses of historic Ballybrit: Leap Frog, Bunclody Tiger, Spittin' Image, Shining Flame, The Lady's Master, Boro Quarter, Randoss, Firion's Law, Feathered Gale, Moscow Express, and Life of a Lord. Life of a Lord .... What an appropriate name for a winner at Galway!

"The white flag has been raised. They're under starters orders ... and ... They're off!" As the race unfolds, thousands of eyes and ears focus on the track itself, on the giant screen or on the scores of closed circuit television monitors.

The commentator's voice rises perceptibly at the end of each rhythmical cadence: "As they swing into the straight ...." - "As they jump the flight before the stand ...." - "And out there in front, it's ..."

Seventeen gleaming runners come thundering past - bays, browns, chestnuts and greys. A multi-coloured passing tapestry. Jockeys in shimmering silks - yellow and purple stripes, white and yellow quartered cap in the lead; white and red chevrons, green and white striped cap in close pursuit; emerald green and orange hoops and white cap bringing up the rear.

Each jockey squatting precariously on half a ton of racehorse travelling at speeds of up to 40mph. Restraining his headstrong mount, riding hands and heels, or flourishing his whip. A dynamic fusion of balance, reflex, and co-ordination. The cheers rise to a deafening crescendo as the favourite jumps the last 'ears pricked' and races up the hill to win by "two lengths and the same".

"Come on, you good thing!"
"Come on, you wee dote!"
"Come on, you little daisy!"

Whooping with boisterous delight and brandishing your winning tickets, you and your laughing friends set off to celebrate yet another successful Galway gamble.

Ah, the rich treasures and rewards of July at Ballybrit!

ED. NOTE: We first met Gerard when he was writing articles for the now-defunct Themestream web site. His pen name there was Cosmas O'Shaughnessy. He has written many terrific articles and poems and we're hoping he'll agree to publishing several of them here. In the meantime, he would love you to visit his web site. (If you're interested in furthering your career, it will be well worth your time). Gerard McLoughlin

Images: Gerard's web site and the Galway Races web site

Related article by Gerard:
Galway Races – Where the Pint is the Unit of Currency!
Related article by Bridget:
Ladies' Day at the Galway Races



Fri, Feb 2, 2018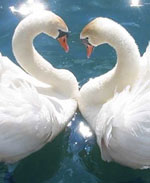 Irish God and Goddess of love
Oengus is the Irish God of love, beauty and youth. According to the old folklore, his kisses became birds. It is also said that he dreamed of a beautiful maiden, named Caer, for whom he searched all over Ireland. Eventually, he found her chained to 150 other maidens, destined to become swans at the time of Samhain. Legend has it that Oengus transformed himself into a swan and was united with his love.
Aine of Knockaine is the Irish Goddess of love. She is also known as the Fairy Queen of Munster and as a goddess of fertility beause she has control and command over crops and animals, especially cattle. Another name by which she is known is Aillen. To learn more about Irish mythology, please click Irish Myths & Legends.
Photo Credit: Wikipedia

Click for More Culture Corner.
This wonderful video produced by National Geographic traces the history of the horse in Ireland and the love of horses shared by Irish people. Breathtaking scenery and a soundtrack by the Chieftains makes this one a memorable feast for the eyes and ears.
Click here for The Ballad of The Irish Horse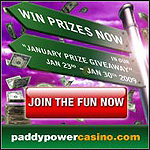 ---
We are pleased to announce that we have formed a partnership with Paddy Power - Ireland's biggest and most successful bookmaker. This means we can offer punters the opportunity to enjoy a flutter on a wide range of sporting events on line and in the comfort of home. And now for a limited time, Paddy Power is offering a FREE £20 BET!
We're sorry - Paddy Power does not accept bets from US residents.
Click for FREE £20 BET
---