Traditions, folklore, history and more. If it's Irish, it's here. Or will be!
"People will not look forward to posterity who never look backward to their ancestors."
-Edmund Burke
---
Quotes

Library: Books, Movies, Music

Prints & Photos

Poetry

Jokes

---
---
Shops Ireland
---
Bunús na Gaeilge
(Basic Irish)

---
---
Did You Know?
---
Himself/Herself
Write to Us
Readers Write..
Links/Link to Us
---
Advertise with us
---
Awards & Testimonials

Submissions Guide
---
Ladies' Day at the Galway Races
by Bridget Haggerty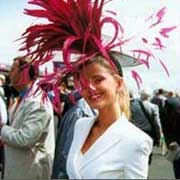 The fourth day is traditionally the busiest and most stylish day of the week-long festival. It's Ladies' Day - the mid-point of Ireland's oldest and most enduring race meet when two-legged fillies, all decked out in their finest finery, fiercely compete for the coveted title of Best Dressed Person or Most Elegant Hat.

Dedicated fashion followers always outdo the horses. Winning demands fine attention to detail and a bit of luck, especially when the course is filled with so many potential champions. So, they make a splendid effort, parading in Gucci and Versace and Armani, sporting Lanzarote tans and in diet trim. The gents do their bit, too, and for Salthill native John Coen, who hasn't missed a festival in more than 30 years, getting togged up is a central theme for the week. "It's not like you can show up in a pair of jeans," he said, resplendent in white duster coat and fetching cap.

It's a glorious time to be in Ballybrit. Car parks are filled to over-flowing with mercs, beamers and jags. As well as one or more flutters on the horses, you can buy Aran jumpers and jewellery and flowers, you can join the 200-long queue waiting to withdraw cash from the ATM machine, you can quaff endless draughts of pricey bubbly in the Champagne Bar, and you can scoff burgers or oysters, curries or trotters. From one wag of a newspaper reporter: "How many Lydon House Hot Beef Rolls can a crowd of people go through in the course of a single week? (Hint, count all of the stars that there are in heaven, then double your tally.)" This same wag also asks: "Did the young man with the Mayo accent who approached a dazzlingly gorgeous six foot miracle of a woman in the Best Dressed competition and asked her "are ooh a mogol?" really think he had much of a chance, given that at this precise moment he was chewing on the foot of a pig? If Madam Bridie outside the front gate is such a dinger at the fortune telling, why couldn't she tell me who was going to place in the Galway Hurdle? And why is it that veteran attenders of horse festivals feel it behoves them to sport the trinkets and badges they picked up at previous horse festivals?"

Every year, wads of cash are handed over to the bookies who nearly all drive to the course in very large cars, including many top of the range Mercedes. The amounts spent in the fashion race are also in the flamboyant bracket, with some ladies flying to London and Paris to find the perfect quirky style for Ballybrit.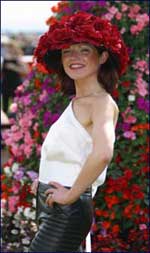 Last year's year's winner, Maria McCullen, had to break all the rules to land the title. Looking stunning in an off-the-shoulder, flowing white top, black leather pants and an outrageous floral hat, the 28-year-old foot specialist from Stamullen, Co. Meath, threw away the rule book by wearing a pair of multi-coloured high heels. "I suppose it's all right to wear them for a day but I always advise the people who come to my clinic to stick with flat-heeled shoes," said Maria, who runs the Navan Foot and Ankle centre. However, Maria's "mix and match" outfit won the hearts of the judging panel that included TV3 star Grainne Seoige. "I'm absolutely thrilled. I love fashion and I always go all out for the Galway Races," said Maria, who pocketed a 3,000 euro shopping voucher from Brown Thomas for her troubles. However, she was unwilling to reveal how much her outfit set her back. "You can't put a value on things like this, it would be like trying to say out how much your husband is worth," she said.
Husband Maurice Harvey, who works as a vet in Swords, Co Dublin, was more forthcoming. He admitted the credit card had been "incinerated" by his big-spending wife.

That's the key to Ballybrit - if you can pay, anything is possible, except maybe a reliable tip to clean out the bookies - and God forbid, a visit to a house of ill-repute? The alleged opening of a temporary brothel to cater for the Galway Races crowd has become the number one topic of gossip at this year's festival. "Well now we wouldn't know anything about that at all," said a Garda spokesman when questioned about the impromptu brothel, which is widely rumoured to be operating at a fine clip in the immediate vicinity of Eyre Square. Side-mouthed whispers around the Ballybrit course suggested that such an unseemly phenomenon might not be entirely unknown to race week. The Galway festival was traditionally timed to coincide with the end of the haymaking season and perhaps a bachelor farmer's got to do what a bachelor farmer's got to do?

But, back to the races, and Ladies' Day 2003. Anthony Ryan Ltd. of Shop Street, who have been dressing the people of Galway for the last 90 years, was this year's sponsor, together with associate sponsors The Fashion House of Michael H and Galway Now Magazine. There is no entry required for the competition - judges simply wander through the crowds and invite chosen finalists to the Anthony Ryan Marquee where the finalists are picked before the main race of the day. The winner of the event receives a generous prize to the value of €3,000 worth of vouchers at Anthony Ryans Ltd. The Second prize winner receives €1,500 worth of vouchers. An exciting development at this year's event was the return of the most Elegant Hat Competition. Prizes are presented to the winners in the Parade ring after the main race.

So, as always, on the fourth day, thousands of perfectly groomed females lit up the grandstand and parade ring. Happily, for those wishing to be considered for the Best Dressed title, the rain held off for most of the day, giving fashion-conscious race-goers the opportunity to venture out of the various pavilions and strut their stuff in the flimsiest of dresses and most delicately balanced of hats.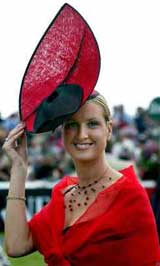 Sporting a black satin dress, red shawl and an interesting red and black headpiece in the shape of a leaf, Galway boutique owner Niamh O'Donovan again walked away with the best dressed title (she won in 2001) "The entire outfit would be worth around 400, but I got it from my own store so I'm thrilled," smiled 28-year-old Niamh from Gort, who runs Madison Boutique in Galway.

Feathers were the order of the day when it came to shortlisting candidates for The Most Elegant Hat title, and 20-year-old Louise Allen from Meath eventually rose head and shoulders over the rest for her black and white feathered headpiece. The hat, she said, was purchased to match the striped dress which she wore yesterday. "I had it commissioned by milliner Carol Smith, and the entire outfit would have cost me around 500," explained a visibly thrilled Allen.

RTÉ star Mary Kennedy, who led the Best Dressed judging panel admitted to being overawed by the sheer elegance and style on display. "I'd rather not have to judge a competition like this, there's an awful lot of ingenuity and colour," smiled the stunning Open House presenter. "It's so difficult to decide." Mary herself was elegantly turned out in a powder blue chiffon skirt suit.

Beyond the bevy of beauties you'll see on Ladies' Day, the festival also attracts a wide variety of other characters - from politicians to pop stars. Yet another reporter put this candid list together of what might be on offer for spectators:

•Straw-Hat Cowboys: Loud, often sunburnt, very merry young men in straw cowboy hats. They roam in gaggles of eight or nine, full of banter, little interest in horses, great interest in French and German girls. Other known habitats include Connacht finals, Fleadhanna Cheoil, 2FM Roadcaster Beats On The Street.
•Pathologically Unlucky Punters: Forlorn figures, black eyed, furrowed of brow, usually look as if they're trying to figure out how to break it to spouse about imminent third mortgage.
•Big Hat Mamas: Women of a certain age fond of peculiar hats the size of Co. Laois. Ballybrit is a Philip Treacy Nirvana. As far as the eye can see, there is crazily raucous headgear, one example being in canary yellow and featuring a floral depiction of ducks in flight or some such.
•Video Vinnies: There are lots of folks with camcorders, who are presumably camcording scenes of lots of other folks with camcorders, who are presumably ...
•Teetotal And Proud: A definite minority, but still very much present, mostly in the Mayor's Tea Pavilion. Religious seeming, would strike you as a bunch with a ferocious amount of First Fridays under their belts. Not averse, however, to screaming savage abuse at underperforming nags. (Correspondent has gone the Matt Talbot road and numbers himself among this type — these are my people.)
•Partying Brickies: The precise inverse of the above. This week, by entire coincidence, is declared a builders holiday in Galway and every last one of 'em is trackside.
•Mondeo Men: Easily spotted, braying gobshites in beige trenchcoats, dedicated quaffers of Buck's Fizz, physiologically attached to mobiles, cigars, trophy wives. Happily, they tend to disappear to corporate tents.
•Bemused Yanks: Visibly astonished at extent of public gallivanting, it was never like this back in Tallahassie. Quite at ease, however, with Himalayan level of spending.

In over one hundred years of racing at Ballybrit, the tributes paid to Lord St. Lawrence, the man who started it all, and the optimism expressed in local newspapers appear to have been deserved and well-founded. Today, The Galway Races has become the greatest of all Irish Racing Festivals and probably one of the most lavish, colourful and sociable fixtures in the Irish Racing World. It is also both monetarily and numbers-wise the most successful race meeting in the country, hailed as one of the world leaders in that field. It is not only a great sporting event, but also a unique social occasion filled with atmosphere, passion and craic and attracts both true race-goers and socialites alike.

Some interesting stats:
• A total of 1,500 people are involved in staging the event to ensure punters receive the world-class treatment they have come to expect.
• Preparations for the event continues all year round.
• Visitors to Galway during raceweek spend approximately €20million over the seven-day period.
• Champagne consumption is 20 times greater on Ladies Day.
• The area under canvas in the tented village is equivalent in size to 50 two-bed apartments.
• Turnover with the Tote, on-course betting shops and the 112 on-course bookies reached €20.3 million in 2002.

According to John Coyle, Chairman of Galway Race Committee "the Summer Festival at Galway is the flagship for Irish racing in the country and its contribution to racing, both from an image point of view and financially, is enormous".

And so there you have it - another hugely successful Ladies' Day at the Galway Races. Never mind that mammies pushing prams down the hard shoulder of the highway reached the gates long before the frustrated motorists stuck in traffic for hours; never mind that the weather was reliably iffy at best; and never mind that most of the favorites failed to finish first, or even fourth. Hands down, the festival itself was a winner and Ladies' Day was the coup de gras.

Resources:
Images:
Niamh O'Donovan - Best Dressed Person 2003
Maria McCullen - Best Dressed Person 2002
Niamh O'Donovan - Best Dressed Person 2001

Content: With special thanks to the reporters from the Irish Examiner, Irish Times, Irish Independent and RTÉ who provided much of the colorful fodder for this article.
and The Galway Races Website.

Fri, Feb 2, 2018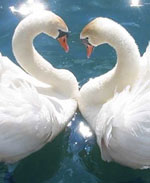 Irish God and Goddess of love
Oengus is the Irish God of love, beauty and youth. According to the old folklore, his kisses became birds. It is also said that he dreamed of a beautiful maiden, named Caer, for whom he searched all over Ireland. Eventually, he found her chained to 150 other maidens, destined to become swans at the time of Samhain. Legend has it that Oengus transformed himself into a swan and was united with his love.
Aine of Knockaine is the Irish Goddess of love. She is also known as the Fairy Queen of Munster and as a goddess of fertility beause she has control and command over crops and animals, especially cattle. Another name by which she is known is Aillen. To learn more about Irish mythology, please click Irish Myths & Legends.
Photo Credit: Wikipedia

Click for More Culture Corner.
This wonderful video produced by National Geographic traces the history of the horse in Ireland and the love of horses shared by Irish people. Breathtaking scenery and a soundtrack by the Chieftains makes this one a memorable feast for the eyes and ears.
Click here for The Ballad of The Irish Horse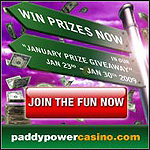 ---
We are pleased to announce that we have formed a partnership with Paddy Power - Ireland's biggest and most successful bookmaker. This means we can offer punters the opportunity to enjoy a flutter on a wide range of sporting events on line and in the comfort of home. And now for a limited time, Paddy Power is offering a FREE £20 BET!
We're sorry - Paddy Power does not accept bets from US residents.
Click for FREE £20 BET
---