Traditions, folklore, history and more. If it's Irish, it's here. Or will be!
"People will not look forward to posterity who never look backward to their ancestors."
-Edmund Burke
---
Quotes

Library: Books, Movies, Music

Prints & Photos

Poetry

Jokes

---
---
Shops Ireland
---
Bunús na Gaeilge
(Basic Irish)

---
---
Did You Know?
---
Himself/Herself
Write to Us
Readers Write..
Links/Link to Us
---
Advertise with us

---

Help keep us free
Throughout the site you will see many items available for purchase from well-known merchants such as Amazon. Not interested in what we're featuring? It doesn't matter. Click on any link and then shop for whatever you wish - we will still get credit, if you buy something.
Thanks for your help.

---
Bunús na Gaeilge - Basic Irish Language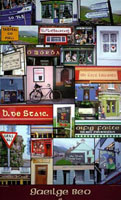 There is no other way to revive Irish than for a crowd of people to spread it.
- Douglas Hyde

Note: The spellings and pronunciations used are based on Aideen's own natural use of Connemara Irish but they have been kept simple, so as to be understood where there are differences in the language.
For example, the word 'feicfidh' is used only in Connemara Irish; in Leinster, Ulster and Munster the word is 'cífidh'. There are two pronunciations; Leinster/Munster - kee-fee; Ulster - chee-fee.

The biggest problem for people whose native language is English is that the soft 't' and 'd' are in Irish, but not in English; it's difficult to 'reproduce' them in writing. Where I use 'th' and 'dh' here, they are best achieved by putting your tongue gently behind your front upper teeth."

Click here for our words & phrases Index.


---
Lesson 68: Advent and Christmas

'Tis the season for Nativity Plays, hence the inspiration for this month's lesson. For other seasonal words and phrases, please see our Irish language index.

Phrase: Advent and the Nativity
Irish: An Aidbhint agus Breith Chríost
Pronunciation: on adh-vinth ah-gus breh-khreesth

Phrase: Advent wreath
Irish: bláthfhleasc Aidbhint
Pronunciation: blaw-lahsk adh-vinth

Phrase: Four candles
Irish: ceathair choinnle
Pronunciation: kah-hirr kwin-leh

Word: Purple
Irish: corcairdhearg
Pronunciation: kur-ker-yahrg

Word: Green
Irish: glas
Pronunciation: gloss

Word: Baby
Irish: leanbh
Pronunciation: lee-ahnv

Phrase: Baby Jesus
Irish: Leanbh Íosa
Pronunciation: lee-ahnv ee-sah

Word: Mary
Irish: Muire
Pronunciation: mwirr-eh
Note: in standard Irish, Máire is the Irish for Mary but Muire is always and only used for Our Lady

Phrase: Mother of God
Irish: Máthair Dé
Pronunciation: maw-hirr djay

Word: Joseph
Irish: Ioseph
Pronunciation: yo-sef
Note: in standard Irish, Seosamh is the Irish for Joseph but in the Nativity story it is always Ioseph

Word: Carpenter
Irish: saor
Pronunciation: seer

Word: Donkey
Irish: asal
Pronunciation: oss-ahl

Word: Inn
Irish: ósta
Pronunciation: ohsth-ah

Word: Stable
Irish: stábla
Pronunciation: sthaw-blah

Word: Manger/crib
Irish: máinséar
Pronunciation: maw-in-shayr

Word/Phrase: Birth/One is born
Irish: breith/beirtear duine
Pronunciation: breh/ber-ther ghwinn-eh

Phrase: The Holy Family
Irish: An Clann Naofa
Pronunciation: on klahn nee-fah

Phrase: Swaddling Clothes
Irish: bindealáin
Pronunciation: bin-dhahl-aw-in

Word: Straw
Irish: cochán
Pronunciation: kukh-awn

Word: Oxen
Irish: daimh
Pronunciation: dhah-iv

Word: Shepherd
Irish: aoire
Pronunciation: ee-reh

Word: Sheep
Irish: caora
Pronunciation: kwee-rah

Word: Lamb
Irish: uain
Pronunciation: oon-in

Word: Star
Irish: réalt
Pronunciation: raylth

Phrase: Star in the East
Irish: réalt san Oirthir
Pronunciation: raylth sahn err-hir

Phrase: The Three Kings of the East
Irish: Na Trí Ríthe ón Oirthir
Pronunciation: nah three ree-heh ohn err-hir

Word: Camels
Irish: camail
Pronunciation: kah-mil

Word: Gifts
Irish: bronntanais
Pronunciation: brun-thahn-ish

Word: Gold
Irish: ór
Pronunciation: ohr

Word: Frankincense
Irish: túis
Pronunciation: thoosh

Word: Myrrh
Irish: miorr
Pronunciation: mirr

Phrase: We light a candle on each Sunday in Advent
Irish: Lasamuid coinnle chuile Dhómhnach i rith an Aidbhint.
Pronunciation: lahs-ah-mwidj kwinn-leh kwill-eh goh-nukh ih rih on adh-vinth

Phrase: We will have a Nativity play at our school
Irish: Beidh dráma Bhreith Chríost ag an scoil s'againne
Pronunciation: bye dhraw-mah vreh-khreesth egg on skwell shah-gin (hard g) nyeh

Phrase: There was no room at the inn
Irish: Bhí an ósta gan áit
Pronunciation: vee on ohsth-ah gon aw-itch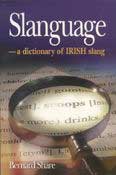 Note: This caught our eye. Yes, we know it isn't gaeilge, but it is fascinating. If nothing else, it is certainly language (and Irish language as well.)
Slanguage
by Bernard Share
...for all 'decent skins', 'crawthumpers', horse-protestants', 'hard chaws' and 'strong farmers'...a dictionary of Irish slang that's as amusing as it is informative.
Click here for Slanguage


For More Basic Irish please click here: Irish Index

Image: Gaeilge Beo from All Posters and Prints.


Thu, Jul 9, 2015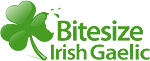 Start learning on line with a free trial!
Why Learn Irish with Bitesize Irish Gaelic?
Eoin is a native Irish speaker who you can listen to in the online lessons.
Sasa has helped develop the lessons from the perspective of a complete beginner.
Audrey has created conversation lessons to get you speaking Irish.
And last but certainly not least, they are proud of the Irish language and want more people to speak it.
Affordable, fun and effective - To learn more, Click Bitesize Irish


---
Irish Grammar
by Noel Mogonagle


This book is excellent for beginners who are wanting a book that gives basic grammar without all the extra information that confuses beginners. The book is well laid out, with information very easy to find. Amazon Reviewer

Here is a good follow-on to our words and phrases.
Click for Irish Grammar.

Irish - English
English - Irish
Dictionaries
Note: We have yet to see a dictionary with phonetic pronunciations for each word. We suspect this is partly due to the variations. Providing for all four 'green fields' (Connacht, Leinster, Ulster and Munster), would be cumbersome at best. Still, someone may do it some day. Until then, these are all very good and recommended. Serious students will have more than one; they are inexpensive.

These two (either or both) are the handy-references needed to go with a good grammar or 'teach yourself' course.
We would need both (and some other help) if found wandering in a Gaeltacht late at night.
Amazon has an offer of either one combined with a grammar for a reduced price.
Click for Collins Gem
Click for Oxford Pocket.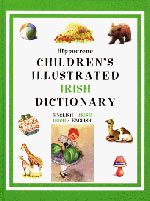 Children's Irish Dictionary
by Hippocrene Books
As a total beginner in Irish, this has taught me quite a few words. The illustrations are beautifully done, and best of all, each word is given a rough English spelling of its pronunciation. Edited from an amazon review.
Click here for Kid's Irish Dictionary.
---
Learning Irish
by Micheal O'Siadhail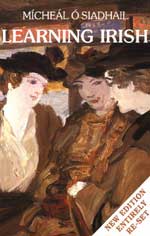 The Best Irish Course Available! Three years ago I decided to learn Irish, and in the next two years I bought three different courses. The first two were simply useless, (that's the obvious reason for my buying new courses) you could learn some phrases, but not construct sentences yourself. Learning Irish, on the other hand, is an excellent book, which gives you a thorough vocabulary and grammatical knowledge. It consists of 36 lessons, all containing vocabularies, grammar instructions, texts and excercises. Amazon Reviewer.

Click for Learning irish

---