Traditions, folklore, history and more. If it's Irish, it's here. Or will be!
"People will not look forward to posterity who never look backward to their ancestors."
-Edmund Burke
---
Quotes

Library: Books, Movies, Music

Prints & Photos

Poetry

Jokes

---
---
Shops Ireland
---
Bunús na Gaeilge
(Basic Irish)

---
---
Did You Know?
---
Himself/Herself
Write to Us
Readers Write..
Links/Link to Us
---
Advertise with us

---

Help keep us free
Throughout the site you will see many items available for purchase from well-known merchants such as Amazon. Not interested in what we're featuring? It doesn't matter. Click on any link and then shop for whatever you wish - we will still get credit, if you buy something.
Thanks for your help.

---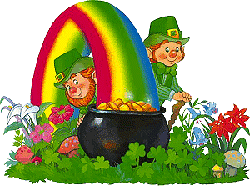 New St. Patrick's Day Custom for Children
by Kathleen M. Keane

As with Christmas and Easter, I wanted St. Patrick's Day to have magical memories for my children. Over the years, I developed a new 'custom' —they would wake up with Leprechaun hats on their beds, along with a shamrock pin and other St. Patrick's Day goodies - stickers, tatoos, necklaces, and so on.

Then, they would find a trail of chocolate coins leading out to the
driveway where they would discover the driveway strewn with real coins; they got to keep what they picked up.

Naturally, we enjoyed Lucky Charms for breakfast and Corned Beef and Cabbage for dinner, but the 'new custom' has made St. Patrick's Day one of their favorite holidays. Of course, as they grew older, they asked questions as to how these things occurred... just as they asked about Santa Claus or the Easter Bunny. It took a wee bit of blarney for me to give them an explanation. Eventually, I penned the explanation to prose. One day, perhaps, I'll get this published as a children's book. In the meantime, I hope you enjoy it... and have a safe holiday!

THE LEPRECHAUN
The leprechaun is a cobbler but he more than a cobbler be
as he guards the gold and treasures of the many fairies wee.

More precious than the treasures is what he hides so well...
it's privacy he pleasures and hopes his shoes will sell.

To keep his magic strong and this, you never knew...
he seeks to kiss a wee colleen fair maiden, one so true.

With his ungainly image one thinks he is a shrew
and no decent fair maiden would kiss one if she knew.

And so he has to steal it and in the night he creeps
the eve of auld St. Patrick's Day one magic night he seeks.

Asleep lies the fair maiden a fairy sprinkles dust...
to keep her from awakening and kiss her, yes he must!

For in the maiden's purity there lies a heart so true
for a leprechaun to steal a kiss makes all his dreams come true.

The purity of her fair heart is truly made of gold
and all the kingdoms of the world knows this is hard to hold.

And if the Leprechaun succeeds to kiss this maiden true
his magic and his wealth increase still, he'll not share with you!

Now should he ever get him caught while kissing one so pure
his wealth and magic will dissolve and that he knows is sure!

Stealthily the cobbler creeps to steal this kiss so rare
holds his breath and kiss the cheek of this young maiden fair

This success has left a mark...has filled his heart with glee
has made him do a little jig which has awakened thee.

So in his fearful haste to flee he ran out oh so fast...
his little hat blew off his head...that hat will hold your catch!

A clover did fall from his shoe and turned into a pin
Wear this now on your lapel for good luck to come in.

Some of his gold fell from his pot and in this mortal world...
turned into chocolate on the spot for little boys and girls.

And when his cobblers feet did tread upon the land outside
the gold he'd spilt upon the ground he can't pick up or hide.

And as he watched in disbelief as gold did turn to cents
he disappeared with great relief another year past hence.

So watch now, on St. Patrick's Day the eve of which may find
a leprechaun in cobbler-wear who'll leave a trail behind.

And as you gather up the treats on this Saint Patrick's Day
give thanks for all the blessings that have now come your way.
KMK©2002

A Hidden Message Word Search
contributed by Hartson Dowd

The words in capital letters below have been hidden in the search grid. When you've found them all, read the letters that are left to spell out a quotation from Saint Patrick's most famous prayer.

Search Grid: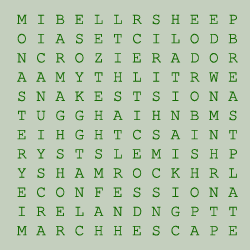 Patrick is the patron SAINT of IRELAND

He was kidnapped from Britain as a boy, and forced to herd SHEEP on SLEMISH Mountain, in County Antrim. After a few years, he managed a daring ESCAPE, and traveled to Europe. There, he studied to become a BISHOP, but he never forgot the IRISH people.

Finally, he returned to Ireland, where he created his first church and MONASTERY. With his CROZIER, he traveled the country, converting people to Christianity with the help of the SHAMROCK. With his BELL, Patrick is said to have led all the SNAKES in Ireland to the cliffs, where they fell to the sea and never returned.

Thanks to Patrick's inspiration, and with the help of his friends and fellow saints, CELTIC Christianity flourished, especially at its greatest church, ARMAGH. The only writings that Patrick left for us are his famous CONFESSION, that he wrote in LATIN, and the famous prayer known as Saint Patrick's BREASTPLATE. He died on MARCH seventeenth, the day we now celebrate as his feast day, and was laid to rest in County DOWN, Ireland.

---

A Craft To Catch a Leprechaun
George is the editor of the Irish Heritage newsletter and he tells us that his daughter created this craft for her kindergartners a few years back. This project is rated VERY EASY to do.

Materials:
Shoe box (do not need lid)
Aluminum foil
Glue
Tape, optional
Green felt, craft foam, or paper
Shamrock stickers, optional
Scissors
Stick about twice the depth of the box.

How To Make It:

Cover a shoe box with aluminum foil using glue or tape to hold it in place.
Cut shamrocks out of felt, foam, paper, or use stickers to decorate.
Glue the shamrocks, if not using stickers, to the box.
The night before St. Patrick's Day, put a stick under the box and leave it out by your front door. If a leprechaun stops by, he'll leave a surprise for you!

NOTE: George's daughter suggests leaving green candy or shiny new pennies. You might also consider a few of those foil covered chocolate coins. By the way, the Irish Heritage Newsletter is very interesting, entertaining and informative. If you'd like to subscribe, simply send an email to George at Steeler059@aol.com. Tell him Bridget says hello!

Click here for the Story of St. Patrick for kids.
Click here for the Kids story Fooling St Patrick.

Click here for the story of St Patrick for adults.



Wed, Jan 3, 2018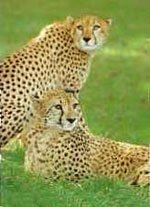 FOTA Wildlife Park
Only 10,000 cheetahs remain in their natural habitat and Fota Wildlife Park in Co. Cork, Ireland, is the world's leading breeder of this endangered species. Fota is among the most modern wildlife parks in Europe. It was opened in 1983 and has more than 70 species living in natural open surroundings with no obvious barriers. Only the cheetahs are behind fences.
Another species which is being saved from extinction at Fota is the white tailed sea eagle. It disappeared from Ireland in the early 1900's, but is now being bred at the park and re-introduced to the wild in Co. Kerry.
Fota is open to the public in the summer and is very popular with Irish families, as well as tourists.

---
"No man ever wore a cravat as nice, as his own child's arm around his neck."
- Irish Proverb

---