Traditions, folklore, history and more. If it's Irish, it's here. Or will be!
"People will not look forward to posterity who never look backward to their ancestors."
-Edmund Burke
---
Quotes

Library: Books, Movies, Music

Prints & Photos

Poetry

Jokes

---
---
Shops Ireland
---
Bunús na Gaeilge
(Basic Irish)

---
---
Did You Know?
---
Himself/Herself
Write to Us
Readers Write..
Links/Link to Us
---
Advertise with us

---

Help keep us free
Throughout the site you will see many items available for purchase from well-known merchants such as Amazon. Not interested in what we're featuring? It doesn't matter. Click on any link and then shop for whatever you wish - we will still get credit, if you buy something.
Thanks for your help.

---
Fooling St. Patrick
by Grainne Rowland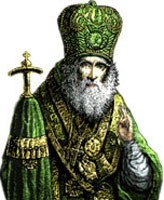 "Here he comes!" yelled Maughold's watchman. "Patrick is nearly here. Get the corpse!"

Maughold led the procession of men who struggled with a squirming body sewed into a shroud.

"Stay still!" ordered Maughold. "If we are going to make a fool of Patrick, you have to pretend to be dead. Otherwise, I'll just kill this so-called holy man."

"Aw, Maughold, you can't kill an unarmed man," said a voice from inside the shroud. "It's not sporting. A trick on Patrick will be more fun, anyway."

"Shh! Play dead. He's here," growled Maughold.
St. Patrick looked at each man as he entered the camp.
"One of your men has died?" Patrick asked.
"Yes," answered Maughold. "Please pray for him."
Patrick laid a gentle hand on the shroud. Then he quietly turned and left the camp.
When Patrick was out of sight, the grinning men burst into loud laughter.
"I guess we fooled him. Some holy man he is! He can't tell a live body from a dead one!" sputtered Connor.
"Maughold, sir!" yelled a man who was cutting open the shroud. "He really IS dead. Look!"
All the laughter stopped. The men crowded around to see the corpse of their friend.
"I think Patrick fooled US!" whispered Maughold. "Connor, bring Patrick back."
As Patrick returned to the camp, the men knelt and asked Patrick's forgiveness for trying to trick him. Patrick baptized all of them. He blessed the dead man, who returned to life immediately. Patrick baptized him, too.
Then St. Patrick turned to Maughold and spoke sternly.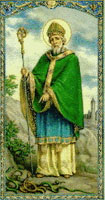 "You are the leader of these men. You should be helping them lead good lives. Instead, you have been a scoundrel, a robber, and a murderer. You must make up for your evil."
Maughold knew Patrick was right.
"I will do whatever you say."
"Come, Maughold," said St. Patrick. Maughold and Patrick walked on toward the coast. Patrick chained Maughold's hands and put him into a small skin boat.
"I will send you to two bishops on the Isle of Man. There you will stay and learn from them."

Maughold was welcomed when he reached the Isle of Man. The two bishops treated Maughold well and taught him how to be good.
But Patrick had not sent the key to Maughold's chains. One day, about a month afterwards, one of the bishops caught a fish. When the fish was cut open, there was a key. It fit perfectly into the chain's lock, so Maughold was free at last!

Maughold stayed with the bishops for many years. He became a very good man. Everyone loved Maughold. He cared for the sick. He gave food to the hungry. He was kind to all.
When the two bishops died, the people made Maughold bishop in their place. Today, St. Maughold is the patron saint of the Isle of Man. He is best remembered for his kind deeds to the Manx people. A church was built in his honor. St. Maughold's feast day is April 25.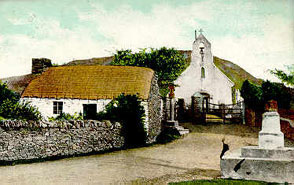 Images: St. Patrick images from old greeting cards; Isle of Man images from Isle of Man.

For more about St Patrick click:
Saint Patrick's Day puzzle & crafts for kids
Saint Patrick from Slave to Saint

Index of All Children's Stories


Sun, Oct 1, 2017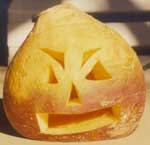 Hallowe'en Customs
In Ireland long ago, there were no pumpkins. For Hallowe'en, the people would carve out a turnip. Immigrants to America brought this tradition with them, but they quickly discovered that a big, bright orange pumpkin made a much better "Jack O' Lantern!" Other customs they brought with them were games such as Snap Apple and Ducking or Bobbing for Apples. Irish children didn't go Tricking or Treating as we know it; but they did receive gifts of apples and nuts from their friends and relatives. They also enjoyed eating Colcannon, a dish made from potatoes and cabbage, and for dessert, they often had apple dumplings or Stampy cakes made from potatoes and flavored with sugar, caraway seeds and cream.
Carved Turnip from University of British Columbia

---
"No man ever wore a cravat as nice, as his own child's arm around his neck."
- Irish Proverb

---
A children's book with much wider appeal. Accented with charming, simple, cartoon-style illustrations, the book tells the story of St. Patrick, including legends and folklore about the saint along with his actual history. Although definitely geared towards children, And God Blessed the Irish can teach even adults.
Click And God Blessed...

---