Traditions, folklore, history and more. If it's Irish, it's here. Or will be!
"People will not look forward to posterity who never look backward to their ancestors."
-Edmund Burke
---
Quotes

Library: Books, Movies, Music

Prints & Photos

Poetry

Jokes

---
---
Shops Ireland
---
Bunús na Gaeilge
(Basic Irish)

---
---
Did You Know?
---
Himself/Herself
Write to Us
Readers Write..
Links/Link to Us
---
Advertise with us
---
Awards & Testimonials

Submissions Guide

Help keep us free
Throughout the site you will see many items available for purchase from well-known merchants such as Amazon. Not interested in what we're featuring? It doesn't matter. Click on any link and then shop for whatever you wish - we will still get credit, if you buy something.
Thanks for your help.

---
How to have the Irish wedding of your dreams

Resource Listing

In the first edition of The traditional Irish Wedding book, I included 14 pages of resources. While I thought it would be convenient, it proved to be a major problem. The listing became out-dated almost as soon as the book was published.

As the interest in Irish and Celtic wedding celebrations continues to flourish, there are now many new resources available, and most of them are here on the internet. Also, more and more people are now connected to the World Wide Web. So, I have created this special Traditional Irish Wedding Page.

What follows are the names of companies, organizations, retailers and people I found in the course of my research which may be of interest to engaged couples. I also chose to list only those resources that have a toll-free number unless they offer a unique service or product. As you look through the listing you'll see Creative Irish Gifts mentioned often. They are a very special resource because they were founded to financially support the Irish Children's Fund (ICF). Also, the quality of the products they offer is excellent and their prices are very reasonable. Have fun browsing and shopping!


BELLS
Most Irish Gift Catalogs & Shops offer a traditional Irish wedding or make-up bell.
Invitations by Dawn: Stocks miniature bells for guests to ring as the bridal couple exits the church or in lieu of clinking glasses at the reception. Tel: (800) 257-9567.
Kipp Brothers: Stocks miniature bells made of brass. Tel: (800) 428-1153.

BLOOMING SHAMROCKS
Creative Irish Gifts: Grow your own fresh shamrocks! Usually available in the spring catalog. Tel: (800) 843-4538

BOOK DISTRIBUTORS
Dufour Editions: Tel: (800) 869-5677.
Irish Books & Media: Tel: (800) 229-3505.

BRIDAL CLOAK & HOOD
SiobhanWear: Tel: (800) 522-2917).

BRIDAL GOWNS
Saymel's Bridal Salon: NYC, NY. Tel: (718) 728-2260.

BRIDAL GOWNS DESIGNERS
Brontë Bridal Designs: Dublin, Ireland. Tel: 353-1-671-0155.
Celtia Wedding Gowns: Scotland. Tel: 01 896-76-4493.
Kathy De Stafford: Dublin. Ireland. Tel: 353 1 679-8817

BRIDAL GOWN FABRICS:
Miriam Richards Fabrics: Dublin, Ireland. Tel: 353 1 836-7937.

BRIDAL HEADPIECES, TIARAS & VEILS
Bridal Creations: Tel: (860) 747-2035
Colleen Collections: Co. Galway, Ireland. Tel: 353 9 075-5468
Paris Hats & Veils: Tel: (513) 948-8888.

CALLIGRAPHY
Country Calligrapher:Tel: (440)729-8332
Veda Joseph.:Tel: (802) 463-1954

CATALOGS
The most efficient way to browse for specific items mentioned throughout the book is to order the following catalogs as soon as you set the date. From Claddagh rings to the Magic Wedding Hanky, you should be able to find what you are looking for. You are also likely to find many additional products not mentioned here that would be appropriate for an Irish wedding celebration and, God willing, your happily-married life together!
Arts & Artifact: Tel: (800) 231-6766.
Blarney Gifts: Tel: (800) 252-7639.
Cashs of Ireland : Tel: (800) 223-8100.
Creative Irish Gifts: Tel: (800) 843-4538.
Gaelsong:Tel: (800) 205-5790.
Irish Wedding Catalog: (212) 371-3600.
Museum Replicas Limited: (800) 883.8838.
Past Times : Tel: (800) 621-6020.
Scottish Lion Import Shops Irish Edition: Tel: (800) 355-7268.
Shannon Gifts: Tel: (800) 223-6716.
Signals: Tel: (800) 669-9696.
Spirit of Ireland: Tel: (800) 486-4183.
What On Earth: Tel: (800) 945-2552.

CELTIC ALPHABET & CELTIC DESIGNS CD-ROM & BOOK SETS
Irish Books & Media: Tel: (800) 229-3505.

CELTIC EMBROIDERY
JoAnn Buck: Tel: (513) 871-0083.
Mart Walsh-Kenny:Tel: (513) 683-9705.
Carrickmacross Lace: Irish Embroidered Net Lace and Limerick Lace by Nellie ӒCléirich. Dufour Editions. Tel: (800) 869-5677.
Mountmellick Work, Irish White Embroidery by Jane Houston Almqvist Dufour Editions. Tel: (800) 869-5677.
The Irish Dancer's Catalogue: Tel: (301) 460-0129.

CELTIC PERIOD ATTIRE
Celtic Cultures:Tel: (802) 463-1954.

COMMISSIONED CELTIC RINGS
Crafty Fox Artworks: Jan Wyman is reputedly an excellent silversmith who does both historic reproductions as well as contemporary pieces. Tel: (603) 642-8584.

DECORATIONS
Invitations by Dawn: Tel: (800) 332-3296.
Kipp Brothers: Tel: (800) 832-5477.
The Precious Collection: Tel: (800) 537-5222.

FAMILY CRESTS
Historical Research Centre:Tel: (513) 868-6396.

FAVORS
After-dinner Mint Chocolates: Hand-made in Ireland. Creative Irish Gifts. Tel: (800)843-4538.
Bells of Ireland Flower Seeds: Tel: (605) 665-1930
Favor Boxes: Bags & Bows. Beautiful ribbons, tissue papers, seals and tiny boxes that are the perfect size for favors! Tel: (800) 225-8155
Fawn Confectionery: Large variety of Irish motif candies. Tel: (513) 351-4191.
Hercules Candies: Claddagh- embossed and assorted other chocolates. Tel: (800) 924-4339.
Swan candy holder and miniature wedding rings: Invitations by Dawn. Tel: (800) 228-4795.

GIMMEL RINGS
Celtic & Heraldic Jewellery: Dublin, Ireland. Tel: 353 1 677-7045 or 677-7113.

HONEYMOON IN IRELAND
Cruises:
Cruise Co. of Greenwich: Tel: (800) 825-0826.
Le Boat Inc.: Tel: (800) 992-0291.
Free Irish Vacation Kit: (800) Shamrock. Extension 135 (This is distributed by Bord Fáilte, the Tourist Board for the Republic of Ireland).
Hidden Ireland: Tel: (800) 688-0299.
Isle Inn Tours: Tel: (800) 237-9376. (703) 683-4800.
Killary Tours: Co. Galway, Ireland. Tel: 353 0 954-2302
Mandalay: A beautiful B&B in Co. Galway. This is the romantic place I mention in the honeymoon chapter. It's owned and operated by the Darby's, a delightful couple from Rhode Island. To make a reservation, see your travel agent or call 035 0 9 152-4177/152-9952.
Northern Ireland Tourist Board:Tel: (212) 686-6250.
Oideas Gael: Irish Language and Culture Center. For free brochure, write to Oideas Gael, Gleann Cholm Cille, Co. Donegal, Ireland or call 353 73-30248.
Town & Country Homes Association: For directory, write to Mr. Sean Grogan, St. Patricks, Corebeg, Doora, Ennis. C. Clare, Ireland or ask your travel agent.
Weddings On The Move:Tel: (800) 444-6967.

INVITATIONS/PROGRAMS
Authentic Irish Wedding Stationery:
Historical Irish Wedding Stationery: Co. Clare, Ireland. Tel: 353 65 905-2100.
Lantz Stationery Ltd.: Co. Dublin Ireland.Tel: 353 1 453 1311.
Celtic Borders: 55 copyright-free forms by Mallory Pearce. Irish Books & Media. Tel: (800) 229-3505.
Celtic Lettering: Seven complete alphabets, ready to use, copyright free, by Mallory Pearce. Irish Books & Media. Tel: (800) 229-3505.
Claddagh design:The Precious Collection. Tel: (800) 537-5222.

IRISH DANCE COSTUME DESIGNERS
Listowel Celtic Art: Tel: (412) 341-5826.

IRISH DANCING SCHOOLS
To locate embroiderers and Celtic dressmakers, or perhaps to invite a group to dance at your reception look under Dance Instruction in the Yellow Pages. Most large, North American cities have at least one school and many have several. None listed in your area? Call Allison Weber Erickson TCRG, at (513) 232-1366. Allison teaches both adults and children and is a registered Irish dance instructor. That's what the letters after her name signify. This also means that she is listed in a world-wide directory of registered teachers and, if there's an instructor near you, she will be able to give you their phone number. You can also write her at: The Erickson Academy of Irish Dance, 6448, Sherman Avenue, Cincinnati, OH 45230.

IRISH FESTIVALS
Just a sampling of the many festivals that take place every year throughout North America. If you live near one of them, it's a wonderful opportunity to get close to your Irish roots and browse for jewelry, gifts, foods, music, books and more!
Cincinnati Celtic Music & Cultural Festival:Tel: (513) 533-4822.
Cleveland's Irish Cultural Festival: Tel: (216) 251-1711.
Dublin Irish Festival: Dublin, Ohio. Tel: (614) 410-4545.
Fox Valley Irish Fest: Chicago, Illinois. Tel: (800) 788-7429.
Irish Fest, Indiana: Tel: (317) 927-7524.
Irish Festival: Richmond, Virginia. Tel: (804) 750-1346.
Louisville Irish Festival: Tel: (812) 944-3509.
Milwaukee Irish Fest: Tel: (414) 476-3378.
New Orleans Irish Festival: Tel: (504) 529-1317.
Taste of Ireland: Chicago, Illinois. Tel: (773) 282-7035.

IRISH FOODS
Irish Breakfast:
Dairygold: specializes in Shannon/Traditional Galtee Irish breakfasts. Tell: (800) 386-7577.
Irish Cheeses, Oak-Smoked Salmon and other foods imported from Ireland:
Creative Irish Gifts: Tel: (800) 843-4538
Dean & DeLuca: Tel: (800) 221-7714.
Infood: Tel: (201) 569-3175.
Irish Dairy Board at (708) 256-8289.
Irish Food Distributors: Tel: (800) 366-3773.
Zingeman's: Tel: (313) 769-1625.
Specialty Foods, from Blarney Tea to Irish Country Relish:
Bewley Irish Imports: Tel: (610) 696-2682.
For more information on Irish foods available in North America, call the Irish Food Board at (212) 207-1920.

IRISH GIFT SHOPS
There are literally hundreds of Irish gift shops throughout the United States and Canada. To locate a merchant near you, call Enterprise Ireland. Tel: (212) 371-3600.

IRISH MAGAZINES & NEWSPAPERS
A great source for ads on everything from jewelry to car rentals in Ireland! These are the ones with which I am most familiar or subscribe to. There are many others.
Ireland of the Welcomes:Tel: (800) 876-6336.
Irish America: Tel: (800) 341-1522.
Irish American Post: Tel: (414) 283-8132.
Irish American News: Tel: (708) 445-0700.
Irish Voice: Tel: (800) 341-1522.


IRISH MASSES (Recorded)
Public Radio Music Source: If it's in print, (both music and videos), they'll find it for you! This is where we found the Gaelic Blessing from the CD, Gloria by John Rudder, St Patrick's Mass by Philip Green, The Mass of St. Francis of Assisi by Philip Green, Celtic Hymns, and The Contemplative Celt. They no longer accept enquiries or orders by telephone, but are on the internet at http://www.prms.org/

IRISH MASSES (Sheet music)
Oregon Catholic Press can provide the sheet music and a sampling tape of The Celtic Mass by Christopher Walker. Tel: (800) 548-8749.

IRISH MEAD(E)
Bunratty Wine & Spirits: Camelot Importing. Tel: (800) 422-6356. Ask for Nancy Larkin Rau - she's very friendly as well as helpful.

IRISH MUSIC (Recorded)
NARADA MEDIA: Tel: (800) 966-3699. To preview up to three recordings, call (900) 370-4500.
Rego Irish Records & Tapes: Tel: (800) 854-3746.

IRISH WEDDING SONG (Sheet music)
Rego Records stocks The Wedding Song Book which contains the music and lyrics to The Irish Wedding Song as well several other songs often played at Irish weddings. Tel: (800) 854-3746.

LUCKY HORSESHOE
Croagh Patrick: Made of satin and available in white, ivory and pale pink. Tel: (215) 533-3443.

LUCKY IRISH FIVE-PENNY PIECE
Most Irish Gift Shops:The five-penny piece we bought is from a company called 'The Bridget's of Erin,' and comes in a tiny satin and embroidered keepsake pouch.

OGHAM ALPHABET
Everson Typography - every Ogham thing on the web.
Ogham alphabet:
New Age Canada: Ogham divining sticks with alphabet key. Tel: (905) 271-0967

ST. PATRICK, MISSOURI POST MARK
St. Patrick Post Office: Mr. Michael Lewis, Postmaster. Tel: (660) 754-6511.

WEDDING COORDINATORS IN IRELAND
Maria Curran: Dublin. Tel: 353 1 851-1141.
Tara Fay: Dublin. Tel: 353 1 667-5858.
Helen Russell: Dublin. Tel: 353 1 820-9198.
Anne Lanier Weddings New York Tel: 1 800 599-1350
County Clare Tel: 353 87 743-0466

WEDDINGS IN ROME
St. Patrick's Irish National Church: Contact: Fr. Michael Brennock. OSA.
(From USA)011 39 06 42031201
(From Europe)00 39 06 42031201
Fax: 06 42031236
It is best to call between 11:30 pm and 1:30 pm EST or 4:30pm to 7:30pm GMT.

WEDDINGS IN IRELAND
Simply Weddings: We hope you'll find SimplyWeddings.com not only fresh, inviting and informative but a fun place to be to organise your wedding in Ireland with reputable Irish suppliers. Colette O'Loughlin- Editor
Anne Lanier Weddings: From finding the perfect location in Ireland to incorporating traditional Irish customs and traditions, they can take care of every detail or provide you with the tools to do it yourself.
Killary Tours: They can arrange a total package, including ceremony, lodging for you and your guests, and your honeymoon. Killary Lodge, Co. Galway, Ireland. Tel: 353 0 95 42302.
Weddings On The Move: They specialize in planning and coordinating all of the details that go into getting married overseas.Tel: (800) 444-6967.


IMPORTANT NOTE: While very effort has been made to check the accuracy of names, addresses and phone numbers, information may change. Also, specific catalog items mentioned may no longer be available. My apologies if this should occur and cause you any disappointment or inconvenience.




Fri, Jul 10, 2015

---
Back in Print!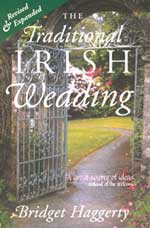 The Traditional Irish Wedding

In this expanded, revised, and updated version, the author has added sections on Getting Married in Ireland and ideas for a vow renewal "with the sound and feel of Ireland." This edition also includes the origins of Irish Coffee; the truth about Aran Isle Sweaters and information about kilts. Available from many Irish and Celtic gifts shops or Amazon.
---
Yes, this film has almost become a cliche but if you haven't seen it, it is well worth the investment. As one reviewer puts it: "...it's no surprise The Quiet Man won an Oscar for cinematography. It also won an Oscar for John Ford's direction, his fourth such award. The film was a deeply personal project for Ford (whose birth name was Sean Aloysius O'Fearna), and he lavished all of his affection for the Irish landscape and Irish people on this film." We couldn't agree more.
Click here for The Quiet Man

---