Traditions, folklore, history and more. If it's Irish, it's here. Or will be!
"People will not look forward to posterity who never look backward to their ancestors."
-Edmund Burke
---
Quotes

Library: Books, Movies, Music

Prints & Photos

Poetry

Jokes

---
---
Shops Ireland
---
Bunús na Gaeilge
(Basic Irish)

---
---
---
Himself/Herself
Write to Us
Readers Write..
Links/Link to Us
---
Advertise with us

---

Help keep us free
Throughout the site you will see many items available for purchase from well-known merchants such as Amazon. Not interested in what we're featuring? It doesn't matter. Click on any link and then shop for whatever you wish - we will still get credit, if you buy something.
Thanks for your help.

---
One

Padraic Pearse (b. Nov. 10,(?) 1879 - d. May 3, 1916)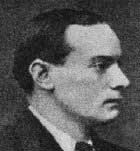 The son of an Irish mother and an English father, he was born at 27 Gt. Brunswick St., (now Pearse St.) in Dublin and educated at the Christian Brothers' School. He graduated from the Royal University and became a barrister, but he was an enthusiastic student of the Irish language. He became a writer in both English and Gaelic. Pearse envisioned a free Gaelic Ireland and founded St. Enda's College, a school for boys.
After visiting the United States he joined the Irish Volunteers and was commander-in-chief of the Irish rebel forces in the Easter Rebellion of 1916. He realised the rebel situation was hopeless and ordered his troops to surrender to the British. He was arrested with several other leaders (including his brother) and shot.
Too often, we discover that one of Irelands timelessly well known writers was part of the rebellion. Of course, too often, they were executed. What works may have been created that would delight us today; had they only lived to write them.

The Wayfarer
by Padraic Pearse

The beauty of the world hath made me sad,
This beauty that will pass;
Sometimes my heart hath shaken with great joy
To see a leaping squirrel in a tree,
Or a red lady-bird upon a stalk,
Or little rabbits in a field at evening,
Lit by a slanting sun,
Or some green hill where shadows drifted by
Some quiet hill where mountainy man hath sown
And soon would reap; near to the gate of Heaven;
Or children with bare feet upon the sands
Of some ebbed sea, or playing on the streets
Of little towns in Connacht,
Things young and happy.
And then my heart hath told me:
These will pass,
Will pass and change, will die and be no more,
Things bright and green, things young and happy;
And I have gone upon my way
Sorrowful.

The Mother
by Padraic Pearse

I do not grudge them: Lord, I do not grudge
My two strong sons that I have seen go out
To break their strength and die, they and a few,
In bloody protest for a glorious thing,
They shall be spoken of among their people,
The generations shall remember them,
And call them blessed;
But I will speak their names to my own heart
In the long nights;
The little names that were familiar once
Round my dead hearth.
Lord, thou art hard on mothers:
We suffer in their coming and their going;
And tho' I grudge them not, I weary, weary
Of the long sorrow---And yet I have my joy:
My sons were faithful, and they fought.

The Fool
by Padraic Pearse

Since the wise men have not spoken, I speak that am only a fool;
A fool that hath loved his folly,
Yea, more than the wise men their books or their counting houses or their quiet homes,
Or their fame in men's mouths;
A fool that in all his days hath done never a prudent thing,
Never hath counted the cost, nor recked if another reaped
The fruit of his mighty sowing, content to scatter the seed;
A fool that is unrepentant, and that soon at the end of all
Shall laugh in his lonely heart as the ripe ears fall to the reaping-hooks
And the poor are filled that were empty,
Tho' he go hungry.
I have squandered the splendid years that the Lord God gave to my youth
In attempting impossible things, deeming them alone worth the toil.

Was it folly or grace? Not men shall judge me, but God.
I have squandered the splendid years:
Lord, if I had the years I would squander them over again,
Aye, fling them from me !
For this I have heard in my heart, that a man shall scatter, not hoard,
Shall do the deed of to-day, nor take thought of to-morrow's teen,
Shall not bargain or huxter with God ; or was it a jest of Christ's
And is this my sin before men, to have taken Him at His word?
The lawyers have sat in council, the men with the keen, long faces,
And said, `This man is a fool,' and others have said, `He blasphemeth;'
And the wise have pitied the fool that hath striven to give a life
In the world of time and space among the bulks of actual things,
To a dream that was dreamed in the heart, and that only the heart could hold.

O wise men, riddle me this: what if the dream come true?
What if the dream come true? and if millions unborn shall dwell
In the house that I shaped in my heart, the noble house of my thought?
Lord, I have staked my soul, I have staked the lives of my kin
On the truth of Thy dreadful word. Do not remember my failures,
But remember this my faith
And so I speak.
Yea, ere my hot youth pass, I speak to my people and say:
Ye shall be foolish as I; ye shall scatter, not save;
Ye shall venture your all, lest ye lose what is more than all;
Ye shall call for a miracle, taking Christ at His word.
And for this I will answer, O people, answer here and hereafter,
O people that I have loved, shall we not answer together?

Mise Eire (I Am Ireland)
by Padraic Pearse

I am Ireland:
I am older than the Old Woman of Beare.

Great my glory:
I that bore Cuchulainn the valiant.

Great my shame:
My own children that sold their mother.

I am Ireland:
I am lonelier than the Old Woman of Beare.
1912

Bean Sléibhe ag Caoineadh a Mhac
(A Woman of The Mountain Keens Her Son)
by Padraic Pearse

Grief on the death, it has blackened my heart:
lt has snatched my love and left me desolate,
Without friend or companion under the roof of my house
But this sorrow in the midst of me, and I keening.

As I walked the mountain in the evening
The birds spoke to me sorrowfully,
The sweet snipe spoke and the voiceful curlew
Relating to me that my darling was dead.

I called to you and your voice I heard not,
I called again and I got no answer,
I kissed your mouth, and O God how cold it was!
Ah, cold is your bed in the, lonely churchyard.

O green-sodded grave in which my child is,
Little narrow grave, since you are his bed,
My blessing on you, and thousands of blessings
On the green sods that are over my treasure.

Grief on the death, it cannot be denied,
It lays low, green and withered together,---
And O gentle little son, what tortures me is
That your fair body should be making clay !

For more Poetry Click the Poetry Index.

One

Thu, Jul 9, 2015
Short Stories of Padraic Pearse: Dual Language
Edited by Desmond Maguire


Pádraic Pearse, who played a prominent part in the 1916 rebellion, declared Ireland a Republic from the steps of the General Post Office in Dublin. He was executed, along with the other leaders, for his part in the Rising. But he was a gentle warrior at heart. These five stories show us that Pearse was a man of deep understanding with immense human awareness of the way of life of the average person. He analyses the sorrows and joys of the Irish people of his time, and writes of the tragedies of life and death from which they could never escape.
Review from Mercier Press
Click for Stories of P. Pearse.

---
Field Work
Seamus Heaney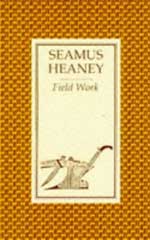 1000 Years of Irish Poetry: The Gaelic and Anglo Irish Poets from Pagan Times to the Present
by Kathleen Hoagland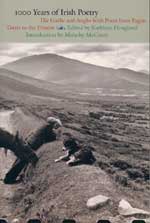 Interested in Irish Poetry?Here's the easy way to collect them all (well, almost all, anyway).
Malachy McCourt says in his introduction, "With the republication of this book, the Irish recover under their roof of stars all the great poets and writers who have been falsely claimed by the saxon crown and its minions - even our reprobates."
Amazon states this is out of stock. They still have used copies for almost nothing (except shipping - chuckle). If you would like a new edition, it was available at Powell's. We can't promise it's still there. Click here for Powell's 1000 Years.
Click here for used at Amazon.