Traditions, folklore, history and more. If it's Irish, it's here. Or will be!
"People will not look forward to posterity who never look backward to their ancestors."
-Edmund Burke
---
Quotes

Library: Books, Movies, Music

Prints & Photos

Poetry

Jokes

---
---
Shops Ireland
---
Bunús na Gaeilge
(Basic Irish)

---
---
Did You Know?
---
Himself/Herself
Write to Us
Readers Write..
Links/Link to Us
---
Advertise with us
---
Awards & Testimonials

Submissions Guide
---
The Twilight Hour - Simon Marsden
Review by Bridget Haggerty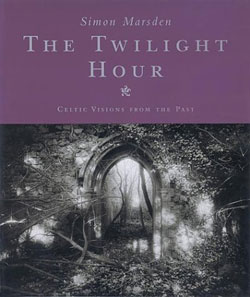 The Ancient Celts believed that the period that separates night from day - The Twilight Hour - is a dangerous time, when the human soul might cross from our earthly world into the world of the supernatural. Such beliefs have fired the imagination of some of our greatest literary luminaries, among them, Irish writers such as Joseph Sheridan Le Fanu, Bram Stoker, and W. B. Yeats.

In this beautifully produced work, internationally acclaimed photographer, Simon Marsden offers haunting black and white photographs to illustrate the fictional texts borrowed from famous writers of the gothic and the macabre. Real ghost stories are also included, and while many of us dismiss our links with nature and have closed our minds to what our ancestors believed, Mr. Marsden suggests that when the conditions are right, we can see into and become part of that supernatural domain.

Without going into all of the technical details, Marsden has masterfully applied his outstanding infrared photographic skills to capture a series of images that exude an atmosphere of mystery. It is all done so well that you can almost feel the presence of the spirits that are believed to still haunt the castles, standing stones, graveyards and other locations that fill page after page. The temptation is to keep looking at one image after another - but this would detract from the implied intent of the book - that of creating an appropriately eerie and or terrifying image to accompany what was in the imagination of Bram Stoker when he wrote Dracula, or Lady Jane Fracesca Wilde when she wrote about the Ban-Sidhe (Banshee).

While images from throughout the Celtic lands are featured, it came as no surprise to this reviewer that many of the photos were taken in Ireland. Leap Castle is here, as are Castles Leslie, Bernard, Minard, Carbury, Hackett and Cariogunnell. The Irish high cross is also included, as well as the Forelacka Burial Ground in the Slieve Bloom Mountains of Co. Offaly, a Druid Altar in Co. Cork, Poulnabrone in Co. Clare and much, much, more. The photos are "married" to an excerpt from a novel, a poem, or a narrative about the location and they are some of the most spine-tingling words I have ever read. Here's a brief excerpt from The Matrix by Jonathan Aycliffe, the pseudonym of contemporary Irish writer, Denis MacEoin:

"But even as I listened, something in the quality of the sounds told me that, whatever was making them, it was not human. My heart seemed to freeze as the noises moved across the room in the direction of the door that led to the second floor landing. I heard the door opening, and the sound moving across a wooden floor. Terrified, I went to the door of the library. Somewhere above me, I could hear it, very soft, like seaweed on damp rocks, flapping and wriggling across the landing. As I stood listening, it reached the first step and started down the stairs."

The Twilight Hour is a fascinating book that will absorb fans of the supernatural for hours - but fair warning, it's also deliciously terrifying. Published by Little Brown/Time Warner, it's available on amazon. The Twilght Hour.

About Simon Marsden: His photographs can be found in many prestigious collections, including the Getty Museum of California and the V & A Museum in London. The Twilight Hour is his sixth book. His previous works are Visions of Poe, The Haunted Realm, The Journal of a Ghosthunter, In Ruins: The Once Great Houses of Ireland, and Venice: City of Haunting Dreams.
Mr. Marsden lives with his family in an old haunted rectory on the Lincolnshire Wolds.

Note: The Twilight Hour has also been made into an 80-minute documentary feature film with readings by John Hurt. It follows Simon Marsden as he explores some of the darkest and most disturbing corners of Ireland. As far as we know, home video/dvd versions of the film are not yet available. We'll update this review when they are.

Related Reading: Creepy Irish Castles and Houses



Sun, Oct 1, 2017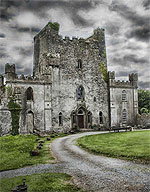 Ireland's Most Haunted Castle
South-east of Birr between Kinnity and Roscrea, in Co. Offaly are the remains of Leap Castle. Originally an O'Carroll fortress, it guarded the pass from the Slieve Bloom into Munster. Said to have more than 50 ghosts, its dark and mysterious past includes the murder of a priest by his brother in the "Bloody Chapel" and the slaughter by their Irish employers of more than 50 Scots mercenaries in order to avoid payment. It has always had a reputation of being haunted and locals have described seeing the windows at the top of the castle "light up for a few seconds as if many candles were brought into the room" late at night. For more details read our article Creepy Irish Castles & Houses.
Photo Credit & More Details: H. J. Moncrieff


Click for More Culture Corner.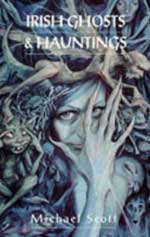 Irish Ghosts & Hauntings
by Michael Scott

What is it about Ireland's past that so haunts the imagination? More than one answer can be found in Michael Scotts's powerful new collection of 29 tales. In a newly Christianized Ireland, monks do battle with a devilish monster that has killed a river. In fact, all the water in these stories - from rivers to lakes, conceal dangers that men and women would best avoid. Adapted from an intro by the publisher.
Click here for Irish Ghosts.

---