Traditions, folklore, history and more. If it's Irish, it's here. Or will be!
"People will not look forward to posterity who never look backward to their ancestors."
-Edmund Burke
---
Quotes

Library: Books, Movies, Music

Prints & Photos

Poetry

Jokes

---
---
Shops Ireland
---
Bunús na Gaeilge
(Basic Irish)

---
---
Did You Know?
---
Himself/Herself
Write to Us
Readers Write..
Links/Link to Us
---
Advertise with us
---
Awards & Testimonials

Submissions Guide
---
Book Review: The One Who Swears You Can't Start Over
by Bridget Haggerty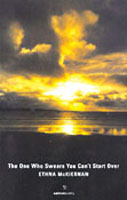 I have known Ethna for some years. As the co-publisher of my book, we first met at a Chicago book fair. What I could not have anticipated was meeting a woman with a gift for words that can move me to tears; to laughter; to joy in reading and re-reading the well-turned phrase. And, inevitably, to envying the skill.
I have her first book - "Caravan."
Many of the pages are dog-eared, the favorites clearly marked by the accidental ring of a wine glass put down, while leaning back to savor the pure delight of whimsies such as "Dancing the Boys Into Bed." These are the "young poems" and I hope she doesn't mind me saying that. Or sharing that particular poem here:
Crazy with giggles, a knee-high tornado
is dancing my skirt into knots.
His younger brother's slung across my shoulder,
bobbing his head to some infant dream.
They are the princes of Baba
and I am the palace queen
with regal peanut butter on her cheek.
We are kissing the world goodnight,
skimming a child's cha-cha
across the wooden floor, prancing our feet
to the beat of the baby's hiccups
in the bedtime world of Baba.
Sway, boys, rock the giddy room
to bits. I'll blanket down the castle
and toss some stars above your cribs,
then gently dance you into sleep.
I now have her second collection. What a treasure. And what a huge leap since Caravan. The skill is even stronger. More confident. And just as enviable. But, what sets this collection apart is the depth; not that Caravan wasn't deep in places. It most definitely was - but here, we get a glimpse of a life in full measure, cup full or not. No holds barred. It's an exhilarating read - from the hilarious "Why I Lied My Way Through Childhood" to the excruciatingly painful yet powerfully beautiful series of poems on losing her mother to Alzheimer's.
It's difficult not to try and gulp it all down in one sitting. But that's not the best way to truly appreciate Ethna's work. I have a feeling that this second book is about to become just as wine-stained, tear-dampened and dog-eared as the first. Perhaps even more so.
When you press the oars
into the river, the boat moves
forward. You're surprised
a moment - B follows A after all,
and the world goes on.
(First verse from "Later")
The One Who Swears You Can't Start Over is available through Irish Books & Media
Caravan is available through Amazon.
Thu, Apr 20, 2017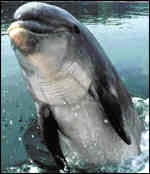 Fungie, the Dolphin of Dingle Bay
The dolphin is one of Ireland's most fascinating mammals and Fungie is the most famous. He is a fully- grown bottlenose who is 13 feet (4 meteres) long and weighs about 500 lbs or around one-quarter tonne.
Fungie was first noticed in 1984 when Paddy Ferriter, the Dingle Harbour lighthouse keeper, began watching a lone wild dolphin escort the town's fishing boats to and from port.
Later that year, it became officially recorded that Fungie was a permanent resident of the entrance channel to Dingle and the self-appointed "pilot" of the fleet.
Over the years Fungie has developed from a timid but inquisitive observer of the human visitors into a playful, though mischievous, companion. From observation of marks on his body, it seems that he does 'interact' with other whales, dolphins or porpoises, proving perhaps he is neither hermit nor outcast from his own kind, but rather that he is simply content to spend most of his time in and around Dingle Bay.


Click for More Culture Corner.
Caravan
by Ethna McKiernan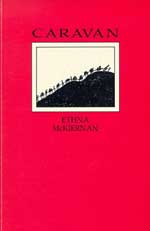 I have her first book - "Caravan."
Many of the pages are dog-eared, the favorites clearly marked by the accidental ring of a wine glass put down, while leaning back to savor the pure delight of whimsies such as "Dancing the Boys Into Bed." - Bridget Haggerty
Click for Caravan