Traditions, folklore, history and more. If it's Irish, it's here. Or will be!
"People will not look forward to posterity who never look backward to their ancestors."
-Edmund Burke
---
Quotes

Library: Books, Movies, Music

Prints & Photos

Poetry

Jokes

---
---
Shops Ireland
---
Bunús na Gaeilge
(Basic Irish)

---
---
Did You Know?
---
Himself/Herself
Write to Us
Readers Write..
Links/Link to Us
---
Advertise with us
---
Awards & Testimonials

Submissions Guide
---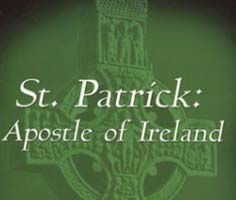 Video Reviews: St. Patrick - Apostle of Ireland
by Bridget Haggerty

While we cannot make a personal recommendation, we thought that readers might appreciate us doing a little legwork to see what's available. Here's what we found:

St. Patrick - Apostle of Ireland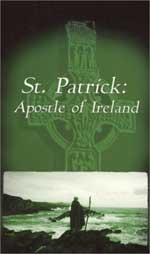 Directed by Dave Tennant and filmed entirely on location in Ireland, this 46-minute documentary blends the story of the saint with commentary from Father Frank Fahey of Ballintubber Abbey and Michael Slaven, author of "The Book of Tara." Interspersed are black and white flashbacks featuring Patrick's own words as his story unfolds - from his birth to his capture and enslavement in Ireland, and then, ultimately, to his almost single-handed conversion of the pagan Irish to Christianity. In the opinion of one very satisfied viewer, the program is "informative, engaging and inspiring."

St. Patrick: The Irish Legend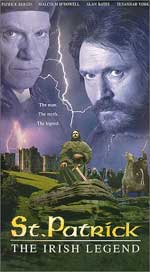 This made for television movie stars Patrick Bergen as St. Patrick and Malcolm McDowell as one of the saint's many antagonists. According to the reviews, it's not 100% accurate, but this doesn't detract from the primary focus of the movie which is to portray the devotion of the saint and his love for the Irish people.
The story begins with Patrick as a young man and continues with his capture by Irish pirates. We follow his journey to Ireland where he is sold as a slave. The following is a review from a viewer: "From his abduction as a teenager and enslavement by Irish marauders to his conversion on the solitary windswept hills of Ireland while tending his master's sheep, Saint Patrick is a shining example of what God can do in the life of a single soul. Through his intense and mystical prayer life, Saint Patrick is instructed on how to escape his captors to return home to England. Upon his return to England, Saint Patrick perceives in a vision the "Voice of the Irish" and is instructed to return to preach the Gospel to those who once held him captive. It is many more years before the Saint is able to return to Ireland, but in a serious of miraculous events he is called back to Ireland to shepherd a pagan people to God."
In general, reviewers are very positive and most agree that the movie does an excellent job of educating us as to the truth behind the legends and the myths that surround the life of Ireland's favorite saint. If you celebrate St. Patrick's Day and never really knew who he was, this appears to be a good candidate for adding to our knowledge and enlightenment.
Interested in finding out more about either video? Please click here:
St. Patrick, Apostle of Ireland
St. Patrick, The Irish Legend
Thu, Apr 20, 2017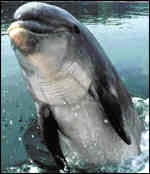 Fungie, the Dolphin of Dingle Bay
The dolphin is one of Ireland's most fascinating mammals and Fungie is the most famous. He is a fully- grown bottlenose who is 13 feet (4 meteres) long and weighs about 500 lbs or around one-quarter tonne.
Fungie was first noticed in 1984 when Paddy Ferriter, the Dingle Harbour lighthouse keeper, began watching a lone wild dolphin escort the town's fishing boats to and from port.
Later that year, it became officially recorded that Fungie was a permanent resident of the entrance channel to Dingle and the self-appointed "pilot" of the fleet.
Over the years Fungie has developed from a timid but inquisitive observer of the human visitors into a playful, though mischievous, companion. From observation of marks on his body, it seems that he does 'interact' with other whales, dolphins or porpoises, proving perhaps he is neither hermit nor outcast from his own kind, but rather that he is simply content to spend most of his time in and around Dingle Bay.


Click for More Culture Corner.
Gardens of Ireland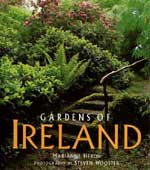 Visit 30 of Ireland's most beautiful gardens. Includes a stunning collection of 200 full-color photos.


All contents copyright © 2001 through 2011 inclusive - all rights reserved.
March 4, 2011

Rollover button Images:
Wedding LaRose, Kids Reading & Kitchen Apples and Tea from All Posters prints.
The information provided on this site is offered as-is, without warranty. This site's owners, operators, authors and partners disclaim any and all liability from the information provided herein.
Any trademarks or registered trademarks on this site are the property of their respective owners.

This Web Site Bashed, Kicked & Glued together by Russ Haggerty.