Traditions, folklore, history and more. If it's Irish, it's here. Or will be!
"People will not look forward to posterity who never look backward to their ancestors."
-Edmund Burke
---
Quotes

Library: Books, Movies, Music

Prints & Photos

Poetry

Jokes

---
---
Shops Ireland
---
Bunús na Gaeilge
(Basic Irish)

---
---
Did You Know?
---
Himself/Herself
Write to Us
Readers Write..
Links/Link to Us
---
Advertise with us
---
Awards & Testimonials

Submissions Guide
---
Music Review: The Saw Doctors Live in Galway
by Nicole Smith


Early radio was once imaginatively described as "Theater of the Mind." The voices and sound effects, along with the basic plot, were provided; it was then up to your mind's eye to see the rest. And though technology has improved and enhanced the format one-hundred fold in this century, listening minus the visuals remains a challenge, especially for a live recording.

If the act isn't strong enough to pull you into the experience, if the audience isn't passionate enough to make want to join them, then putting out a live album can spell disaster for a primarily studio band. It takes an experienced road-worthy group like the Saw Doctors to get the job done right the first time.

Six seconds of boisterous cheering start off the band's latest CD, the hall has gone wild before the first count off. Two minutes and 54 seconds into the first song, the enthusiastic Galway crowd is chanting the refrain to N17 - "stone walls and the grass is green!"; 73 minutes later as the last track fades, it is clear by the response, this crowd does not want to go home. They love their hometown boys.

Recorded live over two nights at the Black Box in Galway, Ireland's favorite rock band pulled out all the stops, from the opening number one hit "N17", a rollicking, but melancholy tribute to the highway between Tuam and Galway, (the way to the airport), to the closing number "Hay Wrap" which morphs gratifyingly into a rousing rendition of the Ramones "I Wanna Be Sedated." Everything in-between effectively captures the excitement of a Saw Doctors' show, making this the band's definitive live-performance CD.

The recording contains the best of the best from one of Ireland's most popular bands: "To Win Just Once" (another No.1. hit), must touch the heart of every sports fan on the trailing side of the field. Red Cortina, What a Day, Bless Me Father, Share the Darkness, Green and Red of Mayo, I'll Be On My Way, Same Oul' Town, Joyce Country Céilí Band, (where Irish traditional meets Irish pop), Exhilarating Sadness, Clare Island, Why Do I Always Want You, That's What She Said Last Night, I Useta Lover, (an obsession quelled with the words, "I have fallen for another, she can make her own way home.") and Hay Wrap.

If you haven't experienced Ireland's Saw Doctors live, there is still a chance to catch up with them. Their current US 2004 tour has a few dates remaining before coming to a close in Baltimore on May 30. The band will return again in August and the tour includes a free show outside Lincoln Center in New York. If you can go, or if you can't, this live CD along with the DVD, will remind you of a great evening of entertainment, or magically conjure up the experience as few acts can.

Listen to samples here: Live in Galway
And visit their official website here: Saw Doctors.


BIO
Nicole is a student at Marywood University in Scranton, PA. She hosts a radio program called the "Celtic Hour" on Monday nights at 7pm and plays what she likes to listen to. She will also play listener phone-in requests. An accomplished musician in her own right, she plays the Irish whistle at the end of each show.
We look forward to more of Nicole's music reviews!

Thu, Apr 20, 2017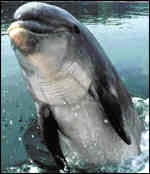 Fungie, the Dolphin of Dingle Bay
The dolphin is one of Ireland's most fascinating mammals and Fungie is the most famous. He is a fully- grown bottlenose who is 13 feet (4 meteres) long and weighs about 500 lbs or around one-quarter tonne.
Fungie was first noticed in 1984 when Paddy Ferriter, the Dingle Harbour lighthouse keeper, began watching a lone wild dolphin escort the town's fishing boats to and from port.
Later that year, it became officially recorded that Fungie was a permanent resident of the entrance channel to Dingle and the self-appointed "pilot" of the fleet.
Over the years Fungie has developed from a timid but inquisitive observer of the human visitors into a playful, though mischievous, companion. From observation of marks on his body, it seems that he does 'interact' with other whales, dolphins or porpoises, proving perhaps he is neither hermit nor outcast from his own kind, but rather that he is simply content to spend most of his time in and around Dingle Bay.


Click for More Culture Corner.
Visit 30 of Ireland's most beautiful gardens. Includes a stunning collection of 200 full-color photos.