Traditions, folklore, history and more. If it's Irish, it's here. Or will be!
"People will not look forward to posterity who never look backward to their ancestors."
-Edmund Burke
---
Quotes

Library: Books, Movies, Music

Prints & Photos

Poetry

Jokes

---
---
Shops Ireland
---
Bunús na Gaeilge
(Basic Irish)

---
---
Did You Know?
---
Himself/Herself
Write to Us
Readers Write..
Links/Link to Us
---
Advertise with us
---
Awards & Testimonials

Submissions Guide
---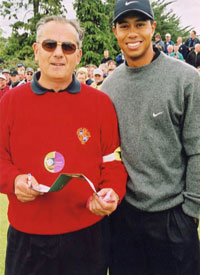 Book Review: Only Golf Spoken Here - Colorful Memoirs of a Passionate Irish Golfer
by Ivan Morris

Ivan Morris is a "golf nut." He lives it, eats eat and dreams it. How much of a nut is he? During his early years of golf lunacy he perfected the art of throwing a golf club well over 100 yards, but always took care to fling it forward after a bad shot.

He once threw his favourite Tony Penna driver into a Florida swamp and had to suffer the indignity of rolling up his trousers and wading into the swamp to retrieve it. "That cured me," he solemnly stated.

He played eighteen holes with Christy O'Connor, Sr, in 1973, when the legend was in his prime. He lost a small wager to O'Connor that day, but said that it was money well spent to watch a master at work.

Once, in the dead of winter, he went to the driving range at his home club in Limerick only to find that it was closed. He found an empty range basket and picked up about 100 muddy balls. He then broke the ice on a barrel full of rainwater, washed the balls with his bare hands in the ice cold water, and hit the balls back out into the range.

In 1979, he broke his arm and was put in a cast for 10 weeks. While in the cast, he played one-handed, and after only 6 weeks he had the cast taken off in order to prepare for the Irish Amateur that was scheduled two weeks later. He played in the championship, and through the pain, but alas, did not fare too well.

He was stricken with a 24-hour virus during the second round of the South of Ireland Seniors Championship which gave him a severe migraine headache, nausea and double vision. He lost his equilibrium, and was able to see only half the ball and half the clubhead as he set up over his shots, but he completed the round; albeit not with the kind of score he would have preferred.

He met his wife Marie on a golf course but they rarely play golf together because it causes too much tension. On their honeymoon, he promised that he wouldn't t play, but he still brought his golf clubs; early each morning he went to a nearby driving range and hit balls while she slept.

In 1980, he asked his wife to have labour induced in the impending birth of their son so that he could play in the Interprovincial Championships at Royal County Down. She agreed, and he won.

It was the accumulation of crazy antics like these and many others
that earned him the coveted title of Golf Nut of the Year 2001 awarded by the Golf Nuts Society, an American organization. He is the first non-American to win the title.

As a low handicap golfer for almost 40 years, Ivan has played in over 100 Irish, British, European and American championships and won more than a few. Along the way - to his great delight - Ivan became friends with some of golf's best players and most unusual characters, The list includes Tiger Woods, Sam Snead, Gary Player Christy O'Connor Sr., an Irish teammate known as "Gunner Carew, and an Irish caddie known as "The Rooney."

In this fascinating as well as funny compilation of essays, Morris takes advantage of his native Irish wit to slag both friends and foes alike, usually with a smile. In parts of several stories, he sketches his family's golfing history. According to Morris, they were all mad for it, ranging from playing, to reading out-of-date American golf magazines, to parsing Gary Player's comic strip instructions, to engaging in fierce debates over this swing theory or that. The book's title comes from a notice his mother posted on their kitchen door, in recognition of the game's dominance over other potential family conversation topics. His brother added the word "Only" to the placard, and no one challenged him.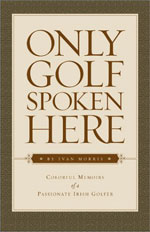 Two essays in particular will stand out for touring golfers who have yet to play Ireland's golf courses. "An Insider's Guided Tour of Irish Golf" is a detailed travelogue of over twenty-five courses, hotels, B&Bs, and other delights. Morris' pungent commentary continues with "A Personal Miscellany of Irish Golf Holes." The 18 holes are described in the same sequence they appear on the course they represent. The essay is surpassing, if only for the level of detail he provides about so many courses.

To summarize, in Only Golf Spoken Here, Morris presents an amusing account of his memories and feelings about the game that continues to tantalize and frustrate him after a lifetime of playing it. His opinions and insights - from a distinctive Irish viewpoint should make enjoyable reading for anyone with an interest in golf, Ireland, or both.

Resources:
Golf Nuts of the Year

Hole By Hole

Waterford News

Golf Digest.
Thu, Dec 7, 2017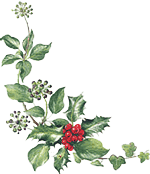 Holly and Ivy hanging up and
something wet in every cup*
Not so long ago, Irish Christmas decorations were much simpler than they are now. The children gathered holly and ivy for adorning, windows, doorways, mantles and pictures, and the father would carve out a turnip in which would be placed a large red candle. This would go in the window to light the way for the Holy Family on Christmas Eve. Only in relatively recent times did an Irish family have a Nativity scene and a decorated tree in the house. As for Mistletoe, it's quite rare in ireland and is generally associated with ancient Celtic and Druidic fertility celebrations; this is most likely where the custom of kissing under the mistletoe comes from.
*Old Irish Christmas toast
Image: Pashley Manor Gardens.

Visit 30 of Ireland's most beautiful gardens. Includes a stunning collection of 200 full-color photos.