Traditions, folklore, history and more. If it's Irish, it's here. Or will be!
"People will not look forward to posterity who never look backward to their ancestors."
-Edmund Burke
---
Quotes

Library: Books, Movies, Music

Prints & Photos

Poetry

Jokes

---
---
Shops Ireland
---
Bunús na Gaeilge
(Basic Irish)

---
---
Did You Know?
---
Himself/Herself
Write to Us
Readers Write..
Links/Link to Us
---
Advertise with us
---
Awards & Testimonials

Submissions Guide
---
Music Review: Mother: Songs Celebrating Mothers & Motherhood
by Bridget Haggerty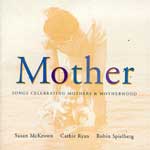 This recording is a collaboration of gifted Celtic singers and musicians. Drawing from their own experiences, they have created a tender tribute that chronicles the joys, as well as the heartaches, of being a mother.

In making the album, the artists described it as a journey they shared, but which meant different things to each of them. Their goal was to produce a work which is reflective of the wide range of experiences associated with motherhood. The liner notes are full of photos from the three women's childhoods (with their mothers), and the lyrics as well as the backgrounds of the pieces are included. They have also dedicated the recording to their own mothers, Mary Ryan, Honey Spielberg, and to the memory of Jeanne McKeown Ryan.

Of the fourteen tracks, all but five are vocals; some of the lyrics are in English, some in Irish, and one song, "Ancient Mother,"is a haunting Native American poem translated into Irish. While the majority of the cuts are celebratory, the artists recognise and address the realities life in songs that are sad - and yes, even tragic.

Having learned the background, Grandma's Song by Cathie Ryan is particularly moving. Shes says: "I wrote this children's song after my last visit with my paternal grandmother. She gave me my name and my love of singing. She died of Alzheimers disease in 1991. On that last visit she didn't know or remember me. She was lost in her own mind. My Aunt Bridie suggested that I sing to her. I knelt at her feet and began singing an old jig that she used to like. Slowly she began to tap her foot and slowly her eyes began to come alive. They were full of the same light she always had when she sang or heard music. For those moments I knew she knew me. For that brief time she was the woman I remembered -- all love and music."

From beautiful Celtic lullabies to brand new original compositions that explore the mother-child relationship, the CD features many special guests: Johnny Cunningham on fiddle, Joanie Madden on Irish whistle, Áine Minogue on harp, Gerry O'Beirne and Gerry Leonard on guitar.

To listen to samples, please click Samples.


About the Artists:
Susan McKeown
Growing up in Dublin, Susan inherited her love of music from her mother Jeannie, an organist and composer who brought Susan, the youngest of her five children, along to her church and community events. Before she was a teenager, Susan was taking her own solos at these events and winning classical and folk singing competitions around the city. After stints as a student of opera and musical theatre in Dublin's Municipal College of Music and New York's American Musical and Dramatic Academy respectively, Susan settled in Manhattan's East Village and from there carved out a career over the last decade as both a highly original singer-songwriter and a gifted interpreter of traditional song. Seothín Seo-h-ó is is a lullaby she learned as a child in Dublin. To learn more about Susan, click Susan McKeown.

Cathie Ryan
The daughter of Irish immigrants, Cathie was born in Detroit, Michigan. Her father was a tenor and very much in demand at the Gaelic League, where her family spent much of their time. As a child, she often visited her grandparents in Ireland. They had a profound effect on her singing and songwriting. Her paternal grandmother, Catherine Ryan, was a fine fiddler and singer and her maternal grandfather, Patrick Rice, was a gifted storyteller who mesmerized Cathie with tales of Irish myth and history.
For more on Cathie, visit her official website at Cathie Ryan.

Robin Spielberg
Robin was classically trained as a pianist and began composing as a young girl. After earning a B.F.A. with high honors from New York University, Ms. Spielberg began a performance career as a soloist in New York City's finest piano rooms. It was in these rooms that Spielberg continued to hone her craft and find her voice as a composer. There is much more to know about Robin. Find out here Robin Spielberg.

Thu, Dec 7, 2017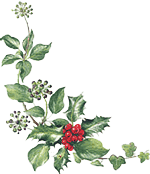 Holly and Ivy hanging up and
something wet in every cup*
Not so long ago, Irish Christmas decorations were much simpler than they are now. The children gathered holly and ivy for adorning, windows, doorways, mantles and pictures, and the father would carve out a turnip in which would be placed a large red candle. This would go in the window to light the way for the Holy Family on Christmas Eve. Only in relatively recent times did an Irish family have a Nativity scene and a decorated tree in the house. As for Mistletoe, it's quite rare in ireland and is generally associated with ancient Celtic and Druidic fertility celebrations; this is most likely where the custom of kissing under the mistletoe comes from.
*Old Irish Christmas toast
Image: Pashley Manor Gardens.

Visit 30 of Ireland's most beautiful gardens. Includes a stunning collection of 200 full-color photos.