Traditions, folklore, history and more. If it's Irish, it's here. Or will be!
"People will not look forward to posterity who never look backward to their ancestors."
-Edmund Burke
---
Quotes

Library: Books, Movies, Music

Prints & Photos

Poetry

Jokes

---
---
Shops Ireland
---
Bunús na Gaeilge
(Basic Irish)

---
---
Did You Know?
---
Himself/Herself
Write to Us
Readers Write..
Links/Link to Us
---
Advertise with us
---
Awards & Testimonials

Submissions Guide
---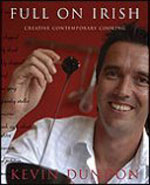 Book Review:
Full on Irish: Creative Contemporary Cooking by Kevin Dundon
review by Bridget Haggerty

In this stylish contemporary cookery book, a top Irish chef celebrates his love of fresh local produce and brings a new creative edge to traditional Irish dishes. This isn't your mother's boxty or colcannon!

More than 80 recipes celebrate the natural riches of the land and sea that surround Dunbrody House, the Co. Wexford country manor which author Kevin Dundon and his wife Catherine have transformed into a must-visit destination for food lovers: local seafood, freshwater fish, game, fruit, vegetables, herbs and farmhouse cheeses are all featured, many of these ingredients from the house gardens as well as nearby farms, rivers and the sea.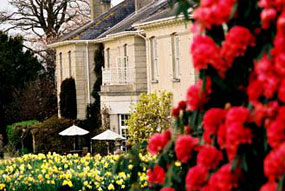 But don't be discouraged or put off if you don't live next door to the Dundons; the products at the heart of Kevin 's kitchen are also clearly explained so readers can find them, or easily identify similar products in any country for use in the recipes. And, oh, those mouth-watering recipes...

With a firm grounding in basic Irish cooking techniques and themes, the Dublin-born, internationally trained and now acclaimed chef offers us new twists on old favourites. Colcannon, for instance, moves far beyond its hearty mashed potato and cabbage origins to become a beautifully coloured delicate soup, served in cappuccino cups with puff pastry cheese straws and crispy Parma ham shards. Bread and Butter Pudding gets a touch of Irish Mist liqueur, and he adds some Irish spirit to a Tomato and Poitín Soup. Then there's that intriguing new take on boxty, the Irish potato pancake, done in the form of a potato salad.

The final two chapters - Kitchen Garden and The Larder - are particularly useful with recipes for Balsamic Reduction and Dunbrody Cucumber Pickle with Rocket. Also of value, and placing well-founded emphasis on famous Irish hospitality, are Kevin's suggestions for a quartet of Seasonal Dinner Party Menus, based on recipes in earlier chapters.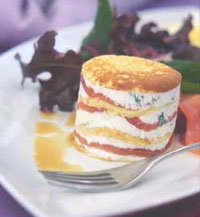 Need further persuasion in deciding whether or not to add this work to your kitchen library? Consider that all of the main recipes are accompanied by stunning original images taken by esteemed photographer Alan Murphy; that each recipe has been edited carefully to adapt all measurements and terms to an American audience; and that the book has received a slew of positive accolades, including the following:
"Kevin Dundon is one of a handful of Irish Chefs capable of measuring up to contemporaries in Britain, France, America and Australia. His creative, imaginative cuisine has its roots in logic, commonsense, craft skills of the highest order, and a focus on raw materials of the finest quality. In recent years there has been much talk of "modern Irish cooking", most of it puffery and nonsense. The recipes in this book are, on the other hand, the real thing."
Ernie Whalley, Editor Food & Wine Magazine

"Modern Irish cooking at its best." Georgina Allen

Although 'Full on Irish' is Kevin Dundon's first cookbook, it comes with a good pedigree. A Dubliner by birth, Dundon trained internationally before becoming the proprietor of award-winning Dunbrody House in County Wexford. He also runs the acclaimed Dunbrody Cookery School. Caroline Hennessey, RTÉ

"Kevin's food, served in an airy dining room with windows over-looking the lovely gardens, is state of the art, and he uses plenty of fresh fish from the nearby Wexford coast. Indeed, after five months of touring the country, eating everything from amuse-gueles in Dublin to bangers in Ballinasloe, I would rate Kevin as one of Ireland's best chefs." Mark McCrum, Conde Nast Traveller

In summation, take a look at this book. For the foodies, it's must read fodder. And for the cooks among us, it's sublime inspiration. Check out the smoked salmon with cream cheese recipe here: Ireland Guide.

And, if you have the time, take a look at the Dunbrody House site: Dunbrody House.

Click here for Full on Irish.

Fri, Feb 2, 2018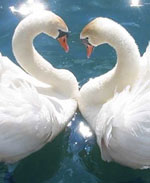 Irish God and Goddess of love
Oengus is the Irish God of love, beauty and youth. According to the old folklore, his kisses became birds. It is also said that he dreamed of a beautiful maiden, named Caer, for whom he searched all over Ireland. Eventually, he found her chained to 150 other maidens, destined to become swans at the time of Samhain. Legend has it that Oengus transformed himself into a swan and was united with his love.
Aine of Knockaine is the Irish Goddess of love. She is also known as the Fairy Queen of Munster and as a goddess of fertility beause she has control and command over crops and animals, especially cattle. Another name by which she is known is Aillen. To learn more about Irish mythology, please click Irish Myths & Legends.
Photo Credit: Wikipedia

Click for More Culture Corner.