Traditions, folklore, history and more. If it's Irish, it's here. Or will be!
"People will not look forward to posterity who never look backward to their ancestors."
-Edmund Burke
---
Quotes

Library: Books, Movies, Music

Prints & Photos

Poetry

Jokes

---
---
Shops Ireland
---
Bunús na Gaeilge
(Basic Irish)

---
---
Did You Know?
---
Himself/Herself
Write to Us
Readers Write..
Links/Link to Us
---
Advertise with us

---
Awards & Testimonials

Submissions Guide

Help keep us free
Throughout the site you will see many items available for purchase from well-known merchants such as Amazon. Not interested in what we're featuring? It doesn't matter. Click on any link and then shop for whatever you wish - we will still get credit, if you buy something.
Thanks for your help.

---
Yearning to live in Ireland?
by Rhoda McManus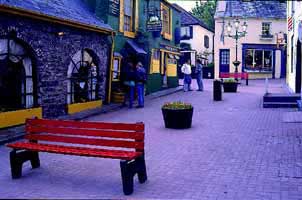 Rhoda and Jim McManus are living the dream - six months in Kinsale, Ireland and six months in the U.S. Is it your fantasy? If it is, Rhoda offers sound, practical advice based on first-hand experience.

And when you are tired of being the tourist? Yet you still wish to spend part of your life in a different environment, a different culture, a different climate. What do you do? Where might you fit in?

There's a whole big world out there. And yet it isn't as big as it seems. You might choose, as we did, to purchase a second home in another country. For us, this was a fortuitous choice. We are particularly excited about making this decision, and after five years of being part-time residents in Ireland, are eager to continue this arrangement.
However, to live in, and partake of, a foreign culture doesn't just happen. Effort must be put into the choice. The most obvious necessity is the need to communicate on more than a rudimentary level. To be fluent enough to exchange ideas, rather than merely ask for a loaf or bread or bottle of wine is a prerequisite to a full cultural life. For us, this meant an English-speaking country. We also felt that we wanted to settle in a country where we had some feeling for the literature, art, and music. This helped us to choose Ireland, for we had been reading Irish writers and poets for many years, and had a burgeoning collection of Irish literature and music.
We had been on holidays in Ireland twice, for three weeks, five years apart. Each time we left reluctantly, after enjoying the people, the climate, the scenery, and feeling comfortable both in the cities and in the rural areas. But that is not enough.
Location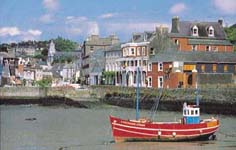 We found it was important to be particular about the decision of where exactly to live. It would not be a good idea to spontaneously buy a home in a location, which had been visited only once. If climate is a factor, and it usually is, you might want to visit during more than one season. Even in a country as small as Ireland, the immediate climate varies a great amount; there is more rain in the west then in the east; the temperatures on the southern coast are milder, due to the influence of the Gulf Stream.

In our situation, we were considering a village, which is a prime tourist destination during three seasons. It was essential for us to be there during those periods in order to determine the impact of a great number of visitors. We found the influence of the tourists to be a positive factor, for the village attracts great numbers of visitors from the continent, which gives it a cosmopolitan air during the warmer months.

The question of city versus country needs to be thought out carefully. Are you a city person? Do you need the variety of activities available in a city's cultural calendar? Are you more interested in walking and biking country lanes? Do you want a location in a village where you can walk to shops and cultural events, or do you prefer to be out in the fields and hills, and drive into the village when necessary? Perhaps a certain view is important to you, a pastoral country scene or an ever-changing harbor overlook.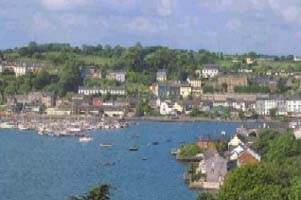 If you choose a village location, you will probably be interested in the proximity of a larger city in order to avail yourself of its amenities. We are just thirty minutes by auto from the second largest city of Ireland. We find that we have reason to visit Cork about once a week, for shopping, theater, concerts, the university, art galleries, dining, and rail transportation to Dublin, occasionally.
The proximity of an airport linked to international travel is also a desirable convenience. Cork Airport, twenty minutes away from our village, is helpful for our own flights to and from the United States, England, and the continent, and it is most useful for the arrival and departure of our guests. Because it is a relatively small airport, it is a pleasant part of their journey, nor is it a hassle for us to meet their flights or to send them on their way home.
Finding the House or Property

It is natural to find the ideal house or property when one is traveling. For us, it was habit to look in the windows of the real estate brokers and to notice signs as we drove through idyllic areas. Mind you, we were not really looking! Becoming knowledgeable about the price range and selection available is far preferable to looking through the foreign real estate pages in an international newspaper. Our travel diaries were usually well sprinkled with brokers' names and phone numbers and brief descriptions of what we had seen and where they were located. These tidbits provided interesting dinner conversation as we discussed our reactions.
When we actually found our house, it was in a village we had visited twice, each time for a few days because we enjoyed it so much. Upon seeing the broker's sign and speaking to him, we knew immediately that this could be it! However, it was the next to last day of our holidays, and we were flying back to the States the next day. We managed to see the house, photograph it extensively, and leave Ireland with our heads awhirl.
Our advice would be to spend as much time as you can in the location, actually looking for positives and negatives that are not on the surface. What about the village, and the specific location in the village, could be a problem? Traffic, noises, parking, odors, types of neighbors, building plans for vacant land nearby, village plans for the future; anything that would influence your decision should be investigated. How? Read local newspapers; talk to people in the shops, restaurants, and pubs. Find out how the local people feel about their hometown. A village with a sense of pride is a joy indeed. Look also for evidence of the type of recreation and culture you enjoy. If a local tennis club is important, find it. If you might want to belong to the yacht club in the town, stop in and talk to the people at the marina and in the clubhouse. Visit the local library, churches, civic organizations, and theatres; learn what you can about these if they are significant to you.
Purchasing Your Home
The purchasing of a home abroad need not be a stressful matter; at least, this is what we found in Ireland. We made a number of offers; eventually, the highest offer was accepted. We worked through our broker, who was anxious to complete the sale. The broker chose the solicitor; thus, we could assume that the two would work well together. We spoke with the solicitor by phone and communicated by fax and e-mail. Arrangements were made for an engineer's report. The solicitor also opened a bank account in our name in the local bank so that deposits could be made to it from the States. This account was used to pay insurance costs, purchase taxes, closing costs, the engineer's report, and, eventually; the cost of the house. All these were handled by the solicitor's office. By faxing a power-of-attorney, the closing was held without us, and we received a fax report the next morning. Thus, we became the owners of a beautiful home in Ireland!
Arrangements for Bill Paying
Bill paying can be conducted by various methods, when you are in the country or away. Direct debit, where your payments are deducted directly from your bank account, can be used with utilities, such as the telephone and electrical companies. This is the most effective manner, in our opinion, in which to be assured that your bills will be paid. You can have bills forwarded to your address in the States, but this can result in a late payment because of the time involved in mailing both ways. You could prepay certain bills, if that would make you more comfortable. Whatever method you choose, keep a written record of what you have done.
It is best to keep a yearly schedule, month by month, of when bills should be due, with telephone numbers and addresses, of when you or the bank paid them, and the details involved. This can be done on a spreadsheet on your computer, or in a notebook, never on scraps of paper. In that manner, should some business, utility, or governmental body fail to send you a bill, you can contact them straightaway.
Furnishing Your Home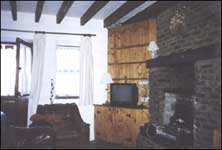 This is where your own personal choices will probably prove most important. Do you want to buy your furnishings locally or nationally from department stores? Do you want to involve a local decorator, who will most likely be far more aware of sources than you are? Do you want to frequent auction galleries and antique shops for some items?
You might want to consider another possibility, which worked well for us. We actually did include all of the above suggestions, but we also chose to bring over a container of furnishings from the States. In our situation, we had an excess of furnishings in our home in the States, resulting from years of indulging in antiques. Wishing to reduce the furnishings there, we contacted a company that specialized in shipping container loads of goods from the United States to other countries. Their promotional material included letters of reference from diplomats, government officials, and ordinary citizens who shipped their personal goods in this manner. Upon the signing of a contract with them, they sent us boxes and tape to pack the smaller items. They arrived early on the day of shipping to completely wrap each item of furniture, paintings, lamps, and other bulky items, and pack them into the container. This method allowed us to bring treasured paintings, favorite books, pieces of crystal, and sports equipment. Their agent in Dublin handled the paper work for the government. The container arrived in Ireland approximately three weeks later, was at our door on the day we specified, and unloaded within three hours. From a shipment of one hundred boxes, pieces of furniture and other bulky items, only one small ceramic table was slightly damaged! Incidentally, we felt that the cost of a pair of couches bought locally would have equaled the approximate cost of shipping the container.

Driving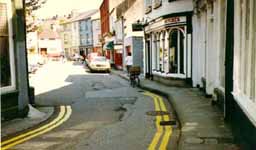 Perhaps one of our biggest surprises involved transportation. Upon purchasing our home and arriving in Ireland, we rented a car for two weeks. Study of the situation reinforced our belief that public transportation simply would not work for us. The solution was to purchase a reliable used car in Ireland, which we did within the two-week rental period. Insurance was the next step. We quickly learned that insurance companies were not eager to insure a foreigner, one who did not have a "track record" of Irish driving, and one who did not have an Irish full driving license. It did develop that the company which held our homeowner's insurance would be willing to accept us, but on rather steep terms. What we did to reduce the annual insurance bill was to acquire full Irish licenses by taking the driving test, no mean feat (EU citizens do not have this problem, but Americans do.), and develop an Irish clean driving record, meaning no damage claims. These steps reduced our insurance bill by one-half. We were also pleased to learn that we can suspend our insurance and road tax for the periods we are out of the country; this contributed to a more reasonable annual insurance and road tax (auto registration) cost.
What to do with your car when you are out of the country? If you do not have a garage, or access to someone else's, you need, as we do, to find a safe storage place. We did use a local garage, which worked well, but we found that driving our car to Cork Airport and leaving it at the long-term facility worked even better, for then we did not have to organize transportation to and from the airport. Of course, after three or four or seven months, the battery was dead, but the airport provides startup service, so we were on the road home in just a few minutes. The tires were a bit square and thumped for the first few miles, but, for us, it was a convenient solution. We did learn that, for long periods of inactivity, the battery should be left disconnected.
Maintenance
Now you have a second home, and you've furnished it. It's time to think of how to best take care of what you have organized. Arrangements for security, gardening, cleaning need to be made. All of these can be accomplished without undue hassle.
A carefully installed security system monitored by the company and responded to by them would be best. Sometimes neighbors are also willing to watch for suspicious changes. They need someone to help them check these out, the security company or the local gardae.
If you have any sort of garden, it will need some care if you are away from it during the growing season, which is long in Ireland. Normally, it will need very little in terms of watering! However, during the past two summers, watering was necessary, and it could continue that way. Weeding and trimming is a matter of weekly, biweekly, or monthly care. Watch the supermarket bulletin boards, the local classifieds, or ask a neighbor or the proprietor of a local nursery for a name. Make all the arrangements before you leave.
We all like to arrive at a newly cleaned house, so it is wise to arrange for periodic cleaning and to have the last cleanup timed to give you that sparkling house when you enter.
Social Life and Culture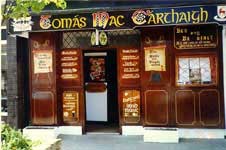 We have found that living within an easy driving distance of a large city, plus the offerings of a small town, and an occasional longer trip to another area of Ireland, has afforded us a sufficient variety of cultural activities. We read the local papers, daily and weekly, for ideas. The shop windows in the village and the supermarket bulletin board are a steady source of activities in the village. Notices have included a theatre presentation, touring concert groups, village festivals and regatta weekends, even a weekly exercise group on the beach! The local Tourist Office has a yearly schedule of major village events; a listing you may want before you plan your own schedule.
Watching for news articles about impending conferences at the nearest university and contacting the public relations office there afforded us a number of stimulating days in an academic atmosphere. Cork city has a number of theatres, whose events are advertised and reviewed in our daily paper. Tickets are usually easy to get and reasonable in price, especially by New York City standards. We have the advantage of a local opera company and twice-yearly presentations, plus concerts of high quality by groups touring Ireland and Europe. There are both private and municipal art galleries in Cork. Our village has a growing number of private galleries.
Ireland is famous for its cultural festivals; Cork's include an international film festival, a jazz festival, and a folk music festival; Dublin is well known for its theatre festival; Wexford has an opera festival, concentrating on the lesser-known operas. Many towns have annual arts festivals, including visual art, music, poetry, and prose writing, including the awarding of prizes and the sharing of artistic efforts. There are dozens of other festivals throughout the country.
If you take the time to investigate the wide variety of offerings, you will find some more to your taste than others. Following your own interests from there will lead to a rich cultural life in this country which is so involved with all the arts.
You will probably want exercise not only for your mind, but also for your body. Beautiful Ireland is ideal for walking; bicycling is more rewarding for the amount of distance that can be achieved. A combination of motoring and biking can be used. There are beaches for swimming and local hotels with swimming pools. We also had the choices of a yacht club and a tennis club; social opportunities are offered by both.
Guests
Part of the pleasure of having an overseas home is sharing it with friends and relatives; from experience, however, we have found that we need certain guidelines in dealing with this phenomenon. We need to know our guests' schedule; that is, not only when they are arriving, but also when they are leaving. It gives us a time frame for planning activities and excursions with them, and it allows a certain structure to our lives. On the few occasions at the beginning when we did not know our guests' departure date, we felt quite uncomfortable until it was aired. We do realize that some guests do not have a firm departure date in mind because they are touring by auto and can be flexible.
There is a certain compressed pace we seem to adopt when we have guests. It means more touring, more meals in restaurants, more expenses, more late hours, and less time for our usual activities. We enjoy all of those guest-type activities, but they are quite consumptive of our energy. One way to work this out is to establish early in the guests' visit some "on their own" time, for doing those activities which we have dome countless times, and they can get to and enjoy without us. In our village, it can mean touring the local shops, the local churches and forts, taking a walking tour of the village with or without a guide. On some occasions our guests have taken a Dublin break for a few days without us and then returned; we are refreshed and they have had a good few days alone.
Guests often urge us to dine out nightly, but we have found that is too often for us; we are happy to give them a few home cooked meals, and follow that up with good pub evenings. We can prepare those meals while they are doing some "on their own" activities.
One of the restrictions in Ireland is that we cannot, by virtue of our insurance policy, loan our car to someone else. That means a discussion, in advance of the trip, about car rentals.
For us, it was necessary to learn to schedule our guests' visits with enough alone time between the various guests. It means a much more enjoyable time for us, and, after all, a refreshed host is important, too!

Your Comments
What a wealth of great information... this was so interesting! ag Images: St. Montrose Cottage and interior shot from www.sportingtoursireland.ie (The cottage is in Kinsale and is available for short or long-term rentals year round).
All other images are of Kinsale and are from google.com.


Travelling to Ireland? Please click to return to our Travel Home Page.


Fri, Jul 10, 2015
The Galway Hooker
This unique vessel, with its distinctive curved lines and bright red sails, originated in the village of Claddagh. During the 19th century, hookers supported a significant fishing industry and also carried goods, livestock and fuel. Seán Rainey is remembered for building the last of the original boats, the Truelight, for Martin Oliver who was to become the last king of the Claddagh; as king, he was entitled to white sails on his boat. Since the mid seventies, many of the old sailing craft which were on the verge of extinction have been lovingly restored and new ones have been built. During the summer months they can be seen at festivals such a Cruinniú na mBád - the Gathering of the Boats - in Kinvara.

More Culture Corner