Traditions, folklore, history and more. If it's Irish, it's here. Or will be!
"People will not look forward to posterity who never look backward to their ancestors."
-Edmund Burke
---
Quotes

Library: Books, Movies, Music

Prints & Photos

Poetry

Jokes

---
---
Shops Ireland
---
Bunús na Gaeilge
(Basic Irish)

---
---
Did You Know?
---
Himself/Herself
Write to Us
Readers Write..
Links/Link to Us
---
Advertise with us
---
Awards & Testimonials

Submissions Guide
---
Women of Ireland - Catherine Hayes
by Basil Walsh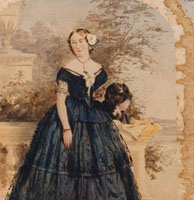 Catherine Haye's short life was packed with excitement, great success, fame, fortune and phenomenal earnings. Her incredible story has waited almost 140 years to be told.
The man who has so ably told her tale is Basil Walsh. What he has given us is the first definitive biography of this important nineteenth-century Irish singer - a unique young woman who embodied all of the spirit, tenacity and perseverance of her race, and who made a very important contribution to Irish musical history. We were surprised and pleased when Mr. Walsh contacted us to see if we might be interested in sharing his knowledge of Ireland's only internationally-acclaimed operatic diva. We were. And so, here is his very welcome contribution to these pages:
A Brief Synopsis of the Life & Times of Catherine Hayes
by Basil Walsh
Catherine Hayes was born into abject poverty in Limerick, Ireland in 1818. After five years of vocal study in Paris and Milan she made her debut at the Italian Opera in Marseilles, in Bellini's I Puritani in May 1845, followed by performances of Donizetti's Lucia di Lammermoor and Rossini's Mosé.
Her debut at La Scala in Milan in 1845, quickly followed...with phenomenal success! Shortly the young GIUSEPPE VERDI (1813-1901) became interested in her for one of his new operas. Her great success continued in Vienna, and also in Venice, Florence, Genoa, Rome and other cities in Italy, where she became the most sought after, Lucia di Lammermoor. Her time was during the early days of Italy's Risorgimento.
Early in 1849, Catherine accepted a contract to sing at the Royal Italian Opera, Covent Garden, London where she made her debut in Linda di Chamounix in April. In June 1849, she received an invitation to sing at Buckingham Palace, for Queen Victoria and 500 guests. After an evening of Italian music, when the Queen requested an encore Catherine with a smile, sang the beautiful Irish rebel song, "Kathleen Mavourneen!"
During Ireland's Great Famine in November 1849, her emotional return to her native country resulted in rave notices for her performance in Lucia di Lammermoor and other operas and concerts in Dublin, Limerick and Cork. Her success was now almost complete!
In 1851 Catherine went to America, where Jenny Lind was creating such a wave of success. Catherine gave concerts in New York, Boston, Toronto, Philadelphia, Washington DC, on down to Charleston, Savannah and New Orleans and forty-five other places including the river towns along the Mississippi, with equal success. She met presidents, statesmen and business leaders along the way. She was also destined to meet her future lover and husband in America... Jenny Lind's former manager! Catherine's travels took her to the "gold rush" in the San Francisco area in the 1850s, where her presence created a furor, singing for the miners and the elite of San Francisco. The great showman P.T. Barnum sponsored her tour.
She sang in opera and concerts in Peru and Chile, then traveled to Hawaii where she gave a concert, before continuing on to Australia. Catherine Hayes was the first great European opera star to visit Australia. She is mentioned in most Australian history books about early culture in the young colony.
She also traveled to Calcutta, India where she performed for the British Military and then on to Singapore and Batavia (Java) before returning to Australia for more opera and concerts. Her mother traveled with her everywhere!
She returned to London in 1856 after circumnavigating the Globe, and shortly thereafter married her lover and then, great tragedy struck... she died from a stroke in London at age 42.
Notes Mr. Walsh's book is most definitely definitive. It spans 372 pages and includes 35 illustrations/photographs. The critics have also been very receptive:
OperaNow - London: "Thanks to Basil Walsh's extensively researched biography... Catherine Hayes is at last receiving the historical and musical recognition she deserves"
Daily Express - London: "A rags to riches tale... Hayes was the "Madonna" of her day, she was the 19th-century operatic equivalent of the world's most famous rock star... Catherine Hayes had it all, a voice that captivated her public, financial rewards and a man she loved... then tragedy"
Donizetti Society Newsletter - London: "A long overdue study of a fascinating Irish artist, a famous Lucia and Linda, a beautiful angelic redhead soprano who took Italy by storm, a great star. A fine and exhaustive biography by Basil Walsh... immaculate presentation, indexed, chronology, repertoire..."
Classical Music Magazine - London: "Basil Walsh has drawn on letters, theatrical memorabilia and newspaper reviews to build a picture of her career... his affectionate portrait offers fascinating glimpses into the social and musical world of 150 years ago..."
Sunday Independent - Dublin, March 2001: "In the absence of recording evidence [Catherine Hayes' time was long before gramophone records were invented] it is impossible to assess the merit of operatic voices of the past with the result that we rely on their biographers which isn't always satisfactory. However, in the case of Basil Walsh, a Dublin author living in Florida, such is his detailed research in numerous countries that one is left in no doubt that his subject, the diva Catherine Hayes, enjoyed a glittering career..."
The World of Hibernia Magazine - New York: "Thank you, Mr. Walsh for extending our horizons with this delightful story... Basil Walsh has worked hard to inform us of this enigmatic woman, her fabulous voice, her devoted family loyalty and her charitable nature, he gives facts, meticulous footnotes and rare illustrations, which all together create a vivid picture of Catherine Hayes."
The Sunday Tribune - Dublin: "Catherine Hayes packed a great deal into her four decades at a time when travel was difficult and dangerous... We are greatly indebted to Basil Walsh for this magnificent, entertaining and beautifully illustrated book. It makes excellent reading."
The Dublin Historical Record: "Basil Walsh has performed a great service to Irish operatic history with this excellently researched volume... It also has a most valuable chronology of her [Catherine Hayes'] performances and travels throughout the world which further services the student of this fascinating woman who deserves to be better known to her compatriots."

If you want to see the status of financial equality for women, or the lack of it, try this gadget: Super Women.

A Brief Bio:



Mr. Walsh resides in Delray Beach, Florida and is an author and writer on opera and singers. He has contributed articles to various magazines, encyclopedias and journals in Europe and America including Opera Quarterly, The Princess Grace of Monaco Irish Database, The Donizetti Society of London Newsletter and the Victorian Web. He was also invited to contribute to the Royal Irish Academy's forthcoming multi-volume Dictionary of Irish Biography.

For more details about his book, please click here: The Hibernian Prima Donna



Fri, Feb 2, 2018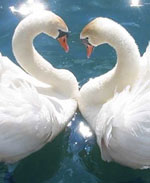 Irish God and Goddess of love
Oengus is the Irish God of love, beauty and youth. According to the old folklore, his kisses became birds. It is also said that he dreamed of a beautiful maiden, named Caer, for whom he searched all over Ireland. Eventually, he found her chained to 150 other maidens, destined to become swans at the time of Samhain. Legend has it that Oengus transformed himself into a swan and was united with his love.
Aine of Knockaine is the Irish Goddess of love. She is also known as the Fairy Queen of Munster and as a goddess of fertility beause she has control and command over crops and animals, especially cattle. Another name by which she is known is Aillen. To learn more about Irish mythology, please click Irish Myths & Legends.
Photo Credit: Wikipedia

Click for More Culture Corner.
Glorious Gardens of Ireland
by Melanie Eclare

A magnificent pictorial tribute to the splendor of Irish gardens, featuring more than 200 color images.
Eclare ushers readers into spectacular Irish garden settings...
Equally captivating are the book's gorgeous photographs of plants, beautiful stonework, outstanding statuary, and the voluptuous floral compositions that adorn Ireland's great castle estates, rural herb growers, country guest houses, and quaint cottages.
Alice Joyce
Click for Glorious Gardens.
---