Traditions, folklore, history and more. If it's Irish, it's here. Or will be!
"People will not look forward to posterity who never look backward to their ancestors."
-Edmund Burke
---
Quotes

Library: Books, Movies, Music

Prints & Photos

Poetry

Jokes

---
---
Shops Ireland
---
Bunús na Gaeilge
(Basic Irish)

---
---
Did You Know?
---
Himself/Herself
Write to Us
Readers Write..
Links/Link to Us
---
Advertise with us
---
Awards & Testimonials

Submissions Guide
---
A Tribute to Jimmy Kennedy
by Bridget Haggerty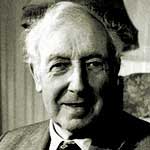 Most Irish people think he was American. Most Americans think he was American. To set the record straight, this is a brief tribute to the man from Omagh, Co. Tyrone who wrote Red Sails in The Sunset and many other favorite standards. One of the most successful songwriters of all time, he had more hits in the USA than anyone until Lennon and McCartney.

Just about everyone is familiar with Jimmy Kennedy's lyrics, but very few people have ever heard of him and even fewer know that Red Sails in the Sunset was inspired by a beautiful summer evening in Portstewart, which is located on Northern Ireland's famous Causeway Coast. As for South of the Border - another of his popular songs - that one came about when he either received or sent a holiday picture postcard from Tijuana, Mexico - we're not sure which.

Jimmy was born on July 20, 1902 and by his own reckoning, he wrote 2,000 songs. Of these, 200 became world hits, while 50 became what are known as "evergreens", i.e. all-time popular classics.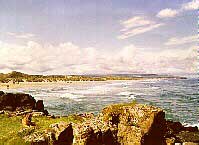 He was raised in Portstewart, County Derry, and was educated at Trinity College in Dublin. He taught for a while in England before embarking on a career in songwriting. He was prolific and successful. His first big success was The Teddy Bears' Picnic - a song which this writer well remembers from her childhood. The music was originally called the Teddy Bear Two Step. It was written by American composer J.K. Bratton and Jimmy later added the lyrics. That hit was followed by many others.

We've already mentioned Red Sails in the Sunset (which made the Top 75 Irish Songs list on RTE) and South of the Border - but did you know he also wrote the Isle of Capri, My Prayer and the Cokey-Cokey, which would later become the Hokey-Pokey? There's been a lot of dispute as to who should be credited with its creation. In the states, Larry LaPrise is given the credit. But the facts remain that while Larry and his band were granted a copyright to the song in 1950, American GI's are on record as saying they heard and danced to a version of it in England during World War II. To support this, there's a record of it being published in 1942 by the Kennedy Music Co. Ltd., in 1942 - words and music by Jimmy Kennedy. The Happy Gang promoted it on Canadian radio and by '52 it had become The Hokey Pokey on the other side of Ray Anthony's US hit The Bunny Hop. As for its original title, Cokey Cokey, it's said that Kennedy thought it had started among 19th-century Canadian miners and had to do with cocaine, but others say that 'cokey cokey' was how Italian ice cream vendors in England hawked their product. One other interesting anecdote in relation to wartime England is that Kennedy refused to write English words for Lili Marlene while he was serving in the British Army, rising to the rank of captain; instead, he wrote the wartime hit, We're Gonna Hang Out Our Washing On The Siegfried Line.

While we attempted to do a more comprehensive tribute to him, there aren't that many personal details available about Jimmy Kennedy's life. But, we have found some interesting facts gathered from various sources. For example, Bing Crosby recorded nine of his songs, including Did Your Mother Come From Ireland. Bing also became a close friend. And, recently, the little boat that inspired Red Sails in the Sunset was discovered rotting away in Belfast. "Kitty of Coleraine" was restored and Kennedy was honored with a celebration in Portstewart.

In his lifetime, Jim Kennedy won two Ivor Novello Awards for his contribution to British music. He was awarded an honorary degree from the New University of Ulster, he was honoured with an OBE (Officer of the British Empire), and he chaired the Songwriters' Guild (now the BASCA) for twelve years.

He lived in Greystones, Co. Wicklow, for some years in the seventies and died in hospital in Cheltenham, England, on April 6, 1984, survived by his wife, Elaine, two sons, and a daughter. After his death, the name Kennedy was added to the annual Novello award.

His legacy to popular music continues and many of his songs have been recorded by a stellar lineup of recording artists. In addition to Bing, they include among others, Frank Sinatra, Dean Martin, The Platters, Petula Clarke, Paul Robeson, Perry Como, Fats Domino, Louis Armstrong, Nat King Cole, Glen Miller, and even Elvis Presley.

But, even more important than the long list of stars who sang his songs are the songs themselves. Besides the ones already mentioned, here are a few more:

Love is Like a Violin
Roll Along Covered Wagon
Serenade in The Night
Hang Out the Washing in the Siegfried Line
Hometown
Pianamissimo
Blaze Away
Play to me Gypsy
Underneath The Spreading Chestnut Tree
Instanbul Not Constantinople
April in Portugal...the list goes on.

On June 10, 1997, Jimmy Kennedy was inducted posthumously into the Songwriters Hall of Fame - an honor that was long overdue for this incredibly talented but alas, almost forgotten son of Ulster. We could close with any number of lyrics in tribute to his amazing song-writing skils, But, since this is an Irish site and he is an Irishman, we'll end with what was already one of this writer's favorite songs, long before she ever knew who wrote the lyrics.

Did your mother come from Ireland
for there's something in you Irish
can you tell me where you got those Irish eyes
and before she left Killarney
did your mother kiss the Blarney
for that little touch of brogue can't be denied
sure I know we'll be romancin'
I can almost feel you dancing
when the Kerry pipers play
and I know that we'll be sharin'
in the shamrock you'll be wearin'
on the next St. Patrick's Day
Did your mother come from Ireland
for there's something in you Irish
and that bit of Irish steals my heart away.


Resources:
RTE: Top 75 Irish Songs list

Images:
Jimmy Kennedy from The Songwriters Hall of Fame.



Fri, Feb 2, 2018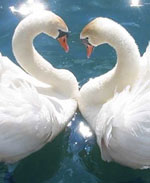 Irish God and Goddess of love
Oengus is the Irish God of love, beauty and youth. According to the old folklore, his kisses became birds. It is also said that he dreamed of a beautiful maiden, named Caer, for whom he searched all over Ireland. Eventually, he found her chained to 150 other maidens, destined to become swans at the time of Samhain. Legend has it that Oengus transformed himself into a swan and was united with his love.
Aine of Knockaine is the Irish Goddess of love. She is also known as the Fairy Queen of Munster and as a goddess of fertility beause she has control and command over crops and animals, especially cattle. Another name by which she is known is Aillen. To learn more about Irish mythology, please click Irish Myths & Legends.
Photo Credit: Wikipedia

Click for More Culture Corner.