Traditions, folklore, history and more. If it's Irish, it's here. Or will be!
"People will not look forward to posterity who never look backward to their ancestors."
-Edmund Burke
---
Quotes

Library: Books, Movies, Music

Prints & Photos

Poetry

Jokes

---
---
Shops Ireland
---
Bunús na Gaeilge
(Basic Irish)

---
---
Did You Know?
---
Himself/Herself
Write to Us
Readers Write..
Links/Link to Us
---
Advertise with us
---
Awards & Testimonials

Submissions Guide
---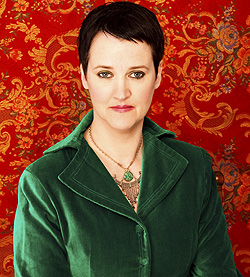 Stòras - A Real Treasure
by William Ramoutar
To say Mary Jane Lamond is a treasure is a fact and as the title of her new CD, "Stòras," means treasure in Scots Gaelic, what else can I say? Except that she is a treasure - in fact, an exceptional treasure.

Her voice is full, refreshing and thoroughly modern yet deep in the heart traditional. Make sense? No, probably not. But not a word of a lie, nonetheless.

I had heard her music on a couple of CD's and as a reciprocation to her friend from Cape Breton, Ashley MacIsaac, she appeared on his CD. But when I saw her in person, as a supporting act for The Chieftains some years ago, I ... well, ...I had a moment. One of those where you say to yourself, "oh this is a special one, she is going places". And she has not disappointed any of her following as far as I know, thus far.

This newest CD of hers shows the strength of her commitment to the tradition of Gaelic song. As true to it, as any you can think of and yet, it is so vital in its modernity. She sings these songs like they were written for her and yet, some are as old as the hills. When I saw her appear on the stage with The Chieftains (yes, appear - as she was not billed because she was taking the place of another act who had been let go from the tour), it was an appearance of angelic quality. One minute she was announced, she sang several songs, then was gone. The crowd that night knew they had witnessed an extraordinary happening. This tiny sprite of a girl sang like she had the wealth of our culture and traditions in every nuance, note and breath of her existence. Heady stuff, Ladies and Gents! But sometimes you have to go with the flow or it just washes over you. These days there is always someone listening for the twitter of their cell phone or blackberry, apple phone, whatever. Well, they just give me the pip! But the ones who listen to the concerts and artists are rewarded with an experience beyond mere words and sounds.

Artists like Mary Jane are not everywhere, nor two a penny. They are to be recognized for what they are. True carriers of the torch. Musicians or singers, who will be around long after we have all trundled off into oblivion. Think of the ones who went before. The Willie Clancy's, the Seamus Ennis's, the Margaret Barry's – well, you get the drift. These are icons in "the music" we all revere. Maybe sometimes some of them are respected just because they are gone. I have to admit there are some I have had to wonder about. But there is no wondering about this little lady's talent.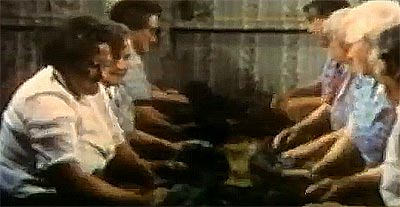 Mouth music, lilting, dandling, puirt a beul, port a beal, all ways the tunes are handed down to us through the years, and this CD has the distinction of having brilliant liner notes and beautifully sung lyrics. There are poignant songs of loss, definitely love, and even catchy tunes you won't understand a darn word of, but as they are so infectious in their rhythms and melodies, you'll find yourself humming! The "waulking" song last on this offering is the also one of the purest forms of passing down "the music." It is a call and answer method of relieving the tedium of breaking in the tweed. When woven first it is very coarse, so, to soften it up, it is soaked in ........ oh for Gawd's sake, if I tell you this, you'll probably think I've left the planet, yet, it was soaked in hot urine, or ammonia, to kill the impurities in the wool!! Then it was "waulked" around the table, always to the left. It is considered bad luck to move the material to the right, or in fact to sing the same tune during a session. As it is pounded on the table by the women, sitting around it, a caller sings the first verse or line and the rest of the women, while moving the cloth, sing the answer or nonsensical line while kneading the long bale of wool, which also tightens up the fibers as well as softening it.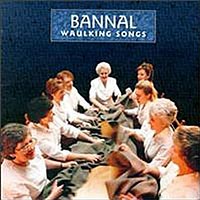 The caller, if she is getting on in age, is always given a place of recognition at the head of the table and is excused from "waulking" the cloth. The tunes can be quite lively as you might imagine, as some strong handed lassies belting the living daylights out of their handiwork while singing about sometimes a straying member of their menfolk or at least the memory of one. When you listen to one of these songs they are irresistible in their delivery. Mary Jane's last tune is no exception.

Posterity is a word I am not very fond of. It sounds somewhat ancient and dusty.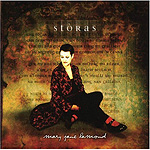 Mark my words, though - she will be around for posterity. She is worth every cent you spend on her music and then some. This is her fifth album. The joy of it is, she is the treasure and we get to enjoy her music, which she gives to us, forever.

A stòras mo chroí.

Storas is available here: Storas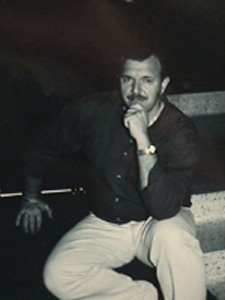 BIO William Ramoutar
IRISH WAYS RADIO PROGRAMME
WFCF Radio 88.5 FM
Every Sunday 11:00 am to Noon eastern standard time on the radio WFCF 88.5fm
We are now an iheart Station on your smartphone or computer
streaming live on iheart.

Review written by William Ramoutar Presenter of Irish Ways Radio Programme, St Augustine Florida

Photo Credits:
Main Photo: Mary Jane's official web site

Image of women "walking the tweed" taken from a video on U-tube To hear a wailking song and what it's about, please click Walking the Tweed

CD of waulking songs is available on Amazon


Wed, Jan 3, 2018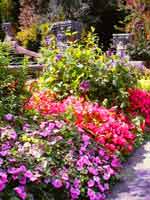 Ilnacullen, Co. Cork - an Island Garden
Located in the sheltered harbour of Glengarriff in Bantry Bay. Ilnacullin, which means island of holly, is a small island known to horticulturists and lovers of trees and shrubs all around the world as an island garden of rare beauty.
The vivid colours of Rhododendrons and Azaleas reach their peak during May and June, whilst the hundreds of cultivars of climbing plants, herbaceous perennials and choice shrubs dominate the midsummer period from June to August.
Because of its sheltered situation and the warming oceanic influence of the Gulf Stream, the climate is favourable to the growth of ornamental plants from many parts of the world.
Even for those who aren't particularly interested in gardens, there are many other scenic views, especially in the surrounding waters where seals frequent the rocks on the southern shore.
The cover photo on Bridget's book The Traditional Irish Wedding shows a wrought iron garden gate on Ilnaculen. I took that photo. To see it, go to the home page. It's part of the opening paragraph Failte.
—Russ
Resource: Copy and Image - Cork Guide

Click for More Culture Corner.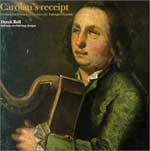 Carolan's Receipt
by Derek Bell

Derek Bell recorded Carolan's Receipt in 1975, the same year he joined the Chieftains. The selections include "Sídh Beag agus Sídh Mór," the first melody O'Carolan composed, as well "Carolan's Farewell to Music," which was his last. There have been dozens of settings of O'Carolan's compositions released since these, but none have surpassed the beauty of Bell's.
Michael Simmons
See our Article on O'Carolan
Click here for Carolan's Receipt.
---