Traditions, folklore, history and more. If it's Irish, it's here. Or will be!
"People will not look forward to posterity who never look backward to their ancestors."
-Edmund Burke
---
Quotes

Library: Books, Movies, Music

Prints & Photos

Poetry

Jokes

---
---
Shops Ireland
---
Bunús na Gaeilge
(Basic Irish)

---
---
Did You Know?
---
Himself/Herself
Write to Us
Readers Write..
Links/Link to Us
---
Advertise with us
---
Awards & Testimonials

Submissions Guide
---
March Music review : The Best of The Chieftains
by William Ramoutar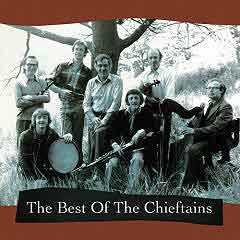 Well, there's no doubt about it, if you don't have a Chieftains cd in the library, you're missing out on way too much. Do you know they have been on the road for over 40 years and have nearly as many cds available?

It's true, and to tell you even more truths, it's hard not to like many of them, so you'll find one you like! This one is not a chronological, a biographical, or a best of, no, it's not. But it takes about three cds and gives you what whoever the Suit in the record company thinks is the best of them!
And it's not half bad. As an introduction to The Chieftains you could do worse, but not much better! There are some great interpretations of old footstompers on here. Great ones like O'Sullivan's March, The Job of Journeywork, Boil the Breakfast Early and even a set that includes Toss the Feathers. These are tunes that have been around since Adam was a boy and will be around long after we are all gone upstairs! Hopefully!

This is when The Chieftains were at their strongest and stayed that way for many years. With the passing of Derek Bell, their wonderful harper and hugely talented arranger, The Chieftains will never be the same. However, Derek is on this release and it shows. He was such a fun person on stage and his touch with the music was without reproach. For St Patrick's Day there will be many re-releases of fine bands and musicians, but as I said, if you have no Chieftains in the house, this is a good excuse to let the neighbors know that you appreciate "the Pure Drop".

This is the way I want to remember The Chieftains. They have had many a collaboration with many fine artists from countless varied musical genres and cultures, but here we hear them at almost the stripped down first edition. What many people didn't realize is that they came from the roots of the music and only produced the collaboration cds to be in the limelight for new audiences. It was a ploy that has stood them well, because they are still touring when many have dropped by the wayside. They will continue to do so. I cannot see them stopping until Paddy Moloney falls over! He is the driving force and that shows, too. But bear in mind Martin Fay is also on this cd and he doesn't tour with the band anymore. Martin had a tone on the fiddle to die for and he, in my estimation, is missed almost as much as Maestro Bell, but not quite. Derek was in many ways the ultimate crowd pleaser. Looking like anybody's idea of a middle-aged schoolteacher, when he was given the nod to perform his solo part in a concert, for the first minute the audience usually looked stunned because half the time, they didn't know what he was playing. He started his musical career in an orchestra and could all of a sudden go off into a Scott Joplin Rag or barrelhouse piece that would bring the house to their collective knees in laughter. He delighted in surprises. All of The Chieftains take solos during concerts, but Derek's were the most fun.

There are, as I said, many Chieftains cds out there and some dvds, too, for all of you who have progressed from VCR (there are actually still some of those around too), but this cd is a great introduction to a band likely to have broken all the records you can break and they will probably break many more before their day is done. Anyhoooo, get off the couch, find your nearest computer, fire it up and get to amazon.com. They will deliver it to your door!
Have a Happy and Chieftains S t Patrick's Day - they will stay with you forever!
The Best of the Chieftains is available at:
Amazon - US.
Amazon UK
Amazon Canada

Related story about Derek Bell
A Tribute to Derek Fleetwood Bell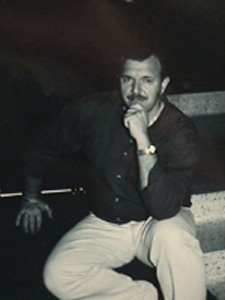 BIO William Ramoutar
IRISH WAYS RADIO PROGRAMME
WFCF Radio 88.5 FM
Every Sunday 11:00 am to Noon eastern standard time on the radio WFCF 88.5fm
We are now an iheart Station on your smartphone or computer
streaming live on iheart.

Review written by William Ramoutar Presenter of Irish Ways Radio Programme, St Augustine Florida



Wed, Jan 3, 2018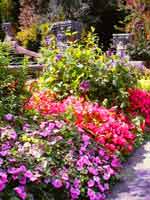 Ilnacullen, Co. Cork - an Island Garden
Located in the sheltered harbour of Glengarriff in Bantry Bay. Ilnacullin, which means island of holly, is a small island known to horticulturists and lovers of trees and shrubs all around the world as an island garden of rare beauty.
The vivid colours of Rhododendrons and Azaleas reach their peak during May and June, whilst the hundreds of cultivars of climbing plants, herbaceous perennials and choice shrubs dominate the midsummer period from June to August.
Because of its sheltered situation and the warming oceanic influence of the Gulf Stream, the climate is favourable to the growth of ornamental plants from many parts of the world.
Even for those who aren't particularly interested in gardens, there are many other scenic views, especially in the surrounding waters where seals frequent the rocks on the southern shore.
The cover photo on Bridget's book The Traditional Irish Wedding shows a wrought iron garden gate on Ilnaculen. I took that photo. To see it, go to the home page. It's part of the opening paragraph Failte.
—Russ
Resource: Copy and Image - Cork Guide

Click for More Culture Corner.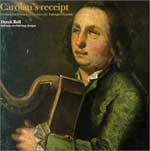 Carolan's Receipt
by Derek Bell

Derek Bell recorded Carolan's Receipt in 1975, the same year he joined the Chieftains. The selections include "Sídh Beag agus Sídh Mór," the first melody O'Carolan composed, as well "Carolan's Farewell to Music," which was his last. There have been dozens of settings of O'Carolan's compositions released since these, but none have surpassed the beauty of Bell's.
Michael Simmons
See our Article on O'Carolan
Click here for Carolan's Receipt.
---