Traditions, folklore, history and more. If it's Irish, it's here. Or will be!
"People will not look forward to posterity who never look backward to their ancestors."
-Edmund Burke
---
Quotes

Library: Books, Movies, Music

Prints & Photos

Poetry

Jokes

---
---
Shops Ireland
---
Bunús na Gaeilge
(Basic Irish)

---
---
Did You Know?
---
Himself/Herself
Write to Us
Readers Write..
Links/Link to Us
---
Advertise with us
---
Awards & Testimonials

Submissions Guide
---
Irish Music - The New Generation
by Michael Carlin

One of the most encouraging aspects of the Irish music business in recent years has been the emergence of so much new talent. New artists are the lifeblood of the industry, generating energy and enthusiasm, and providing excitement for a whole new generation. Here are five of my favourite new artists at the moment: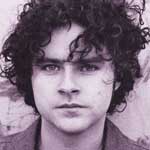 PADDY CASEY: It's a long way from busking on the streets of Dublin to being voted 'Best Irish Male Singer,' but that is what Paddy Casey has accomplished in a few short years. With a sparkle in his eye and a strong determination to succeed, Paddy has followed his Amen double platinum CD with an outstanding new release Living. This is a much more sophisticated selection with a full band line-up, backed by a string section, horns and key boards. Paddy Casey is an artist who really lives for his music. It takes up his every waking minute. He is currently on the road promoting Living and, if you have chance to take in his 'live' show -don't miss it! He really is special.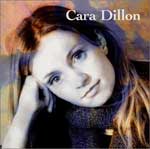 CARA DILLON: As long established female folk artists such as Mary Black, Dolores Keane and Maura O'Connell wind down their personal appearances and cut back on their recording schedules, a new force has emerged in the world of Irish folk and traditional music. Cara Dillon has staked her claim as the voice of the future. Her most recent album Sweet Liberty is a mix of traditional favourites and Cara's own interesting new material. It features a superb version of Tommy Sand's powerful There Were Roses. Well worth checking out.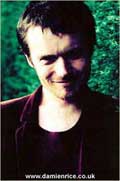 DAMIEN RICE: Damien Rice is rare talent. He has a presence and a personality that sets him apart from many of today's singer songwriters. His songs are delicately crafted with a musical twist that gives them mass appeal. His O album is not only one of Ireland's best sellers right now but is surely one of the finest debut albums for many years. Awards include 'Album of the Year' by Mojo magazine and a Brit Award nomination.



JULIET TURNER: I have been a long time fan of Juliet Turner and I still rate her Burn The Black Suit album as one of my favourites - if only for her classic duet with Brian Kennedy on I Hope That I Don't Fall In Love With You. It is hard to believe that was over three years ago. What has Juliet been doing since? She has been using the time wisely, maturing both as a songwriter and a performer. The results can be clearly heard on her latest album Season Of The Hurricane. The last CD achieved double platinum status. Something tells me that this could do even better.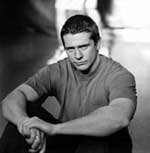 DAMIEN DEMPSEY: All of a sudden everyone is talking about Damien Dempsey. His powerful and emotional stage performances have helped him build a loyal fan base. As a songwriter Damien believes in the old maxim -- 'write about what you know.' What Damien knows about is growing up in Dublin and then having to emigrate to London and New York to earn a living. His songs are a hard hitting social commentary on life in 2004. Seize The Day is the title of Damien's album and it is already attracting critical acclaim from the likes of Shane McGowan, Sinead O'Connor, Christy Moore and U2's Larry Mullen.

Ed. Note: All of the CDs mentioned in this article may be purchased at Irish Music International
http://www.buymusic.ie



BIO:
Michael's family has four decades of experience in the Irish music business and they have earned an unrivalled reputation for quality and service; they have long been regarded as the leading independent source for all areas of Irish music. Carlin Records was one of the leading independent home entertainment retailers in Ireland and incorporated into this was a highly successful concert ticket agency with the third highest turnover in the country.

As for himself, Michael is heavily involved in a number of local charitable and cultural organizations - everything from Newry Cathedral choir to Newry & Mourne Good Relations Forum. He attends a large number of 'live' events during the year - folk and traditional concerts, drama, and musicals; he is also very interested in classical music and tries to get to as many Ulster Orchestra concerts as he can. Reading, cinema, politics/current affairs, all kinds of sport (particularly GAA), and walking are just a few of his many interests.

Michael would also be pleased to answer any general Irish music queries. To contact Michael, click Michael Carlin.


Thu, Apr 20, 2017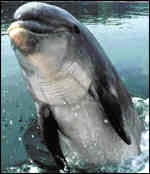 Fungie, the Dolphin of Dingle Bay
The dolphin is one of Ireland's most fascinating mammals and Fungie is the most famous. He is a fully- grown bottlenose who is 13 feet (4 meteres) long and weighs about 500 lbs or around one-quarter tonne.
Fungie was first noticed in 1984 when Paddy Ferriter, the Dingle Harbour lighthouse keeper, began watching a lone wild dolphin escort the town's fishing boats to and from port.
Later that year, it became officially recorded that Fungie was a permanent resident of the entrance channel to Dingle and the self-appointed "pilot" of the fleet.
Over the years Fungie has developed from a timid but inquisitive observer of the human visitors into a playful, though mischievous, companion. From observation of marks on his body, it seems that he does 'interact' with other whales, dolphins or porpoises, proving perhaps he is neither hermit nor outcast from his own kind, but rather that he is simply content to spend most of his time in and around Dingle Bay.


Click for More Culture Corner.
All contents copyright © 2001 through 2011 inclusive - all rights reserved.
March 4, 2011

Rollover button Images:
Wedding LaRose, Kids Reading & Kitchen Apples and Tea from All Posters prints.
The information provided on this site is offered as-is, without warranty. This site's owners, operators, authors and partners disclaim any and all liability from the information provided herein.
Any trademarks or registered trademarks on this site are the property of their respective owners.

This Web Site Bashed, Kicked & Glued together by Russ Haggerty.