Traditions, folklore, history and more. If it's Irish, it's here. Or will be!
"People will not look forward to posterity who never look backward to their ancestors."
-Edmund Burke
---
Quotes

Library: Books, Movies, Music

Prints & Photos

Poetry

Jokes

---
---
Shops Ireland
---
Bunús na Gaeilge
(Basic Irish)

---
---
Did You Know?
---
Himself/Herself
Write to Us
Readers Write..
Links/Link to Us
---
Advertise with us
---
Awards & Testimonials

Submissions Guide
---
Making a Match in Lisdoonvarna


Matchmaking is one of Ireland's oldest traditions and, for the last couple of hundred years, a good deal of it has taken place in Lisdoonvarna during September and early October.

The name Lisdoonvarna comes from 'Lios Duin Bhearna', which means the lios or enclosure of the fort in the gap. The town developed into a tourist centre as early as the middle of the 18th-century when a top Limerick surgeon discovered the beneficial effects of its mineral waters. People travelled from near and far to bathe in, and drink, the mineral waters. Rich in iron, sulphur and magnesium, the waters gave relief from the symptoms of certain diseases including rheumatism and glandular fever.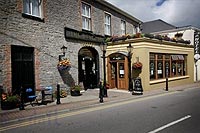 The Spa Hotel was the centre around which the village developed. The opening of the West Clare Railway contributed towards that development, although the nearest railway station was seven miles away at Ennistymon. This station opened in l887 and from that time onwards, until the advent of the motorcar, tourists travelled from the train in pony and trap to ''The Spa''.

It was due to the popularity of these mineral springs and the huge amount of people going there that led to the Lisdoonvarna "matchmaking tradition". September became the peak month of the holiday season and with the harvest safely in, bachelor farmers flocked to Lisdoonvarna in search of a wife.

By the 1920s, matchmaking was still in vogue and people continued to come and "take the waters", including many of Ireland's clergy. It was around this time that one of Lisdoonvarna's most famous sayings was coined, describing the town as a place "where parish priests pretend to be sober and bank clerks pretend to be drunk" .

Today, there are just two official Matchmakers left in Co. Clare: Mr. Willie Daly who runs the riding centre outside Ennistymon and Mr. James White, hotelier and proprietor of the Imperial Hotel in the village. With the exception of the pairings these two plan and negotiate, very little genuine matchmaking takes place nowadays. However, Lisdoonvarna's annual festival has evolved into Europe's largest single's event. People don't necessarily come to look for a spouse - they come by the thousands in search of a good time.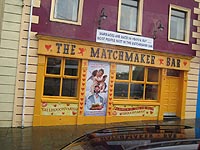 For the month of September, dances run from 12.00 noon each day and carry on into the small hours of the next morning. Set dancing exhibitions are also a feature of the event and there's live Irish music in most pubs, although getting to the bar can be quite a task, but don't worry or hurry, because the music carries on until the early hours.

If you can afford the time and the money, and you're single, head for Lisdoonvarna this September and early October. You never know - as well as enjoying all of the good-natured fun and grand "craic", you might also find the perfect mate!






Festival Highlights

Depending on how the dates fall, the festival begins on the first weekend in September and ends on the first weekend in October. In general, you can look forward to five, even six massive weeks of non-stop live music, dancing day and night, competitions, horse racing and more!

The music kicks off at 6pm on Friday evenings in all venues around the town and continues until 4am Saturday morning. After a few hours sleep and a good hearty breakfast, music commences again, If visitors are still fit for more, Sunday's music starts again at 10am until the small hours of Monday morning. The Spa Wells is traditionally famous for having the 1st dance of the day followed by a glass of spa water.

The Lisdoonvarna Race Meeting takes place with Horse- and Sulki-Racing. This is a three day flapping meeting (which is an amateur race meeting) run under the rules of the Horse & Pony Association. Some of the top international jockeys began their careers at these meetings. There are six races daily with prize money of up to Euro 1,500 per race. Entries are taken from all around the country and many bookmakers attend. Stabling for all animals is available free and accommodation can be arranged locally. All in all, a most exciting and colourful event not to be missed.

The annual Irish Barbecue Championships take place in early September. There are eight categories, but participants need only compete in four to be eligible for the grand prize.

One of the most popular events is the Speed Dating Weekend. For singles looking for an alternative to the nightclub scene, here is the possibility to meet 50 dates for 3 minutes. Registration is on a Friday and the Speed dating starts Saturday. Participants speak to their speed date for 3 minutes and when the bell rings, they move on to their next speed date and start again. Men rotate, ladies remain seated. At the end of the "interviews", all participants enjoy a night's dancing while the organiseres tabulate yes matches. Next day, participants receive their list of successful dates and the fun begins!

The grand finale is always the 'Mr. Lisdoonvarna' and the 'Queen of the Burren' competition when the most eligible lady & gentleman of the Festival are picked and awarded the coveted titles.

The craic is mighty and having fun at 'Lisdoon' is a serious business!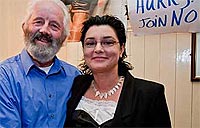 Willie Daly, one of Lisdoonvarna's official matchmakers can be contacted by e-mail at matchmaking@eircom.net or you can visit his WebSite at: Willie Daly. He will be glad to answer any queries regarding all aspects of:
1.Matchmaking in the area
2.The number of different nationalities who come here for the festival and what their intentions are.
3.Any other relevant details in relation to matchmaking.


Resources:
Content:
Match Maker Ireland
Irish Festivals



Fri, Feb 2, 2018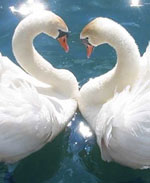 Irish God and Goddess of love
Oengus is the Irish God of love, beauty and youth. According to the old folklore, his kisses became birds. It is also said that he dreamed of a beautiful maiden, named Caer, for whom he searched all over Ireland. Eventually, he found her chained to 150 other maidens, destined to become swans at the time of Samhain. Legend has it that Oengus transformed himself into a swan and was united with his love.
Aine of Knockaine is the Irish Goddess of love. She is also known as the Fairy Queen of Munster and as a goddess of fertility beause she has control and command over crops and animals, especially cattle. Another name by which she is known is Aillen. To learn more about Irish mythology, please click Irish Myths & Legends.
Photo Credit: Wikipedia

Click for More Culture Corner.
I loved this film for many reasons, not the least being that I have experienced Lisdoonvarna, County Clare (a real Irish town) during their annual September Matchmaking Festival! It's visually lovely, and reminded me of not only of days walking the greenroads of Clare, but of nights out with my mates in the pubs while I was there as an exchange student. My opinion of this film can be summed up in one word - BRILLIANT! Amazon review
Click here for The Matchmaker.

---
The Faerie Isles - Celtic Harp Music



We own several of Carole Thompson's CD's and never tire of listening to them. This collection is particularly beautiful, from the opening strains of Bonny Portmore to the last note of O'Carolan's Farewell.