Traditions, folklore, history and more. If it's Irish, it's here. Or will be!
"People will not look forward to posterity who never look backward to their ancestors."
-Edmund Burke
---
Quotes

Library: Books, Movies, Music

Prints & Photos

Poetry

Jokes

---
---
Shops Ireland
---
Bunús na Gaeilge
(Basic Irish)

---
---
Did You Know?
---
Himself/Herself
Write to Us
Readers Write..
Links/Link to Us
---
Advertise with us
---
Awards & Testimonials

Submissions Guide
---
Anam Cara
by Gayla Templeton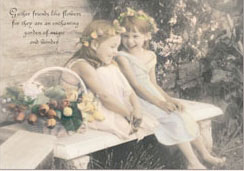 As we grow older, we cherish our friends more and more. And we also realize how few stay friends for life. Although we swore to be friends forever with all our high school chums, most of us can think of only one or two special people who fit the description of a friend for life. No matter how many miles separate us, or how long it has been since we have seen one another, when we are together, it is as if we have never parted. We can take up a conversation right where we were when we parted and within minutes are laughing again about something so funny the rest of the world will never get the joke.

The Irish have a phrase that describes that kind of friendship. Anam Cara in Gaelic means Soul Friend. It is believed that we are kindred spirits who have known and loved one another before time began. The Irish believe our souls form an aura, or halo around us. Our souls literally ebb and flow through time, coming together with recognition each time we meet. Once our souls are joined we will always recognize one another.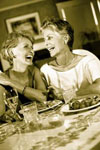 I have been fortunate enough to have two Anam Cara in my life and not surprisingly, both Irish. Even the patterns of our lives have been so similar that we enjoy the same music, have similar religious convictions and married the same kind of person.
When my friend Katheleen was taken at thirty seven by breast cancer, I didn't think I would ever find another friend that I would feel such a kinship with. It did take several years but then I realized a friend who had drifted in and out of my life was really an Anam Cara. She is the kind of friend that will always know what I mean when I can't get the words right, show up just when I need a shoulder to cry on and tell me when I am letting my life get out of balance.
I believe husbands and lovers can be Anam Cara but unfortunately, some are not. Perhaps we didn't wait for our soul friend to come to us. We actually need that special person to make our own soul complete. The Irish believe each of us has a soul friend but you may have to slow down and let your souls reconnect.
Everyone needs a good Irish blessing and mine is that your Anam Cara will walk with you today.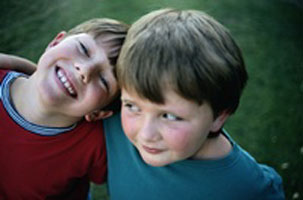 'Gather friends like flowers for they are an enchanting garden of magic and wonder.'


Images: Special Place by Gail Goodwin from All Posters and Prints.

Gayla says up above that husbands can be Anam Cara. I can't say what Bridget thought but I know she was my Anam Cara and, of course, I hope she believed I was hers. If it's a sign, we often laughed hard enough to cry at things that no one else would have understood.
—Russ


Fri, Nov 24, 2017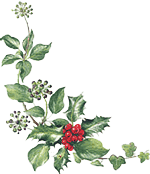 Holly and Ivy hanging up and
something wet in every cup*
Not so long ago, Irish Christmas decorations were much simpler than they are now. The children gathered holly and ivy for adorning, windows, doorways, mantles and pictures, and the father would carve out a turnip in which would be placed a large red candle. This would go in the window to light the way for the Holy Family on Christmas Eve. Only in relatively recent times did an Irish family have a Nativity scene and a decorated tree in the house. As for Mistletoe, it's quite rare in ireland and is generally associated with ancient Celtic and Druidic fertility celebrations; this is most likely where the custom of kissing under the mistletoe comes from.
*Old Irish Christmas toast
Image: Pashley Manor Gardens.

All contents copyright © 2001 through 2011 inclusive - all rights reserved.
March 4, 2011

Rollover button Images:
Wedding LaRose, Kids Reading & Kitchen Apples and Tea from All Posters prints.
The information provided on this site is offered as-is, without warranty. This site's owners, operators, authors and partners disclaim any and all liability from the information provided herein.
Any trademarks or registered trademarks on this site are the property of their respective owners.

This Web Site Bashed, Kicked & Glued together by Russ Haggerty.