Traditions, folklore, history and more. If it's Irish, it's here. Or will be!
"People will not look forward to posterity who never look backward to their ancestors."
-Edmund Burke
---
Quotes

Library: Books, Movies, Music

Prints & Photos

Poetry

Jokes

---
---
Shops Ireland
---
Bunús na Gaeilge
(Basic Irish)

---
---
Did You Know?
---
Himself/Herself
Write to Us
Readers Write..
Links/Link to Us
---
Advertise with us
---
Awards & Testimonials

Submissions Guide
---
Danny Boy
by Jaye Lewis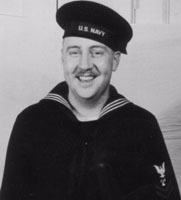 It was Veteran's Day, 1968.
My Dad, not an easy man to live with on a good day, had been restless and morose all day, toying with the piano, playing snatches of familiar tunes, and he'd finally settled on "Danny Boy". My Mom gave him a look, shrugging her shoulders.
Thinking to mollify him, I walked over to the piano, and I asked Dad if he would like me to sing along. "Only if you can sing it in the key it was written in," he said, "and you hit the notes strong and true." I nodded and I began to sing, with all my heart.

Danny Boy is a song filled with pathos. It's a song about a father sending his beloved son off to war. It's tune is so old in Irish memory, that there are folk historians who battle over its age and origination. The lyrics were written hundreds of years after its haunting melody had already been engraved upon Irish hearts.
When we finished, my father said, "Sing it again," and I did. I poured out my voice, as my father played. Again and again I sang, and still my father called for it again. Finally, my father paused, his hands resting on the piano keys. He turned to me and he had tears in his eyes -- something that I'd never seen before. He gave me a long, searching look, and began to speak...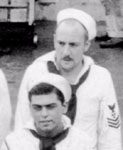 "I was in London, during World War II. Our ship would only be in port for one day, and they gave us liberty. I found this little pub and I went in and stayed all day. Naturally, I found my way to the piano. I played for beer and ale, whatever the patrons would request." He paused, as if it was impossible to go on, but he continued.
"All at once, a young man, with coal-black hair and the bluest eyes, came over and asked if he could join me. He said, 'let's do Danny Boy.' I said, 'sure, if you sing it in the key it was written in, and you hit the notes strong and true.' Then he began to sing. He had the purest Irish tenor that I've ever heard. We sang that beautiful song over and over and over, until finally we heard the air-raid siren.
Everybody began to leave, in that orderly English fashion, and I said, 'Well Paddy, we'd best be getting to the cellar.' 'In a minute, Yank,' he said, as I hurried down the steps.
We all huddled in the darkness, bombs bursting and shaking us. I was certain that I saw, in the dim light, Paddy's face, as he hurried to relative safety in the cellar, where I prayed God would give me another day.
After a time, the bombing stopped and we all left when the 'All Clear' sounded. I ran up the steps and I waited for everyone to come out of the cellar, but Paddy was nowhere to be seen. I figured he made it out before I did. I grabbed my things and I began to hurry back to the ship.
There was rubble everywhere. I was amazed at the relative calm of the Brits, picking their way through. I looked around and, suddenly, I pitched forward, tripping over some debris. It felt soft and warm. I raised my hand and thought I must have hurt myself, because my hand was covered in blood. I pushed myself up and came face to face with the bluest eyes I ever saw, framed by coal-black hair. It was Paddy. He had never made it to the cellar. He had been hit by flying debris. He was dead."
The tears flowed, and Dad played and I sang. Through the haunting strains of "Danny Boy," that Veteran's Day, I began to understand, just a little bit, one of the events that made my father the man he was.


---
Jaye's Bio: A freelance writer/songwriter, Jaye was raised in a musical family, in the deep South. She is of Irish/German descent and happily married to Steve Lewis. They are both Veterans of the US Navy. In her own words: "We have three beautiful adult daughters and one very precious son-in-law. I am also the willing slave of a 3 and 1/2 year old miniature dachshund, named Happy Dog. We live in the Blue Ridge Mountains of south western Virginia, where Irish/Scottish roots go back to the 17th century. My Irish ancestry is from County Cork, Ireland. The family name is Caufield. Along with writing regularly for Heartwarmers, I also write for HeartTouchers, at www.HeartTouchers.com. Another story that might be of interest to readers of Irish descent, is "Father McKeever's Lesson," which can be found at www.heartwarmers.com
Note: We are very grateful to Jaye for giving us permission to reprint this story which first appeared on a web site called Heartwarmers. She says, "Although my father never spoke of that day again, I have never forgotten it."
If you would like to write to her, the email address is:
jlewis@smyth.net

Images: The first photo is Jaye's Dad in his dress blues. The small photo is Jaye's father, a shipmate, from the USS Saucy, the ship he was attached to during World War II. He is wearing the uniform that he would have had on, when he met Paddy and spent that strange and tragic day, singing Danny Boy. Her father is the seaman at the back.

Wed, Jan 3, 2018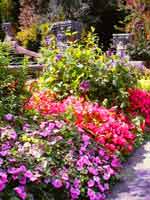 Ilnacullen, Co. Cork - an Island Garden
Located in the sheltered harbour of Glengarriff in Bantry Bay. Ilnacullin, which means island of holly, is a small island known to horticulturists and lovers of trees and shrubs all around the world as an island garden of rare beauty.
The vivid colours of Rhododendrons and Azaleas reach their peak during May and June, whilst the hundreds of cultivars of climbing plants, herbaceous perennials and choice shrubs dominate the midsummer period from June to August.
Because of its sheltered situation and the warming oceanic influence of the Gulf Stream, the climate is favourable to the growth of ornamental plants from many parts of the world.
Even for those who aren't particularly interested in gardens, there are many other scenic views, especially in the surrounding waters where seals frequent the rocks on the southern shore.
The cover photo on Bridget's book The Traditional Irish Wedding shows a wrought iron garden gate on Ilnaculen. I took that photo. To see it, go to the home page. It's part of the opening paragraph Failte.
—Russ
Resource: Copy and Image - Cork Guide

Click for More Culture Corner.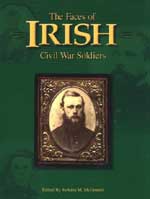 Faces of Irish Civil War Soldiers:
Rare Photographs of Irish Soldiers
Who Fought for the North and South
Edited by Joanna M. McDonald

Thousands of Irishmen lined up at the recruiting stations and served in both the Confederate and Union armies - great names such as O'Rourke, Corcoran, Meagher, McIntosh, McGavock, and Tilghman. Unlike their English neighbors, who, for the most part, assimilated into the Union and Confederate ranks, many Irishmen organized their own, unique units made up of their fellows and included the adjective "Irish" within their regimental names. As their memories disappeared into history, they left their names, their songs and poems, their letters and battle accounts - and their photographs - to remind them of their passing and allow us to walk part of the way with them.
Publisher's Review
Click here for Faces of the Civil War.