Traditions, folklore, history and more. If it's Irish, it's here. Or will be!
"People will not look forward to posterity who never look backward to their ancestors."
-Edmund Burke
---
Quotes

Library: Books, Movies, Music

Prints & Photos

Poetry

Jokes

---
---
Shops Ireland
---
Bunús na Gaeilge
(Basic Irish)

---
---
Did You Know?
---
Himself/Herself
Write to Us
Readers Write..
Links/Link to Us
---
Advertise with us
---
Awards & Testimonials

Submissions Guide
---
What if you were still single by Ash Wednesday?
by Bridget Haggerty


In 1751, King George II decreed that Great Britain would switch over from the Julian Calendar to the Gregorian Calendar - the one we use today. The switch went into effect in September, 1752. The day after September 2nd of that year became September 14th. There were riots in the streets because people believed that the king had stolen 12 days out of their lives. Meanwhile, in Ireland, the monks kept what came to be known as Old Time.

In my article, Shrovetide, the Season For Marrying, I described why the days before Ash Wednesday were when the majority of marriages took place in Ireland long ago. But, what if Shrovetide went by and you were still single when Ash Wednesday dawned? It was popular opinion in those times, that this was a major neglect of your social duty to the community; but, you could make amends by "Going to the Skelligs."

On these rocky islands off the coast of County Kerry, a monastery had been built, and according to the old folklore, you could still be married there because the time the monks kept was nearly two weeks behind the rest of the country. How many couples actually took advantage of this loophole remains a mystery and many historians believe it to be just another romantic myth.

Myth or not, there was many a negligent single man or woman who was greeted during the first days of Lent with a barrage of teasing and banter. "You'll be off to the Rock, then?" "Don't miss the boat!" "So, who will you be taking on the grand excursion?"

In many places, this custom of teasing eligible unmarried people was carried further by local poets who composed verses which told of a marvelous voyage to the rocks, praised the splendid vessel which would take the party there, and gave a long list of those who were making the journey - couples who would be matched up as incongruously as possible. The "Skellig Lists," as they came to be known, were circulated around the village for all to read, deride...and enjoy.

In more recent times, the Skellig Lists took the form of large posters giving details of the "Grand Excursion." These were put up in prominent places on the first Sunday of Lent, so they might be read by all on the way to chapel. But that wasn't all the unfortunate unmarrieds had to endure.

The first Sunday in Lent was also known as Chalk Sunday. Children and the younger men would hide in doorways and when their victims passed by, they'd whip out a piece of chalk and make a mark on their backs. Chalking would also take place right before and after Sunday Mass.

During the middle of the 19th century, chalking was carried on all over Ireland, but, by the 1920s and 1930s, there were only a few places where it still flourished.

One of my favorite Irish columnists is Cormac MacConnell. A couple of years ago, he wrote of one Mary Guerin from County Clare, who, at 96, was still as sharp as a tack. She well remembered every child in the parish coming to Mass equipped with a stick of chalk in hand. Chuckling like a child, she recalled that there were a lot of people, especially the old bachelors, who would lash out at the children on Chalk Sunday to try and prevent the mark of their lonesomeness....or failure....being marked starkly across their backs going into the chapel. She also remembered that anyone who was likely to be chalked would never wear their Sunday best.

But surely, wouldn't chalk brush off easily enough? "Yes," said Mary - "but not the raddle that we used if we couldn't get the chalk."

Now this was real devilment, because raddle is the red and powerful marker which, to this day, is smeared on the undersides of breeding rams during sheep-mating season on the mountains. A ewe who has a romantic encounter with a ram will have her fleece marked with the raddle. Thus, a farmer will know which of his ewes might be expected to become a mother and which of them had yet to mate.

Asked if she was ever chalked, she laughed. "No." she said, "I was gone before they got the chance." As I will be very shortly, but not without mentioning one other interesting custom.

In parts of Galway and Mayo, salt was sprinkled on single people to 'preserve them hale and hearty until next Shrove.' In some places, it was done the day after Ash Wednesday which was market day. In others, it was done on the first Monday in Lent which was known as 'Salt Monday.'

NOTE: Recently, a Skelligs Interpretive Centre was built on the mainland; tourists can learn all about the islands and then take a boat ride out to them. The drawback is that the boat simply goes out, around, and then returns - passengers don't get to set foot on the islands. However, there are at least three reputable boat operators who will take passengers out to the islands for a full day of exploration at leisure.


Thu, Apr 20, 2017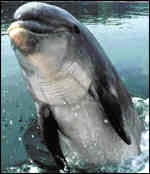 Fungie, the Dolphin of Dingle Bay
The dolphin is one of Ireland's most fascinating mammals and Fungie is the most famous. He is a fully- grown bottlenose who is 13 feet (4 meteres) long and weighs about 500 lbs or around one-quarter tonne.
Fungie was first noticed in 1984 when Paddy Ferriter, the Dingle Harbour lighthouse keeper, began watching a lone wild dolphin escort the town's fishing boats to and from port.
Later that year, it became officially recorded that Fungie was a permanent resident of the entrance channel to Dingle and the self-appointed "pilot" of the fleet.
Over the years Fungie has developed from a timid but inquisitive observer of the human visitors into a playful, though mischievous, companion. From observation of marks on his body, it seems that he does 'interact' with other whales, dolphins or porpoises, proving perhaps he is neither hermit nor outcast from his own kind, but rather that he is simply content to spend most of his time in and around Dingle Bay.


Click for More Culture Corner.
A fascinating, very cleverly written account that's part fiction and part fact. But don't be misled by the "fiction" part. The stories that Mr. Moorhouse tells are all based on thoroughly researched historical evidence. Bridget Haggerty
"Moorhouse writes with eloquence and a quiet humor calculated to charm even the blackest of heathens." Atlantic Monthly
"The chilling facts of the monks' penitent lives are real enough to send a shiver down an Irish Catholic's spine." New York Times Book Review
Click here for Sun Dancing.

---