Traditions, folklore, history and more. If it's Irish, it's here. Or will be!
"People will not look forward to posterity who never look backward to their ancestors."
-Edmund Burke
---
Quotes

Library: Books, Movies, Music

Prints & Photos

Poetry

Jokes

---
---
Shops Ireland
---
Bunús na Gaeilge
(Basic Irish)

---
---
Did You Know?
---
Himself/Herself
Write to Us
Readers Write..
Links/Link to Us
---
Advertise with us

---

Help keep us free
Throughout the site you will see many items available for purchase from well-known merchants such as Amazon. Not interested in what we're featuring? It doesn't matter. Click on any link and then shop for whatever you wish - we will still get credit, if you buy something.
Thanks for your help.

---
---
Vegetables & Salads


Avocado & Boilie Salad
contributed by Bridget Haggerty

This recipe is adapted from one we found on iGourmet. Salads were a scarcity during my childhood years. Dad always called them "rabbit food" and refused to eat anything resembling uncooked fresh greens. As for tomatoes, he'd eat them if they were fried with his Sunday breakfast. The same with mushrooms and onions! Fact is, the Irish diet was never big on salads; but, today, that has changed as tastes adapt to embrace healthier foods. All of that said, the following recipe isn't exactly one we'd recommend to people watching their fat intake. I like to think that my meat 'n potatoes pop might have been persuaded to try this delicious dish which features Irish Boilie cheese. It's available on iGourmet and I've seen other versions at international markets such as Jungle Jim's which isn't very far from where we live. Basically, boilie is more or less a very soft cream-cheese rolled into balls and then marinated in oil flavored with various herbs and garlic. As for the avocado - we might have had to fib a little and tell Dad it was flavored Irish butter!

Ingredients:
1 avocado, cubed
2 strips of bacon, cooked crisp and chopped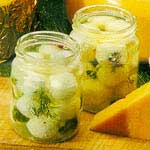 12 pieces Boilie cheese
Your favorite lettuce (enough for 4) - Bibb would be nice!
3 tablespoons lemon juice
3 tablespoons Boilie oil
1 teaspoon sugar
Salt
White pepper, freshly ground
1 tablespoon fresh parsley, chopped

Method:
Arrange lettuce leaves on 4 serving plates.
Place 3 balls of Boilie cheese on top of each and sprinkle with chopped bacon.
Sprinkle avocado cubes with a little lemon juice to prevent browning and evenly distribute on each plate. For dressing, place remaining lemon juice, Boilie oil, sugar, salt and lots of freshly ground white pepper together in a bowl, beat well and stir in herbs.
Just before serving, drizzle salad with the dressing.
Serves 4.

Images & Resources:
You can find the Boilie cheese, click Boilie Cheese: iGourmet

Salad Days by Jennifer Abbot from All Posters and Prints

Chanterelles on Buttered Toast
Contributed by Hartson Doud
Ingredients:
1 pound of Chanterelles
1 oz. of butter
Salt and freshly ground pepper
1 tablespoon chopped parsley
Hot buttered toast.
Method:
Trim of the earthy parts of the stems, then wash the caps quickly but carefully and drain well. Slice or keep whole, depending on the size. Melt some butter in the frying pan and add the mushrooms. Fry over a high heat. The mushrooms will begin to exude their juice, but continue to cook on a very high heat until the juices are reabsorbed. Season with salt and pepper, sprinkle with parsley and serve immediately on hot buttered toast.


Galway Spinach Salad

Ingredients:
6 eggs
1/2 pound of cooked Irish or Canadian bacon, chopped
2 pounds spinach, rinsed and chopped
2 3/4 ounces of croutons
1/4 cup of fresh mushrooms, thinly sliced
1 onion, chopped
2/3 cup white sugar
1 teaspoon salt
1/2 teaspoon ground pepper
1 teaspoon celery seed
1 tablespoon prepared Dijon-style mustard
1 cup vegetable oil
1/3 cup cider vinegar
Method
1. Place eggs in a saucepan and cover completely with cold water. Bring water to a boil. Cover, remove from heat, and let eggs stand in hot water for 10 to 12 minutes. Remove from hot water and cool. Once cool, peel and chop.
2. In a large salad bowl, combine the eggs, bacon, spinach, croutons and mushrooms. Toss to mix.
3. Prepare the dressing in a blender by combining the onion, sugar, salt, oil, vinegar, pepper, celery seed and Dijon mustard. Blend until smooth.
4 Pour enough dressing over salad to lightly coat. Toss and serve. Makes 6 servings.


Ballymaloe Salad with Shanagarry Cream Dressing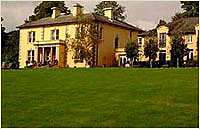 At Ballymaloe, they serve an old-fashioned salad on individual plates. Each plate features a few lettuce leaves, a couple of tomato quarters, two hard-boiled egg quarters, cucumber slices and a radish. For garnish they used scallions and watercress. There was also a scattering of egg white and some chopped parsley on top of the salad and a slice of home-pickled beetroot on the side. What caught our attention wasn't the salad - it was the dressing. It was so good, we asked for the recipe. Thanks to Lydia Strangman, here it is:

Ingredients:
2 eggs (free range if possible)
1 tablespoon of dark, soft brown sugar
a pinch of salt
1 level teaspoon of dry mustard
1 tablespoon brown malt vinegar
2 to 4 fluid ounces of cream
Method:
Cut the two eggs in half and sieve the yolks into a bowl.
Add the sugar, a pinch of salt and the mustard. Blend in the vinegar and cream. Chop the egg whites and add some to the sauce. Keep the rest of the chopped egg whites to scatter over the tops of the salads. Cover the dressing until needed. Recipe makes enough for 4 salads.
Put a tiny bowl of the Cream Dressing in the center of each plate and serve immediately, while the salad is crisp. Alternatively, serve the dressing in one large bowl.

Spring Vegetables - choose from among the following:

New red potatoes
Simply boil in their jackets until tender, drain and toss with "lashings of butter."

Leeks
Select firm leeks with white stalks and fresh green leaves. Braise in a little butter or serve in a light béchamel sauce. Leeks can also be grilled on a ridged cast-iron griddle, then sprinkled with olive oil and shavings of Parmesan cheese. Alternatively, steam until soft and serve in pungent vinaigrette.

Turnips
White turnips are smaller and sweeter than the winter turnip. They have a nutty flavor and a crisp texture. Scrub lightly, then boil, poach or steam for a few minutes and simply toss in butter.


Wild Greens Pie
(which sounds remarkably similar to Greek spanakopita, except this recipe uses wild greens instead of spinach. The end result could also be used as a delicious starter.)

Ingredients:
2 pounds mixed greens (any combination of sorrel, chard, dandelion, and wild fennel)
3/4 cup olive oil, plus more for brushing dough
2 large onions, finely chopped
1 bunch scallions, trimmed and finely chopped
1/2 cup chopped parsley
1/3 cup chopped fresh mint leaves
1 small bunch of chervil, tough stems discarded, finely chopped
Salt and pepper
3-4 tablespoons semolina or rice
Phyllo dough (home made or store-bought)

Method:
Trim the tough stems from the greens, chop or shred then, and wash them thoroughly. Spin them through a salad spinner to dry as much as possible. Heat 2 tablespoons of the olive oil in a large heavy skillet and sauté the greens, tossing frequently, until as much of their moisture as possible has evaporated, 7 to 10 minutes. Remove and place in a large mixing bowl. Heat 1-2 more tablespoons of the oil in the skillet and saute the onions and scallions over medium-low heat until wilted and very lightly browned, about 10 minutes. Add them to the greens. Mix in the dill, parsley, mint, and chervil. Season with salt and pepper and add the remaining olive oil. If the filling is very wet, mix in either the semolina or rice.

Divide the phyllo dough into four equal balls. Have ready a large shallow baking dish or a 14-inch pizza pan, lightly oiled. Preheat the oven to 350°. Using a rolling pin, roll out the first dough ball on a lightly floured surface to a circle slightly larger than the pan. Carefully place the dough in the pan and brush its surface with oil. Repeat with second dough ball, brushing the surface with olive oil. Spread the filling eventually atop the phyllo. Roll out the third dough ball, lay it over the filling, oil it, and repeat with the last piece of dough. Pinch together the top and bottom sheets of phyllo, turning them inward around the rim of the pan. Take a sharp knife and score the pie from top to bottom, first in equally spaced rows then diagonally to form diamond-shaped pieces. Bake for about 1 hour, or until the dough is deep golden and set. Cool for at least 30 minutes before serving.

Phyllo Dough

Ingredients:
4 to 4-1/2 cups all-purpose flour
1-teaspoon salt
1-1/2 to 1-3/4 cups warm water
1/4 cup olive oil
2 tablespoons red wine vinegar, or strained fresh lemon juice.

Method:
Combine 4 cups of the flour and salt in a large mixing bowl and make a well in the center. Add the water, olive oil, and vinegar. Work the flour into the liquid with a fork, until a dough begins to form, then knead it in the bowl, adding a little more flour if necessary, for about 10 minutes. The dough should be silky, pliant, and smooth. Cover and let rest at room temperature for at least 1 hour before using.

"What feeds on earth, or flies in the air, or swimmeth in the water,
lo, Ireland hath it of her own."
Province of Munster 1620.

Image: Irish cottages chopping board available at Celtic Links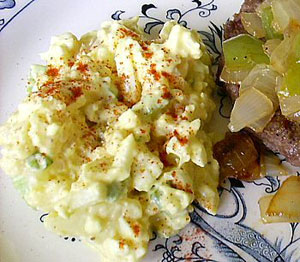 Irish Potato Salad
by Bridget Haggerty

Salad? "Rabbit food," my dad would snort and that would be the end of that. No wimpy lettuce and accoutrements for this meat and veg Galwegian! However, I rather suspect that if I were to offer him a taste of this recipe, he might go for it!

What makes it Irish? Well, I'm the cook and my parents were born in ireland. To that lineage, I add the potato which is almost synonymous with the Emerald Isle. Next, I use only Hellmann's Mayo which is the most popular dressing in Ireland. And then I mix it all up with copious amounts of sliced and diced spring onions, crumbled bacon bits and chopped hard-boiled eggs. There's nothing in this salad bowl that the Irish wouldn't like!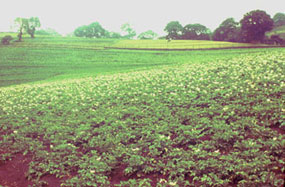 Ingredients:
ED. NOTE: The amounts that follow are approximate. This is one of those dishes where you can adapt quantities to your own taste.

Dozen or so small to medium new or red potatoes. These are usually harvested in mid-June to mid-July and are sometimes called "earlies."
1 bunch green spring onions
1 to 2 cups Hellmanns Mayonnaise
1 to 2 tablespoons of bacon grease
Crumbled crispy bacon. Don't be stingy. Fry up at least a half a pound - maybe even the whole pound!
Dozen hard-boiled eggs (or more!) Save some to garnish the finished salad
2 stalks of celery (optional)
Salt and pepper to taste.
Paprika for garnish. Optional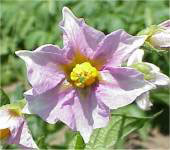 Method:
1. Scrub the potatoes well and then boil them in their jackets until barely done. You should feel a bit of resistance when you bite into one. By the way, the secret to cooking new potatoes properly is that you place them in water that's already boiling. Drain and transfer to a pan of ice water so they cool down quickly and don't keep cooking. Drain again.

2. In the meantime, fry the bacon until crisp and crumbly. Drain on paper towels and set aside. When cool enough to handle, crumble the bacon into small bits. Reserve a couple of tablespoons of the bacon grease.

3. Boil the eggs until hard-cooked; peel under cold, running water and then chop most of them into fairly small pieces. If desired, reserve a few as a garnish. Otherwise, chop up the whole lot.

4. Slice and dice the scallions and celery; mix together with the chopped eggs.

5. Mix together the bacon bits, warm bacon grease, mayonnaise and onions. Set aside.

6. Here's where you decide whether or not you want to peel the potatoes or leave the skins on. My family likes the skins left on. Either way, chop the potatoes into bite-size chunks.

7. In a very large bowl, put a layer of potatoes on the bottom; then add a layer of chopped egg and celery. Then add a layer of dressing. Keep layering until all the ingredients are used up. Very carefully, toss all of the ingredients so they appear to be evenly mixed and coated with dressing. Taste for seasoning and texture. if the salad seems bland, add salt and pepper. if it seems "dry", add a few more dollops of mayo.

8. Turn onto a serving platter and garnish with hard-boiled egs cut in half, srigs of parsely and perhaps a sprinkle or two of parika.

Serve immediately or refrigerate until ready to serve.


ED. NOTE: While my dad might be halfway accepting of a potato salad, it certainly wouldn't be enough for a meal. Since it's mid-summer, might we suggest a cold Irish pork pie* for the main course, mushy peas if the old man insists, and fresh soda bread with lashings of butter - all washed down with plenty of pints!

*Irish pork pie recipe

Image Credits:
Potato Salad: Lynch BBQ Company
Potato Field: Mildred E. Mathias Botanical Garden
White Potato Flower: Field to Fridge - potato crop in July
Pink Potato flower: Sutton Elms



Thu, Jul 9, 2015
---
"...the freshest of food and
the oldest of drink"
- Irish Proverb
The New Irish Table
by Margaret Johnson



Margaret Johnson's love of Ireland permeates page after glorious page of mouthwatering Irish dishes, from Smoked Salmon Chowder to Raspberry Buttermilk Tarts. Lavish color photographs of the food, the landscapes, and the people are woven through the text, making The New Irish Table the next best thing to sitting down to dinner in Ireland itself.
Click here for New Irish Table.