Traditions, folklore, history and more. If it's Irish, it's here. Or will be!
"People will not look forward to posterity who never look backward to their ancestors."
-Edmund Burke
---
Quotes

Library: Books, Movies, Music

Prints & Photos

Poetry

Jokes

---
---
Shops Ireland
---
Bunús na Gaeilge
(Basic Irish)

---
---
Did You Know?
---
Himself/Herself
Write to Us
Readers Write..
Links/Link to Us
---
Advertise with us

---

Help keep us free
Throughout the site you will see many items available for purchase from well-known merchants such as Amazon. Not interested in what we're featuring? It doesn't matter. Click on any link and then shop for whatever you wish - we will still get credit, if you buy something.
Thanks for your help.

---
---
Recipes in celebration of Spring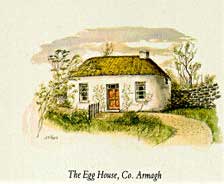 by Hartson Dowd

Once I've found the first snowdrop under the Rhododendron bushes surrounding the pond, I know that spring is around the corner. The approach of spring promises new vegetables and fruits. Fresh green watercress and tender nettles and sorrel appear.

The start of the year in Ireland's rural calendar is Imbolc - February 1 - the beginning of spring. It is the start of the first stirrings of life beneath the earth, and it was said that on St. Brigid's day, the saint placed her foot in the water and warmed it, giving rise to the belief that from that time on, the weather should improve, spring plowing could begin and milk and butter production would increase.

On the coast, the spring tide closest to the festival was believed to be the greatest of the year, and so it became the time when the people gathered seaweed to fertilize their crops and collected shellfish and other produce along the shore. In some parts of the country a limpet or periwinkle was placed at the four corners of the house to bring good luck to the fishermen and draw a bountiful harvest from the sea.

While a platter of freshly caught fried smelts (herring) is popular in Ireland at this time of year, a roast chicken with spring vegetables is also a harbinger of better weather. And, with Lent fast approaching, for those observing the traditional fast from meat, time's running out to enjoy flesh or fowl!

Since ancient times, poultry has been a constant source of food and income and the "Hen Coop Dresser" was a very important functional piece of rural furniture. The rural Irish poor preferred to keep their fowl indoors for various reasons. Eggs were an important part of the diet. If you could keep the hens laying through the winter by keeping them indoors and keeping them dry, warm, and healthy, you would increase your egg supply. It also meant the hens would be safe from foxes. There wouldn't be any arguments with neighbors as to whose hens were laying in the hedgerows. The gentry however, were not keen on keeping hens indoors but the rural farmers were - and they profited by the custom. Keeping hens cost practically nothing and they could be easily bought or bartered. Their eggs could be eaten or, when money was scarce, exchanged for other needed groceries.

An Irish Grandmother's Spring Chicken and Vegetables

Ingredients:
1 chicken (about 5-lbs)
2 onions
bouquet garni*
pinch of salt
6 green peppercorns
1 teaspoon paprika
3 sticks of celery

Method:
Put all of the ingredients in a pot and cover with cold water; bring to the boil and simmer gently for up to 1 hour, depending on the size of the chicken. When chicken is tender, remove it from the water and set aside to cool. Then skin it and remove the flesh from the bones. In the meantime, boil up the remaining stock and reduce it to about one-half pint.
*A bouquet garni is a bunch of fresh herbs generally consisting of parsley stalks, a sprig of thyme, a bay leaf and a blade of mace tied together. This is added to enhance flavor.

Sauce:
1oz butter
1oz plain flour
One-half pint of chicken stock
One-quarter pint of cream
3 egg yolks, beaten
Juice of 1 lemon
Paprika

Method:
Melt the butter in a saucepan. Add the flour and cook gently.
Add the chicken stock and stir until it boils, then let it cool slightly.
Add the remaining ingredients and stir until thick, without allowing it to boil. Season with a good dusting of paprika. Half cool, and then pour over top the chicken.
Serves 6

Spring Vegetables - choose from among the following:

New red potatoes
Simply boil in their jackets until tender, drain and toss with "lashings of butter."

Leeks
Select firm leeks with white stalks and fresh green leaves. Braise in a little butter or serve in a light béchamel sauce. Leeks can also be grilled on a ridged cast-iron griddle, then sprinkled with olive oil and shavings of Parmesan cheese. Alternatively, steam until soft and serve in pungent vinaigrette.

Turnips
White turnips are smaller and sweeter than the winter turnip. They have a nutty flavor and a crisp texture. Scrub lightly, then boil, poach or steam for a few minutes and simply toss in butter.


Wild Greens Pie
(which sounds remarkably similar to Greek spanakopita, except this recipe uses wild greens instead of spinach. The end result could also be used as a delicious starter.)

Ingredients:
2 pounds mixed greens (any combination of sorrel, chard, dandelion, and wild fennel)
3/4 cup olive oil, plus more for brushing dough
2 large onions, finely chopped
1 bunch scallions, trimmed and finely chopped
1/2 cup chopped parsley
1/3 cup chopped fresh mint leaves
1 small bunch of chervil, tough stems discarded, finely chopped
Salt and pepper
3-4 tablespoons semolina or rice
Phyllo dough (home made or store-bought)

Method:
Trim the tough stems from the greens, chop or shred then, and wash them thoroughly. Spin them through a salad spinner to dry as much as possible. Heat 2 tablespoons of the olive oil in a large heavy skillet and sauté the greens, tossing frequently, until as much of their moisture as possible has evaporated, 7 to 10 minutes. Remove and place in a large mixing bowl. Heat 1-2 more tablespoons of the oil in the skillet and saute the onions and scallions over medium-low heat until wilted and very lightly browned, about 10 minutes. Add them to the greens. Mix in the dill, parsley, mint, and chervil. Season with salt and pepper and add the remaining olive oil. If the filling is very wet, mix in either the semolina or rice.

Divide the phyllo dough into four equal balls. Have ready a large shallow baking dish or a 14-inch pizza pan, lightly oiled. Preheat the oven to 350°. Using a rolling pin, roll out the first dough ball on a lightly floured surface to a circle slightly larger than the pan. Carefully place the dough in the pan and brush its surface with oil. Repeat with second dough ball, brushing the surface with olive oil. Spread the filling eventually atop the phyllo. Roll out the third dough ball, lay it over the filling, oil it, and repeat with the last piece of dough. Pinch together the top and bottom sheets of phyllo, turning them inward around the rim of the pan. Take a sharp knife and score the pie from top to bottom, first in equally spaced rows then diagonally to form diamond-shaped pieces. Bake for about 1 hour, or until the dough is deep golden and set. Cool for at least 30 minutes before serving.

Phyllo Dough

Ingredients:
4 to 4-1/2 cups all-purpose flour
1-teaspoon salt
1-1/2 to 1-3/4 cups warm water
1/4 cup olive oil
2 tablespoons red wine vinegar, or strained fresh lemon juice.

Method:
Combine 4 cups of the flour and salt in a large mixing bowl and make a well in the center. Add the water, olive oil, and vinegar. Work the flour into the liquid with a fork, until a dough begins to form, then knead it in the bowl, adding a little more flour if necessary, for about 10 minutes. The dough should be silky, pliant, and smooth. Cover and let rest at room temperature for at least 1 hour before using.

"What feeds on earth, or flies in the air, or swimmeth in the water,
lo, Ireland hath it of her own."
Province of Munster 1620.

Images: The Egg House, Co. Armagh.

Any purchase made helps to support our site (and Bridget's fondness for tea towels). Thank you.


Thu, Jul 9, 2015
---
"...the freshest of food and
the oldest of drink"
- Irish Proverb
The New Irish Table
by Margaret Johnson



Margaret Johnson's love of Ireland permeates page after glorious page of mouthwatering Irish dishes, from Smoked Salmon Chowder to Raspberry Buttermilk Tarts. Lavish color photographs of the food, the landscapes, and the people are woven through the text, making The New Irish Table the next best thing to sitting down to dinner in Ireland itself.
Click here for New Irish Table.