Traditions, folklore, history and more. If it's Irish, it's here. Or will be!
"People will not look forward to posterity who never look backward to their ancestors."
-Edmund Burke
---
Quotes

Library: Books, Movies, Music

Prints & Photos

Poetry

Jokes

---
---
Shops Ireland
---
Bunús na Gaeilge
(Basic Irish)

---
---
Did You Know?
---
Himself/Herself
Write to Us
Readers Write..
Links/Link to Us
---
Advertise with us

---

Help keep us free
Throughout the site you will see many items available for purchase from well-known merchants such as Amazon. Not interested in what we're featuring? It doesn't matter. Click on any link and then shop for whatever you wish - we will still get credit, if you buy something.
Thanks for your help.

---
---
Christmas Cookies

---
Grandma's Irish Shortbread Cookies
Contributed by Hartson Dowd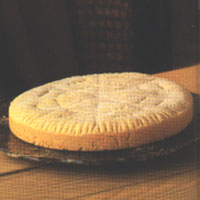 For our family, the sure sign that Christmas was coming was when the very first batch of shortbread cookies appeared at Grandma's! And of course it wouldn't be the last. I guess this is the classic "Irish" shortbread recipe, the brown sugar is different than most recipes, and I think it makes them taste better. We always used margarine at home every day, so I had to convince Mom to buy butter once a year for the Christmas baking.


You can't use anything but butter to make shortbread cookies. If you want them to be fancy decorate the top of each cookie with a piece of cherry before baking.


Grandma's Irish Shortbread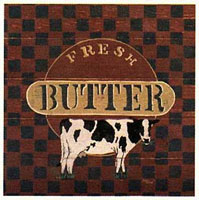 Ingredients:
2 cups butter
1 cup brown sugar
1/4 teaspoon salt
4 cups flour.

Method:
Bring butter to room temperature. Preheat oven to 300 degrees F. Cream the butter until it is the consistency of whipped cream. Beat in the sugar. Add salt. Add flour in 4 portions (one cup at a time) mixing well after each addition. Turn out onto a floured board and pat or roll to 1/4 to 1/2 inch thick. Cut into shape desired with a cookie cutter. Place on an ungreased cookie sheet and bake for about 20 minutes, or until lightly browned.

Here are some more shortbread recipes copied from Irish farmhouse or B & B recipe boxes:

Irish Shortbread
Mary Killen, Clough, Downpatrick, Co. Down, North Ireland
Yield: 1 round 6-inch decorated shortbread

Ingredients:
4 oz brown sugar
8 oz butter
8 oz flour
2 oz corn flour.

Method:
Cream 8 ounces of butter with 4 ounces of brown sugar and add 8 ounces of plain flour and 2 ounces of corn flour. Cut into squares or into roundsand bake in a slow oven until done.
Mary used a round 6-inch mold in which to bake her shortbread. She lightly buttered the design side of the mould and dusted it with flour, shaking off any excess. She pressed the dough into the mould to completely fill the Shamrock pattern. Insert tip of a sharp knife then gently loosen dough from mould all around the edges. Then she inverted onto an ungreased baking sheet and removed the mold. Trim the dough around the edges if necessary.

Irish Shortbread Cookies
Mrs Pearl Kells of "The Arches", Drumyouth, Arva, Co. Cavan, Ireland.
Yield: 30 cookies

Ingredients:
1cup butter, softened
1cup granulated sugar
2 cups white flour
1 teaspoon salt.

Method:
Mix butter and sugar until well blended. Work in the flour and salt. If the dough is too dry, add 1 to 2 tablespoons more butter. Roll 1-inch thick on a slightly floured board. Cut into rectangles approximately 1-inch by 2-inches. Prick each rectangle with the tines of a fork. Bake at 350 degrees F. for 18 - 20 minutes.

Irish Shortbread Stars
Mrs Catherine O' Hara "Tara" of Sligo, Ireland.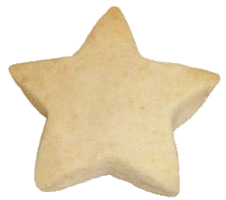 Yield: 34 cookies Buttery and flaky - what more is needed to describe this perfect shortbread!

Ingredients:
1 cup butter, softened
3 tablespoons cornstarch
1 cup granulated sugar
1-3/4 cups all purpose flour.

Method:
In large bowl, beat butter until fluffy; gradually beat in the cornstarch, then sugar. With a wooden spoon, beat in flour 1/2 cup at a time. On lightly floured surface, roll out dough to 1-inch thickness. Using floured 2-inch star-shaped cookie cutter, cut out shapes. Place about 1-inch apart, on parchment paper-lined or ungreased rimless baking sheets. Using smaller star-shaped cutter, make imprint in center. Freeze until firm, about 30 minutes. Bake in top and bottom thirds of a 275 degree F. oven, rotating and switching the pans halfway through, for 40 to 50 minutes or until firm. Transfer from baking sheet to rack; let cool completely. To make ahead: Store in air-tight containers for up to 1 week or freeze for up to 1 month.

Icing Paint
Yield: 1-1/2 cups
In bowl, whisk 4 cups icing sugar with 1/3 cup water, adding up to 2 tablespoons more water if necessary to make spreadable. Tint with paste or liquid food coloring as desired.

Browned Butter Shortbread
Donegal, Ireland
Yield: 16 cookies

Browning some of the butter first gives this Irish shortbread a deep, rich flavor. You can bake it either in a standard cake or tart pan or in a shortbread mold.

Ingredients:
12 tablespoons unsalted butter (1-1/2 sticks), slightly softened
1 cup sugar
1-3/4 cups all-purpose flour
1 teaspoon salt

Method:
In a heavy 2-quart saucepan, melt 6 tablespoons butter over low heat. Cook butter 8 to 12 minutes, stirring occasionally, until butter solids at bottom of the pan are a rich brown color and butter has a nutty aroma. (Be careful not to over brown the butter or it will have a bitter taste.) Pour browned butter into a small bowl; refrigerate until almost firm, about 35 minutes. Preheat oven to 350 degrees F. In a large bowl, with mixer at medium speed, beat sugar with cooled brown butter and remaining 6 tablespoons softened butter until creamy. With your hand, mix flour and salt into the butter mixture just until crumbs form. Be careful not overwork dough or shortbread will be tough. Pat shortbread crumbs into an ungreased 9-inch round tart pan with removable bottom or cake pan. With a fork, prick dough in many places.
Bake shortbread 40 to 45 minutes, until browned around edge. Let cool in pan on rack 10 minutes. Remove shortbread from pan to cutting board. While still warm, cut shortbread into 16 wedges. Cool wedges completely on a wire rack. Store cookies in tightly covered container.

Being Canadians we think Maple Shortbread Cookies put a deliciously Canadian spin on an Old-World Tradition. The classic component is traditional Irish shortbread whose claim to fame is, of course, the richness of creamery butter. What makes this recipe truly unique is the unmistakable flavor of Canadian maple syrup. Although this recipe demands two separate steps, the maple butter flavor is well worth the effort.




Maple Butter
2/3 cup maple syrup and 1 cup butter (room temperature)

In a small saucepan, bring maple syrup to a boil and reduce by half, approximately 10 to 15 minutes. Remove from heat and let stand at room temperature. When cool, add the butter and stir until completely blended. Place in refrigerator until firm. Makes1 cup.

Shortbread
1 cup maple butter
2 cups all-purpose flour
1 teaspoon salt.

Combine the maple butter, flour and salt in a food processor. Pulse until all the ingredients are well combined and form a ball. Flatten into a disk shape. Wrap in plastic and refrigerate until the dough is well chilled. Preheat oven to 350 degrees F. Position rack to centre of oven. Remove dough from fridge and roll to 1-inch thickness with cookie cutters. Cut dough into desired shapes. Place cookies on an ungreased cookie sheet and bake until slightly golden brown, approximately 10 to 15 minutes.
Makes about three dozen two-inch cookies.


HO, HO, HO! NOW THAT'S A CHRISTMAS COOKIE!
MERRY MUNCHING!

Fri, Oct 14, 2016
---
"...the freshest of food and
the oldest of drink"
- Irish Proverb
The New Irish Table
by Margaret Johnson



Margaret Johnson's love of Ireland permeates page after glorious page of mouthwatering Irish dishes, from Smoked Salmon Chowder to Raspberry Buttermilk Tarts. Lavish color photographs of the food, the landscapes, and the people are woven through the text, making The New Irish Table the next best thing to sitting down to dinner in Ireland itself.
Click here for New Irish Table.