---
Desserts 3
Click here for Desserts 2
(Previous)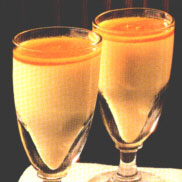 Summery Flummery

Edited and adapted by Bridget Haggerty

Flummery is mentioned in many ancient monastic manuscripts including a translation of "The Rule of Tallaght". The ingredients varied but the basis was always soaked oats, the liquid from which sets to a clear jelly. This was often flavoured with rosewater and topped with cream and honey, with or without alcohol. Berries might also have been included, if available.
Most of the Celtic nations have a version of this dessert and the world itself is from the Welsh Cymric llymru, which means a soft, oatmeal food. While he traditional Irish version is most often a cooked, cold dessert made from oatmeal, this recipe adapted from Classic Irish Recipes by Georgina campbell doesn't require cooking - but, it's still very rich and includes ingredients that were traditional in the old irish kitchen, including almonds which were very popular in the 18th century.
So here you are then - a summery flummery, or sweet pudding, which would round out an Irish farmhouse dinner perfectly.
Ingredients:
1/3 cup almonds
2 ounces McCann's Irish Oatmeal
1 cup heavy cream
3 to 4 tablespoons honey (to taste)
1/4 cup Irish Whiskey or irish Mist Liqueur
Juice of half a lemon
1 to 2 cups raspberries
Method:
1. Heat the almonds and oatmeal in a heavy-bottomed pan until golden brown; set aside.
2. Whip the cream until it's smooth but not stiff.
3. Warm the honey slightly so that it runs easily.
4. Fold the honey, whiskey (or Irish Mist), half of the toasted almonds and oatmeal, half the raspberries and lemon juice into the cream.
5. Mix lightly but thoroughly and put the mixture into tall individual glasses.
6. Sprinkle remaining almonds, oatmeal and raspberries over the top of each serving. Chill
Makes 4 to 6 servings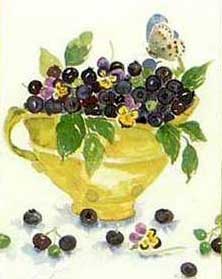 Irish Fraughan Sunday Cake with Fraughan Cream
Contributed by Hartson Dowd
Fraughans, herts or bilberries are the names used in different parts of Ireland for the intensely flavored wild blueberries that grow on the acid hilltop soil. The 'Huckleberry' of North America is the equivalent of the European bilberry - the name being a corruption of 'Whortleberry.'
If you live in North America, there are about 40 native species of huckleberries, but in some parts of the United States the name "huckleberry" is improperly used for both blueberries and true huckleberries. Other people mistakenly believe that blueberries always have blue or bluish fruit, and that all huckleberries are black or purplish black. However, there are dark-colored blueberries, and huckleberries that are distinctly blue, but there is a sure way to tell one from the other: blueberries have a large number of tiny soft seeds, whereas the huckleberries have 10 rather large, bony seeds. Huckleberries would be an appropriate substitute in the following recipes; however, in the absence of bilberries or huckleberries, tart, fresh blueberries should work just as well.
Ingredients:
Fraughan Cake
8-oz self-rising flour
6-oz granulated sugar
6-oz butter
4-oz fraughans
2 eggs, beaten
3 tbsp milk
Fraughan Cream
6fl-oz whipping cream
2-oz fraughans
1 tbsp granulated sugar
Method:
Pre-heat oven to 350°F
Butter a 7-inch round cake tin. Cream together the butter, sugar, until light and fluffy. Gradually beat in the eggs, adding 1 tablespoon of flour with the last of the eggs. Sift the remaining flour and fold in, adding enough milk to produce a stiff mixture. Gently stir in the fraughans, ensuring they are evenly distributed through the mixture. In a bowl, cream the sugar and butter and beat the eggs in one at a time. Transfer to the prepared tin. Bake for 1 hour.
Remove from the tin. Allow to cool on a rack for 1-2 hours before serving.
Fraughan Cream
Place the fraughans in a bowl and mash into a juicy pulp. In a separate bowl whip the cream and sugar until stiff; fold in the fraughan pulp.
Chill before serving.
Serve a slice of cake accompanied with a portion of the cream.
Image:
Bilberries by Alie Kruse-Kolk
; Art Print from AllPosters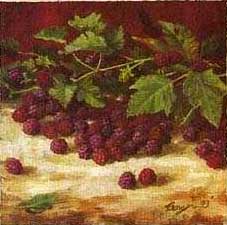 October Cobbler
Contributed by Hartson Dowd
In the old days, it was thought that Michaelmas (September 29) was the last day on which brambles or blackberries were worth picking. Even now, many rural folk refuse to to collect wild brambles after this day because tradition says it was when the devil was kicked out of heaven and as he fell from the skies, he landed in a bramble bush. He cursed the fruit of that prickly plant, scorching them with his fiery breath, stamping on them, spitting on them and generally making them unsuitable for human consumption. Whether or not you belive in this old myth, it is true that wild brambles are past their prime by the end of September. But, the careful Irish wife and mother would have sent the children brambling long before hand and accumulated a bountiful supply of berries for jams, preserves, and desserts.
This traditional Irish dessert is made with your choice of fruits augmented with tart apples. Serve hot with whipped cream. Makes 4 servings.
Ingredients:

Pastry for a one-crust pie
1 pound fruit (your choice) prepared and washed
2 medium-sized, tart cooking apples, cored and chopped
3 tablespoons water
1/3 cup (2 oz.) soft brown sugar
Grated rind of 1 small orange
1/4 teaspoon ground cinnamon
2 teaspoons arrowroot dissolved in 1 tablespoon orange juice
1 egg yolk and 1 tablespoon mil mixed together
Method:

Make the pastry and shape dough into a ball; wrap it in waxed paper and chill in fridge for 30 minutes. Meanwhile, make the filling.
Place the chosen fruit and the apple, water, sugar, orange rind and cinnamon in a medium-sized saucepan. Set the pan over moderately high heat and bring the mixture to a boil, stirring constantly. Reduce heat to low, cover pan and simmer, stirring occasionally for 6 to 8 minutes or until the fruit is tender. Stir in the dissolved arrowroot and cook the mixture, stirring constantly for 3 minutes or until the liquid has thickened.
Remove the pan from the heat. Spoon the fruit mixture into a medium-sized pie dish. Set aside.
Preheat oven to 400F.
Remove dough from refrigerator and place it on a lightly floured board. With a floured rolling pin, roll out the dough into a circle about a 1/4 inch thick.
Using a 2-inch round fluted pastry cutter, cut dough into circles. Gather the remaining dough into a ball and knead lightly until it is smooth. Roll the dough into a strip about 1/8 inch thick. With a sharp knife, trim dough strip to make it 1/4 inch wide.
Wet the rim of the pie dish with a little cold water. Place dough strip on the rim of the dish to cover it completely. Trim off any excess dough with a sharp knife and press the ends of the strip together to seal them.
Place the dough circles over the dough strip, pressing them down lightly. The circles should overlap slightly, forming a border around the pie, leaving a gap in the middle to expose the filling.
Lightly prick the circles with a fork and brush them with the egg yolk and milk mixture. Sprinkle over the remaining tablespoon of sugar.
Place the cobbler in the center of the oven and bake for 20 to 30 minutes, or until the mixture is golden brown.
Remove cobbler from oven and serve immediately straight from the dish.
Image:
Blackberries by Richard Boyer
from AllPosters and Prints.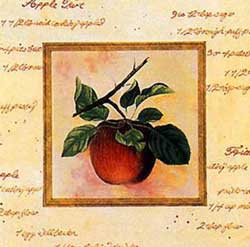 Connemara Apple Tart
In the old days, after the crops had been built into stacks, dried out and then brought into the haggard, it was time for the threshing. Entire communities would come together to help each other out and farmer's wives would vie with each other to produce the best feed for the menfolk. Topping off the main course would be apple or rhubarb tart served with big mugs of hot sweet tea.
Ingredients:
1 cup self rising flour
1/4 cup sugar
2 large apples - Granny Smith, Bramley or other green cooking apple
1 beaten Egg
2 ounces butter
1/4 cup milk
pinch of salt
1/2 teaspoon ground ginger
Topping:

1/4 teaspoon cinnamon
1/4 teaspoon nutmeg.
Method:
Sift flour, ginger, salt and sugar. Rub in the fat. Add milk and eggs to bake a soft dough. Roll out on a floured board. Cover the base of a greased pie dish with the pastry. Grate the apples onto the pastry. Dot with butter. Sprinkle cinnamon and nutmeg over top. Bake in a moderate oven for 1/2 hour. Serve hot with custard.*
If you'd like to make your custard from scratch, we have a recipe here:
Irish Mist Trifle
.
Image:
Apple Tart art print by Karyl Shields
from All-Posters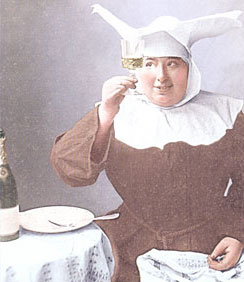 Nun's Cake
Contributed by Hartson Dowd
"Everyone should believe in something. I believe I will have another slice".**
Is this cake so heavenly that it's habit-forming? All puns intended, we think it might be! Is it Irish? If it's from Hartson's Irish-born grandmother, it's Irish enough for us.
This recipe found in my Gramma's Recipe File must be a very old one; its pages show a lot of wear and tear. I have not sent it before as it calls for Rose Water Flavoring - an ingredient that may not be readily available.* A friend in Ireland suggests that a teaspoon of vanilla flavoring may be substituted for the rose water.
Ingredients:
1 cup butter or butter substitute
2 1/2 tsp. baking powder
1 1/2 cups powdered sugar
1/4 tsp. salt
5 egg yolks
tsp. caraway seed
2 egg whites
2 tsp. rose water flavoring
3/4 cup milk 1/2 tsp. cinnamon flavoring
3 cups cake flour
Method:
Cream butter or butter substitute. Add sugar and yolks of eggs. Beat thoroughly. Stir in unbeaten whites of eggs and beat mixture. Sift flour, measure, and sift with baking powder and salt. Add alternately with milk to first mixture. Sprinkle in caraway seed, beat well, and add flavorings. Pour into well-oiled loaf pan. Bake in moderate oven (375 degrees) for one hour.
ED. NOTE:
Rosewater was first prepared as long ago as the tenth century. Following a tradition that dates back to ancient times, people applied rose water to a cloth to create a compress, and used it as a mild astringent for treating bruises and headaches. It is still made today by the Shakers, who use it to relieve sunburned, chapped, or dried skin. It is also a favored ingredient in Persian cuisine. It subtly enhances the flavor when added to jams, honey, even ice cream. Rose water was also a popular flavoring for apple pie and other baked goods. (As in Nun's Cake!). We went up on the internet and you can find this rather exotic flavoring at the following URLs:
Baker's Catalog
Stony Mountain Botanicals
Bazaar
Image:
Happy Nun by Kristen Soderlind
. Note Card from All Posters
** Quote edited and adapted from one attributed to W. C. Fields who supposedly said "Everybody should believe in something -I believe I'll have another drink."
Source:
Tasty Brew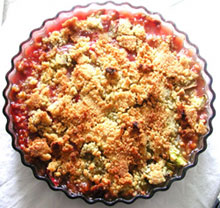 Rhubarb Nut Crunch
Contributed by Hartson Dowd and edited by Bridget Haggerty
This recipe came in from Hartson right before Mother's day, a time when my thoughts dwell with great fondness on my own mother. In the kitchen, she was an old world cook from Dublin who could make magic with meat and potatoes and create a delectable dessert from a bunch of rhubarb. It seemed appropriate to honour her memory with this contemporary version of a classic fruit crunch. My mother - and my dad -would have loved it!
The Crunch Bit:
1 lb Rhubarb; (about 5 cups)
1 1/4 cup Sugar, granulated
1/2 cup Flour
1/2 teaspoon Cinnamon, ground
3/4 cup Orange juice
The Topping:
1/2 cup Flour
1/2 cup Oatmeal
1 cup Sugar, brown
1/3 cup Butter; room temperature
1/2 cup Hazelnuts; coarsely chopped (2 ounces)
Whipped cream or vanilla ice cream
The Method:
1. Heat oven to 350 F
2. Generously grease, or coat with non-stick cooking spray, an 8x12x2 glass baking dish
3. Cut rhubarb in 1-inch chunks and place in prepared baking dish
4. Sprinkle with sugar, flour and cinnamon
5. Toss to evenly coat
6. Pour orange juice over mixture
7. In medium bowl, combine flour, oatmeal and brown sugar
8. With pastry blender cut in butter until it becomes like coarse meal
9. Spread evenly over rhubarb
10. Sprinkle hazelnuts on top
11. Bake at 350 F. in the center of the lower third of the oven until the rhubarb is tender and the mixture is bubbling, about 35 to 40 minutes
12. Cool to lukewarm and serve with whipped cream or vanilla ice cream.
Image Credit:
Rhumble Nut Crunch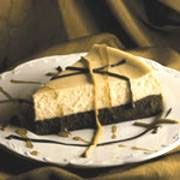 Irish Coffee Cheesecake

Contributed by Hartson Dowd

It's a cheesecake with "blarney". A creamy, thick sweet cheesecake on a sweet cocoa crust!
Ingredients:
For the Crust:

16 tbsp. (2 sticks) cold unsalted butter, cut into small pieces
1/2 cup granulated sugar
1 1/4 cups all-purpose flour
1/4 cup rice flour
1/2 cup cocoa powder
Large pinch of salt
For the Cheesecake:

1 1/2 lb. (three 8 oz. packages) cream cheese, at room temperature
1 cup granulated sugar
4 eggs
1 lb. sour cream
1/3 cup Irish Whiskey or Irish cream liqueur
2 tbsp. instant espresso powder
For the Caramel Glaze: (Optional)

1/2 cup firmly packed dark brown sugar
2 tbsp. Irish Whiskey or Bailey's Irish Cream, (optional)
8 tbsp. (1 stick) unsalted butter
1/4 cup heavy cream
Garnish: (Optional)

Cocoa powder for dusting
Whipped Cream
Ready made store-bought chocolate syrup
Method:
To make the crust:

In the bowl of an electric mixer fitted with the flat beater, combine the butter, granulated sugar, all-purpose flour, rice flour, cocoa powder and salt. Mix on low speed until the dough comes together. Roll out the dough into a 9-inch round. Pat the dough into the bottom of a 9-inch springform pan. Refrigerate for at least 30 minutes or as long as overnight.
Preheat an oven to 300°F (150 degrees C)
Bake the crust for 30 minutes. Let cool completely.
To make the cheesecake:

Have a pot of hot water ready. In the bowl of an electric mixer fitted with the flat beater, beat the cream cheese on medium speed until smooth. Add the granulated sugar and beat until smooth. Add the eggs 1 at a time, beating well after each addition. Stir in the sour cream, the espresso powder, the Irish whiskey (or Irish cream liqueur, if using), and mix until smooth.
Spread the batter evenly over the crust. Place the springform pan in a large roasting or baking pan, then place on the oven rack. Carefully fill the roasting pan halfway with hot water. Bake for 1 1/4 to 1 1/2 hours. To test for doneness, gently shake the pan; the cheesecake should be set from the center to the edges but not dry.
Transfer the pan to a wire rack and let cool for 30 minutes, then refrigerate until chilled throughout, about 1 hour.
To make the caramel glaze:

In a small, heavy saucepan over low heat, combine the brown sugar, butter and cream. Heat until the sugar dissolves, then increase the heat to high and bring to a boil. Reduce the heat to medium and cook, stirring constantly, until thick and smooth, add the Irish whiskey (or Bailey's Irish Cream, if using). Let cool to room temperature.
When ready to serve, remove the cheesecake from the refrigerator and transfer to a large serving plate. Cut with a hot, dry knife.
Caramel Glaze and Garnish: (Optional)

Drizzle slices with the caramel glaze and chocolate syrup and dust slices with cocoa powder. Serve with a dollop of whipped cream.
Serves 8 to 10.
Desserts 3
Click here for Desserts 2
(Previous)
Any purchase made helps to support our site (and Bridget's fondness for tea towels). Thank you.