Traditions, folklore, history and more. If it's Irish, it's here. Or will be!
"People will not look forward to posterity who never look backward to their ancestors."
-Edmund Burke
---
Quotes

Library: Books, Movies, Music

Prints & Photos

Poetry

Jokes

---
---
Shops Ireland
---
Bunús na Gaeilge
(Basic Irish)

---
---
Did You Know?
---
Himself/Herself
Write to Us
Readers Write..
Links/Link to Us
---
Advertise with us

---

Help keep us free
Throughout the site you will see many items available for purchase from well-known merchants such as Amazon. Not interested in what we're featuring? It doesn't matter. Click on any link and then shop for whatever you wish - we will still get credit, if you buy something.
Thanks for your help.

---
---
Only a fortress could hold such treasures!
by Bridget Haggerty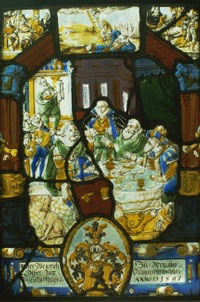 In Co. Clare, and in the shadow of the famous 15th-century Bunratty Castle, is a winery where Ireland's most mystical drinks are made - authentic poitín (Potcheen) and medieval mead. Bunratty Meade and Liqueur Co. Ltd., was founded in 1980 and, not so long ago, while Potcheen was approved for export to the United States, it was banned in Ireland. You could drink it in California but not in Co. Clare!


For centuries, Potcheen was made by Irish farmers who distilled it while the moon shone brightly over their pot-stills. Also known as moonshine or mountain dew, the fiery tipple they created was made from a malt, yeast, barley water and sugar mixture. It was smooth, extra strong and had a dry and grainy flavor with a delightful aftertaste that grew sweeter as it developed.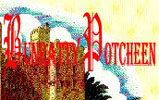 Today, this legendary libation can be enjoyed in a variety of different ways - on the rocks, neat, with a mixer, or in Irish Coffee. In fact, so the story goes — there's an Irish contradiction! — it's said that it was a generous shot of Potcheen which went into the first Irish Coffee made more than 50 years ago! True or not, the serving of Potcheen at weddings, wakes or any other Irish celebration is as much a part of of our heritage as meade - the honey wine made in secret by Irish monks.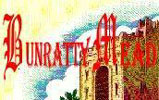 Meade's fame as a refreshing drink spread quickly and its influence was so great that Tara, where the Kings of Ireland ruled, was called the House of the Meade Circle. Gaelic poets sang its praises and even the church recognized its value. According to legend, St. Findian lived on bread and water for six days a week - but come the Sabbath, he feasted on salmon and drank a full cup of Meade. Another story has it that the King of Leinster was holding a banquet and there was a mysterious shortage of Meade. Supposedly, St. Brigit blessed an empty vessel and miraculously it was filled to over-flowing.

As time went on, no Irish feast was complete without this seductive blend of white wine, honey and herbs. Meade became very popular at weddings and often, the bride and groom were given special Meade goblets from which to toast each other, as well as enough Meade to last a month - which is where we get the word honeymoon. Often, a bridegroom, laced with copious amounts of Meade was carried to the bedside of his bride after the wedding feast. According to custom, Meade has powers of virility and fertility - thus, if a baby was born nine months after the wedding, it was often attributed to the honey wine.

Lost for centuries amidst the tumult that followed the middle ages, the secret recipe for authentic Irish Meade was found just a few decades ago. And it is through the ingenuity, resourcefulness and passion for our Irish heritage that the Bunratty Mead and Liqueur Co. in County Clare is once again making the drink "fit for kings" - and for all the world to savor.

Today, it is still the tradition to signal the end of the wedding feast by raising glasses of Meade to toast the newlyweds. But, once you try it, this author likes to think that you'll not want to wait for the next wedding to delight in its sensuous aroma and magical taste! By the way, in case you're curious, the Meade sold in the United States caries an extra e in the name because of labeling problems with the Federal Government. I actually prefer the look and medieval feel of the word Meade as opposed to the original spelling. Interested in a few recipes? See the recipe section for a few intriguing concoctions made with Potcheen or Meade - or both! Also, a favorite recipe from Cooking with Irish Spirits, one of our recommended books. Sláinte.


NOTE: If you're in the U.S and you're interested in locating a distributor or retailer of Bunratty Meade or Potcheen near you, call 1-800-422-6356. Ask for Nancy Larkin Rau and tell her Bridget said hello.
You can also E-mail info@bunrattymead.net or visit their website at Bunratty Meade.

Any purchase made helps to support our site. Thank you.


Thu, Jul 9, 2015
---
"...the freshest of food and
the oldest of drink"
- Irish Proverb
The New Irish Table
by Margaret Johnson



Margaret Johnson's love of Ireland permeates page after glorious page of mouthwatering Irish dishes, from Smoked Salmon Chowder to Raspberry Buttermilk Tarts. Lavish color photographs of the food, the landscapes, and the people are woven through the text, making The New Irish Table the next best thing to sitting down to dinner in Ireland itself.
Click here for New Irish Table.