Traditions, folklore, history and more. If it's Irish, it's here. Or will be!
"People will not look forward to posterity who never look backward to their ancestors."
-Edmund Burke
---
Quotes

Library: Books, Movies, Music

Prints & Photos

Poetry

Jokes

---
---
Shops Ireland
---
Bunús na Gaeilge
(Basic Irish)

---
---
Did You Know?
---
Himself/Herself
Write to Us
Readers Write..
Links/Link to Us
---
Advertise with us

---

Help keep us free
Throughout the site you will see many items available for purchase from well-known merchants such as Amazon. Not interested in what we're featuring? It doesn't matter. Click on any link and then shop for whatever you wish - we will still get credit, if you buy something.
Thanks for your help.

---
---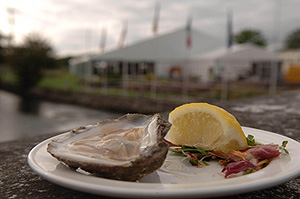 The Clarenbridge Oyster Festival

by Bridget Haggerty

Co. Galway has the best oyster beds in Ireland. In the unpolluted waters of Brady Bay and Clarenbridge, the oysters lie waiting to be harvested at the beginning of the oyster season on September 1st.

This aristocrat of the sea is generally about three years old, and has been maturing and fattening - ready for its first - and last - encounter with the locals and tourists. Paired up with homemade brown bread and washed down with pints of Guinness, Galway oysters are a gourmet treat not to be missed - especially during the annual festivals in Clarenbridge and Galway City.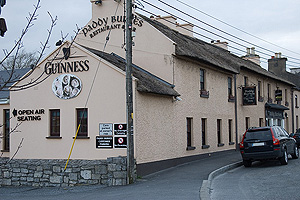 The first Clarenbridge Oyster Festival took place in September, 1954. In an extract from his diary, the late Paddy Burke, proprietor of the famous restaurant and bar, wrote:
"The first announcement of the festival was published in the Evening Herald on August 27th, 1954. Arthur Guinness Son & Co. were approached by Mr. Toddie O'Sullivan and Ken Besson and a few other Dublin Hoteliers who with Brian Collins were the people whose idea the festival was, and the firm agreed to sponsor the lot. The idea was to travel by boat from Galway and back by bus."


The initial site selected for the event was Tarrea Pier. Since there was no music at the pier, an accordion player from Kinvara was sent for. Thirty-four people attended that first festival - mostly hoteliers invited from Dublin - to partake of a complimentary feast of Clarenbridge oysters washed down with copious pints of the black stuff. Thus, the the stage was set for what was to become a highly successful annual event.

Now, well over half a century later, the Clarenbridge Oyster Festival is firmly established as a premier event of top-class international entertainment accompanied by fine culinary delights. Highlights of this year's festivities include the traditional market day, the old churches of Kilcolganan ecclesiastical field quiz, an art and photographic exhibition, card games and numerous talks and demos.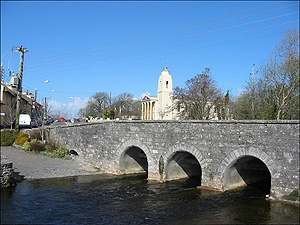 Market Day in the Village
The Village of Clarenbridge grew up around a market and the market itself grows around the bridge that spans the River Clarin which runs through the village. When the market developed, the Reddingtons (the local landlords) donated to the village a triangular portion of land in the heart of the village. They built a cut stone wall around it and planted beech and chestnut trees along the wall. These trees now provide shelter and shade to this lovely piece of ground. It is in this setting that Market Day is held - a day when time does not matter and people gather to remember and to celebrate with music and song.

The Ultimate Oyster Gala Celebration
Ten hours of non-stop entertainment! Noted for it's style, fashion and glamour, year after year, patrons and guests exceed all expectations in the fashion stakes. As a result, the Best Dressed Lady Competition at the Ultimate Gala Celebration has become one of the social highlights of the year!

Sunday Jazz Jamboree
For those able to take the pace there's a Sunday Jazz Jamboree - with more music and dancing, family entertainment, Irish Coffee, seafood chowder, carvery, and, of course, plenty of Guinness.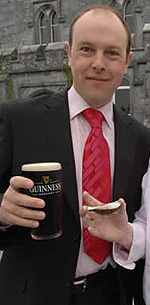 Speaking after last year's festival, Chairperson Brian Coastigan said that the success was down to a lot of hard work during the year. "This was not without risk — it required fundamental changes to the way we have done business for 53 years. While building on our proud history we re-looked at all aspects of the Festival with a view to improving the experience. This included building the largest festival pavilion ever, introducing a dedicated dining area, running the Saturday Gala non stop for 10 hours, developing our broadest menus ever and making that food available to our patrons on a completely free and all day basis. I'm delighted to say that these changes seemed to have met with widespread acceptance and we take great encouragement from this fact. It is not our intention to rest on our laurels - we have already identified some ways in which we can make Festival 2008 even better."



And so every September since 1954, the villagers of Clarenbridge come together to celebrate a king of seafood and its unique place in local history. With the oyster as the central focus and theme, this tranquil little piece of heaven – just 10 minutes drive south of Galway City - delivers a festival of food, of entertainment, of music, of dancing and most of all a festival of fun. And with visitors coming from all corners of the globe, it is true what they say - "The world is your oyster - and Clarenbridge is its home".

Resources:
Clarenbridge Oyster Festival

Paddy Burkes

For more information on this year's festival please click Clarenbridge Oyster Festival.
Kelly Oysters Company.

Note: Kelly Galway Oysters are reputedly the best you can buy and they are the official supplier for both the Galway International Oyster Festival and the Clarenbridge Oyster Festival. If you're lucky enough to live in Ireland or Great Britain, you can order Kelly Oysters on line.

Another Note: If this started your appetite for Oysters (as it should), click to our collection of Oyster Recipes
To read our article on the Galway Oyster festival, please click Galway Oysters.
Any purchase made helps to support our site (and let Bridget have oysters occasionally, Russ doesn't like them). Thank you.


Sat, Aug 27, 2016
---
"...the freshest of food and
the oldest of drink"
- Irish Proverb
The New Irish Table
by Margaret Johnson



Margaret Johnson's love of Ireland permeates page after glorious page of mouthwatering Irish dishes, from Smoked Salmon Chowder to Raspberry Buttermilk Tarts. Lavish color photographs of the food, the landscapes, and the people are woven through the text, making The New Irish Table the next best thing to sitting down to dinner in Ireland itself.
Click here for New Irish Table.