Traditions, folklore, history and more. If it's Irish, it's here. Or will be!
"People will not look forward to posterity who never look backward to their ancestors."
-Edmund Burke
---
Quotes

Library: Books, Movies, Music

Prints & Photos

Poetry

Jokes

---
---
Shops Ireland
---
Bunús na Gaeilge
(Basic Irish)

---
---
Did You Know?
---
Himself/Herself
Write to Us
Readers Write..
Links/Link to Us
---
Advertise with us

---

Help keep us free
Throughout the site you will see many items available for purchase from well-known merchants such as Amazon. Not interested in what we're featuring? It doesn't matter. Click on any link and then shop for whatever you wish - we will still get credit, if you buy something.
Thanks for your help.

---
---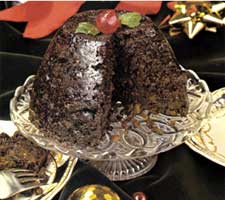 Irish Christmas Pudding
Contributed by Hartson Dowd

Christmas pudding is traditionally made on "Stir-up Sunday" - the Sunday before Advent. By tradition, it's brought to the table on Christmas Day, flaming with lighted whiskey or brandy. With spirits so much under proof nowadays, it is a wise precaution to sprinkle some granulated sugar over the pudding after you have poured on a quarter cup of warmed spirits. This should keep the flame alight. In my grandmothers day, she used a good splash of poteen and we had a flame that would singe the rafters!

Christmas Pudding is alarming in its proportions and in the inventory of ingredients. I always say it's a frightful trouble with all those hours of preparation and cooking. But you daren't set an Irishman down to his Christmas dinner without it. Unless you are married to an Irish husband, I would think twice before undertaking it. At the very least, you can't say I didn't warn you.

Irish Christmas Pudding & Hard Sauce
This recipe makes one large pudding or 12 individual puddings.

Ingredients:
One quarter quantity Basic Fruit Mixture (see below)
4 cups butter, melted, cooled
3 eggs, beaten lightly
4 cups lightly packed stale (not dry) breadcrumbs
1/2 cup plain flour

Method:
Place the fruit mixture in a large bowl, add the butter, eggs, breadcrumbs and sifted flour; mix thoroughly.

Basic Fruit Mixture (This makes enough for four puddings)
Ingredients:
6 1/2 cups sultanas
2 1/4 cups currants
3 cups raisins, chopped
2 1/4 cups dates, chopped
2 1/4 cups dried prunes, chopped
1 1/2 cups red glace cherries, quartered
2/3 cup mixed peel
2 medium apples, peeled, grated coarsely
2/3 cup fig jam
1 tablespoon finely grated lemon rind
1/4 cup lemon juice
2 cups firmly packed dark brown sugar
1 tablespoon mixed spice
1 1/3 cups Irish Whiskey

Method:
Combine all of the ingredients in a large bowl and mix thoroughly. Cover tightly with plastic wrap. Stand in a cool dark place overnight or up to a week until ready to use.

Steamed Pudding
1. Grease a 2-litre (eight-cup capacity) pudding steamer and line the base with a round of wax/baking paper.
2. Spoon the mixture into the steamer, top with pleated wax/baking paper and foil, secure with string or a lid.
3. Place the pudding in a large saucepan with enough boiling water to come halfway up the side of the steamer. Cover the saucepan with a tight-fitting lid and boil for 6 hours. Replenish with boiling water as needed to maintain the water level. Stand the pudding for 20 minutes before turning out.

Mini-steamed puddings
1. Grease 12 heat-proof dishes - 3/4 cup mini-pudding dishes
2. Spoon the mixture among the dishes, top with pleated wax/baking paper and foil; secure each with a rubber band.
3. Place the dishes in a large shallow frying pan or electric fry pan with enough boiling water to come halfway up the sides of the moulds. Cover the pan with a tight-fitting lid and boil for 2 hours. Replenish with boiling water as needed to maintain the water level.

Brandy or Irish whiskey Butter
Ingredients:
1/2 cup butter
1 cup sifted confectioners sugar
3 tablespoons brandy or Irish whiskey

Method:
Cream the butter until white. Add the sugar and beat well. Gradually add the brandy or whiskey, taking care that the mixture does not curdle. Pile into a dish and chill till hard.

To store pudding(s):
Wrap in plastic wrap or put in a freezer bag or airtight container; refrigerate up to three months or freeze for up to one year.

To reheat puddings:
Thaw frozen puddings for two days in the refrigerator. Remove the pudding from the refrigerator 12 hours before reheating.

Steamed: Remove the plastic wrap and return to the steamer. Steam for 2 hours, following the cooking instructions above.

Microwave: Reheat four single serves at once. Cover with microwave-safe plastic wrap; microwave on HIGH (100%) for up to one minutes per serve. To reheat the whole pudding, cover with microwave-safe plastic wrap, microwave on MEDIUM (50%) for about 15 minutes or until hot.

This year because of other commitments we followed my mother's recipe for Christmas Plum Pudding - much simpler and made just a few days before Christmas.

Ingredients:
One and one half pounds of raisins (1-1/2)
One half pound of currants (1/2)
One half pound of mixed peel (1/2)
Three quarter pound of fine bread crumbs (3/4)
Three quarter pound of ground suet (3/4)
8 eggs
1 wineglass of brandy
1 pound of sugar

Method:
Cut the raisins in halves, but do not wash them; wash, pick and dry the currants; cut the candied peel into thin slices. Mix all the dry ingredients well together with the sugar, moisten with the eggs, which should be beaten, and the brandy; stir well, and press the pudding into a buttered mould, tie it down tightly with a floured cloth, and boil for 5 or 6 hours. As the puddings are usually made a few days before Christmas, hang it up immediately.
The day it is to be eaten, plunge it into boiling water, and keep it boiling for at least 2 hours, then turn it out of the mould, and serve with brandy sauce.
On Christmas day, a sprig of holly is usually placed in the middle and about a wineglass of brandy poured around it, which at the moment of serving, is lighted, and the pudding thus brought to the table encircled in flame.

Time - 5 or 6 hours the first time of boiling. Two hours the day it is to be served.
Seasonable; on the 25th of December.

To read our article on Christmas Pudding, please click Preparing the Pudding.

Any purchase made helps to support our site (and Bridget's fondness for tea towels). Thank you.


Thu, Jul 9, 2015
---
"...the freshest of food and
the oldest of drink"
- Irish Proverb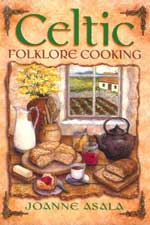 Celtic Folklore and Cooking
by Joanne Asala

Feast days, festivals, and informal gatherings all have something in common--food. But choosing the right food for the occasion can be difficult. Celtic Folklore Cooking takes the guesswork out of planning a feast, with plenty of sumptuous ideas for an entire meal, from soup to dessert and even drinks. Joanne Asala gathers generations-old recipes from Wales, Cornwall, Scotland, Ireland, and England, associates them with appropriate festivals and times of the year, then sprinkles a dash of folklore between them. Perhaps you would like to learn the 400-year-old "Song of Harvest Home" while making Marigold Buns? Celtic Folklore Cooking is like having centuries of Celtic tradition in your kitchen, and it will help you find just the right flavor for your festivities. Review by Brian Patterson
Click here for Folklore & Cooking.
The New Irish Table
by Margaret Johnson



Margaret Johnson's love of Ireland permeates page after glorious page of mouthwatering Irish dishes, from Smoked Salmon Chowder to Raspberry Buttermilk Tarts. Lavish color photographs of the food, the landscapes, and the people are woven through the text, making The New Irish Table the next best thing to sitting down to dinner in Ireland itself.
Click here for New Irish Table.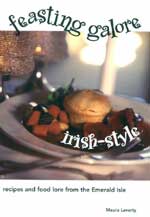 Feasting Galore Irish-Style:
Recipes and Food Lore from the Emerald Isle
by Maura Laverty, Robert Briscoe

With simple ingredients and easy to follow instructions, these recipes will help the home chef create a rich, plentiful feast! Among the 200 recipes are classics like Irish Stew, as well as Mince Pie, which Oliver Cromwell unsuccessfully attempted to ban because of its then-religious Irish shape. Each of the eleven chapters that puts the food into its context - whether its prepared for a celebration, to welcome guests - or even to seduce! Info' from back cover.
Click here for Feasting Galore.