Teaching through film is helping Ireland's children learn key skills in communication, teamwork, problem solving and critical thinking. The Government's FÍS film project has proved such a success that all of Ireland's 3,500 primary schools will soon be using film right across the teaching curriculum.

FÍS is a Gaelic word meaning "vision". In English, it neatly works as an acronym meaning "Film in Schools" — a simple name to describe a project with an ambitious aim. First piloted by the Irish Department of Education and Science in 1999, FÍS was introduced to support Ireland's new primary school curriculum.
A pilot scheme was so successful in 31 Dublin and Cork schools that six years later, well over 100 primary schools are using film to enrich their studies. FÍS plans to support the use of film in all of Ireland's 3,500 primary schools by the end of 2006.

Important to the project's success has been the broad support base inspired by national Government leadership. The Institute of Art, Design and Technology (IADT) at Dún Laoghaire — home to Ireland's National Film School — provides project management and advice to teachers on filmmaking theory and how to integrate it into the curriculum. Ireland's regional Education Centres train teachers to use cameras, sound recording and editing equipment at specially-run summer programmes and training days.

Now the project is "mainstreaming" fast, the Government's National Centre for Technology in Education (NCTE) is leading development of a new programme of structured professional training for teachers and a comprehensive online FÍS Resource Pack with sample lesson plans.
Apple technology is at the centre of this unique education project. "The three watch words for FÍS are simplicity, connectivity and creativity", says Creative Director Ciarán McCormack. "Apple gets ticks in all three boxes. The hardware and the software are so intuitive that teachers and children can just get on with what the project is all about — making and using films to learn".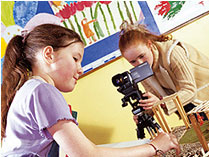 Technology support for FÍS comes from a combination of IADT and Education Centres' ICT advisers. FÍS, based at IADT, has a range of Macs, including Power Mac G5s, PowerBooks and iBooks. Education Centres with local schools involved in the project each have an iMac, five iBooks and a Canon camera, all available for booking. The schools themselves are equipped with video cameras, tripods and microphones, and share digital editing suites.
FÍS schools are using film in many different ways. One is making a series of documentaries about its local history, based on interviews with the school caretaker. Another has adapted a Graham Greene short story for film, with children writing the screenplay, and acting and filming their own production.
Other schools are studying the science of film technology, or exploring dance and music through film soundtracks. Many use the opportunity film presents to hone reading and writing skills.
Schools that cater for children with physical and learning disabilities have found film particularly helpful in establishing a sense of individual achievement. One special school produced a short film showing how it makes its annual Christmas card. The still shots of the children who contributed to the film were as important to its motivational impact as the film itself. Filmmaking is particularly flexible for mixed abilities. There is always a role for everyone — storyboard, continuity, camera, sound, even holding the microphone.
Ripple Effect
Anne White, National Coordinator of the NCTE, believes that FÍS has changed the way teachers teach, how they respond to the curriculum, and the ways they assess children's learning. Film has become "embedded in the teaching culture", she says. "Teachers enjoy using the media themselves, but more importantly they find the children's commitment very rewarding".
"Every child wants to be involved, and that has a ripple effect across the school. When we show a range of films to other children it's extraordinary how a group of seven or eight year olds will sit quietly, clearly critiquing the other children's work and thinking 'what would we have done with that subject?'".
While technology is a means to an educational end, Ciarán McCormack is convinced that Apple provides the right platform for success. "iLife is ideal for introducing film into classroom because it's plug and play, and the interface is very user friendly. Just looking at it makes children want to use it. iMovie and GarageBand in particular offer massive creativity".

Interest in FÍS is not just from schools. The FÍS office receives an increasing number of requests for help from community groups, including for example the National Scout Association for Ireland. Jim Devine is not surprised. "The thing about film is that it's telling stories", he says. "That's the oldest and most effective form of education there is".
Resources: This article was edited and adapted from the Apple Computer UK website.

Any purchase made helps to support our site (and the Irish Culture & Customs fairytale). Thank you.