Traditions, folklore, history and more. If it's Irish, it's here. Or will be!
"People will not look forward to posterity who never look backward to their ancestors."
-Edmund Burke
---
Quotes

Library: Books, Movies, Music

Prints & Photos

Poetry

Jokes

---
---
Shops Ireland
---
Bunús na Gaeilge
(Basic Irish)

---
---
Did You Know?
---
Himself/Herself
Write to Us
Readers Write..
Links/Link to Us
---
Advertise with us
---
Awards & Testimonials

Submissions Guide
---
The Tale of Tam Lin, the Elf Knight
by Bridget Haggerty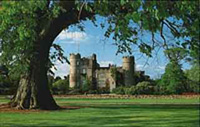 The Celts are famous for their tales of the supernatural, and with Hallowe'en and Samhain just a few days away, what better time than now to 'draw down the past' and retell a few of them here. This first one is actually of Scottish origin and, as with many of the great old Irish tales, it has faery mischief, romance and enchantment all rolled into one; so, dim the lights, gather around the hearth and imagine that you can hear the tinkling bells of faery bridles; it's Hallowe'en and they're on the move...

Long ago, there lived a fair young maiden who was the daughter of an earl. Her name was Janet and she lived in a grey castle beside the forest of Carterhaugh in Selkirk, Scotland.

One day, she realized that she was bored to tears with sewing in her bower or playing silly games with the ladies of her father's house. So, she set off to explore the forest.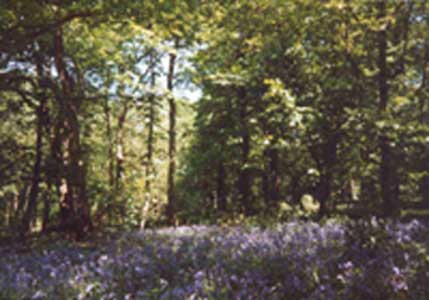 It was a magical setting. The sunlight shone through the trees and beneath her feet, the forest floor was covered with bluebells and briar roses. Impulsively, she stretched our her hand and plucked a white rose. No sooner had she done this when a young man suddenly appeared on the path before her.

Softly, he spoke. "I am the guard of these woods, sent here to make certain no-one disturbs their peace - who are you to pluck the roses of Carterhaugh and wander here without my leave?"

"I meant no harm," Janet answered. The young man smiled, as one who has not smiled for a long time, and plucked a red rose that had grown beside the white one. "Ah, but I would willingly give all the roses of Carterhaugh to one so lovely as yourself," he said.

Taking his rose, Janet shyly asked him who he was. "My name is Tam Lin," the young man replied. "I have heard of you! You are an elfin knight," cried Janet; and in fear she cast the flower away. "There is no cause for alarm, fair Janet," said Tam Lin. "For though men call me an elfin knight, I was born a mortal child, just as you were. Here, let us sit together and I will tell you my story.

'My father and mother died when I was but an infant and so my grandfather took me to live with him. Years later, when we were hunting in these very woods, a cold, strange wind came up from the north and blew through every leaf. I became very sleepy and began to lag far behind my hunting companions. Finally, I fell from the horse and fell into a deep, dreamless sleep. When I woke up, I found myself in the faery land, for the Elf Queen had come and stolen me away as I slept."

Tam Lin paused as he thought of that green enchanted land. "Ever since then," he continued, "I have been bound fast by the spell the Elf Queen put upon me. In the daytime, I guard the woods of Carterhaugh, and at night I must return to her kingdom. O, Janet, I long to return to my mortal life and wish with all my heart that I could be rid of my enchantment!"

He spoke with such great sorrow that Janet cried out: "Is there no way this spell can be broken?" Tam Lin caught her hands in his and said: "Tonight is the feast of Samhain, and only on this night of all nights, is there a chance to win me back to mortal life.

"Tell me what I should do to help you," implored Janet, "for I want to win you back with all my heart."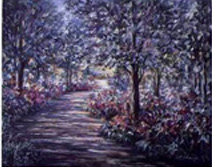 Tam Lin explained what she must do: "On Samhain, the faery folk ride abroad, and I ride with them."When midnight comes, you must go to the crossroads and wait for the faery troop to ride by. As the first company approaches, stay still and let them pass; as the second company draws near, let them pass too. I shall be in the third company, riding a milk-white steed and wearing a gold circlet on my brow. You must then run to me, Janet, pull me from my horse, and throw your arms about me. And no matter what spells the Elf Queen casts upon us, you must hold me fast and not let me go. That is the only way to win me back to earth." Janet promised she would be there. With that, the young man smiled and disappeared.

A little after midnight, Janet hurried to the crossroads and waited in the shadow of the thorn hedge. The ditches gleamed in the moonlight, the thorn bushes cast strange shapes upon the ground, and the trees rustled their branches eerily above her. Faintly on the wind, she heard the sound of bridles tinkling and she knew the faery troops were on the move.

Shivering, she drew her cloak around her and peered into the darkness. First, she saw the gleam of silver harness, then the white blaze on the forehead of the lead horse. Soon, all the faery troop came into sight, their pale faces upturned to the moonlight, and their flowing tresses windswept behind them as they rode.

As the first company passed her, she spotted the Elf Queen herself, mounted on a coal-black steed. She stayed perfectly still until they had passed her; nor did she move when the second company went by. But, among the third company, she saw the milk-white horse that bore Tam Lin, and the gleam of the gold circlet around his brow. Janet ran from the shadow of the thorn hedge and seized his bridle. She then pulled him to the ground and clasped him in her arms.

Immediately, the cry went up: "Tam Lin is away!" The Elf Queen's black horse reared and she pulled him to a halt. Turning, she cast her mesmerizing emerald eyes toward Janet and Tam Lin. As Janet held Tam Lin fast, the Elf Queen put a spell upon them. Tam Lin shrank and became a small, scaly lizard which Janet clutched to her breast. Janet then felt a slithering sensation through her fingers. The lizard had become a cold, slippery snake which she gripped tightly, even as it coiled around her neck. Suddenly, a searing pain ran through her hands. The snake had been turned into a red-hot cinder. Tears of agony ran down her cheeks, but still, Janet held on to Tam Lin and would not let him go.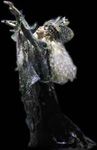 At last, the Elf Queen knew that she had lost Tam Lin because of the steadfast love of a mortal woman. She then shaped him in Janet's arms in his own form - as naked as the day he was born. In triumph, Janet covered Tam Lin with her cloak.

As the faery host prepared to ride once more, a slender ghostly hand came forth to lead Tam Lin's white steed away. Janet and Tam Lin heard the voice of the Elf Queen raised in a bitter lament:

"The fairest knight in all my company is lost to the world of mortals. Farewell, Tam Lin! Had I but known that an earthly woman would win you with her love, I would have taken out your heart of flesh and put in a heart of stone. And had I known that fair Janet was coming to Carterhaugh, I would have taken out your two grey eyes and put in two of wood."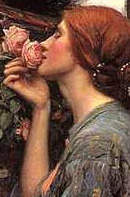 As she spoke, a faint dawn light could be seen on the horizon. With an unearthly cry, the faery raiders spurred on their horses and vanished with the night. As the sound of their bridle bells died away, Tam Lin gently caught hold of one of Janet's poor blistered hands, and together they returned to the castle. There, it is said, her father blessed their union and they lived a long and happy life together. But they never forgot how they first met. Always, on Samhain, Tam Lin would take Janet for a walk through the woods, pluck for her a red, red rose and plant hundreds of soothing kisses on the brutally scarred hands that had saved him.



Want to read a really scary story? Click on the link to learn about Ireland's headless horseman The Dullahan


Resources: Edited and adapted from a story which appeared in the Irish Heritage newsletter. Original author unknown.
Note: We would also like to thank one of our visitors, Jay, who brought to our attention that the tale of Tam Lin is a Scottish story. Since we're all Celts and the story is so good, we made the decision to correct the text where necessary and leave it posted here.


Wed, Jan 3, 2018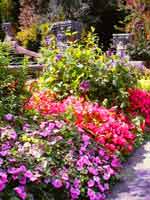 Ilnacullen, Co. Cork - an Island Garden
Located in the sheltered harbour of Glengarriff in Bantry Bay. Ilnacullin, which means island of holly, is a small island known to horticulturists and lovers of trees and shrubs all around the world as an island garden of rare beauty.
The vivid colours of Rhododendrons and Azaleas reach their peak during May and June, whilst the hundreds of cultivars of climbing plants, herbaceous perennials and choice shrubs dominate the midsummer period from June to August.
Because of its sheltered situation and the warming oceanic influence of the Gulf Stream, the climate is favourable to the growth of ornamental plants from many parts of the world.
Even for those who aren't particularly interested in gardens, there are many other scenic views, especially in the surrounding waters where seals frequent the rocks on the southern shore.
The cover photo on Bridget's book The Traditional Irish Wedding shows a wrought iron garden gate on Ilnaculen. I took that photo. To see it, go to the home page. It's part of the opening paragraph Failte.
—Russ
Resource: Copy and Image - Cork Guide

Click for More Culture Corner.
Glorious Gardens of Ireland
by Melanie Eclare

A magnificent pictorial tribute to the splendor of Irish gardens, featuring more than 200 color images.
Eclare ushers readers into spectacular Irish garden settings...
Equally captivating are the book's gorgeous photographs of plants, beautiful stonework, outstanding statuary, and the voluptuous floral compositions that adorn Ireland's great castle estates, rural herb growers, country guest houses, and quaint cottages.
Alice Joyce
Click for Glorious Gardens.
---