Traditions, folklore, history and more. If it's Irish, it's here. Or will be!
"People will not look forward to posterity who never look backward to their ancestors."
-Edmund Burke
---
Quotes

Library: Books, Movies, Music

Prints & Photos

Poetry

Jokes

---
---
Shops Ireland
---
Bunús na Gaeilge
(Basic Irish)

---
---
Did You Know?
---
Himself/Herself
Write to Us
Readers Write..
Links/Link to Us
---
Advertise with us

---

Help keep us free
Throughout the site you will see many items available for purchase from well-known merchants such as Amazon. Not interested in what we're featuring? It doesn't matter. Click on any link and then shop for whatever you wish - we will still get credit, if you buy something.
Thanks for your help.

---
The Changeling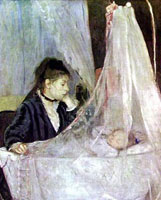 Once upon a time in Ireland, there lived a woman called Shiela. Shiela had a small baby whom she loved above all else.

One Saturday morning, she noticed that her baby did not look right. Her baby boy was fat, healthy, and happy. This "thing" in her baby's crib was thin and looked like a skeleton. It was ugly and had shifty eyes, not at all like Shiela's baby. This baby "thing" never stopped crying. Shiela was at wit's end. Where was her son? What was in her son's crib? And would it never stop wailing?

Shiela's neighbors came and tried to comfort her. They told her that what was in her baby's crib was certainly a changeling. She must ask the wise woman what to do.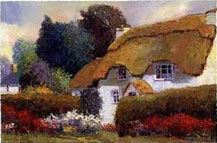 Shiela left her small thatched cottage and went along the road to the wise woman's house. But she traveled slowly because tears were pouring down her cheeks. She missed her little son and worried about him. Had the good people really taken her baby and left one of theirs in his place? Were they treating her son kindly? Would she ever see him again? These and other sad thoughts chased each other through her mind.

When Sheila was in the wise woman's house, she told the woman the whole story. The wise woman asked many questions about the baby in Sheila's cottage. Finally, after talking for two hours, the wise woman said, "Yes, you have a changeling. Here is what you must do."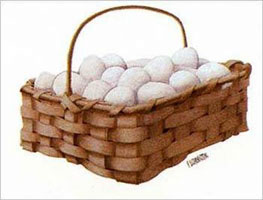 When sheila returned to her home, she hurried to her chicken house and collected a dozen eggs. Going into her house, she did not look at the changeling. Instead, she went to the hearth, started a huge, hot fire, and put on a big pot of water. When the water was boiling, Sheila broke the eggs and threw away the yolks and whites. But she kept the shells.

Sheila noticed that the changeling, for once, was very quiet. She saw from the corner of her eye that it was watching what she did very closely. But Sheila never looked at it directly.

Sheila tossed the egg shells into the boiling water.

"What are you doing, Mother?" asked the baby.

Sheila knew then that the baby was indeed a changeling, for her own son was too young to speak.

"I am brewing, my son," replied Sheila.

"What are you brewing, Mother?" asked the changeling in the creaky voice of a very old man.

"I am brewing egg shells, son," said Sheila.

"I have lived for fifteen hundred years and I have never seen anyone brew egg shells before," laughed the changeling.

At that, Sheila jumped up from the fireplace and ran toward the changeling. But she had risen so quickly that she slipped and fell. When she got up and ran to the crib, the changeling was no longer there. But there was her own dear baby, sleeping quietly and with a smile on his lips.

Sheila gently picked him up. Tears slipped down her face and dropped onto his head. But this time the tears were tears of joy!



Images:
Mother & Child in Cradle, Thatched cottage and Eggs in Basket from Allposters & Prints.

Index of All Children's Stories

Fri, Feb 2, 2018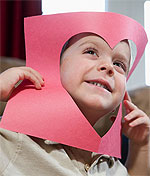 Valentine's Day in Ireland
All over the world, Valentine's Day is celebrated with flowers, chocolates and cards. But in Ireland, it's even more special. In 1836, a relic of St. Valentine was sent by Pope Gregory to the Carmelite Church in Dublin. Every year since then, on Valentine's Day, a casket containing the relic is carried in a procession to the high altar for a special Mass dedicated to young people and those in love. If you're lucky enough to be there, this little known Dublin church also sells Valentine's Day cards. But if you're like most young people, it's much more fun to give cards you've made yourself.
Photo Credit: Early Childhood Ireland

---
"No man ever wore a cravat as nice, as his own child's arm around his neck."
- Irish Proverb

---